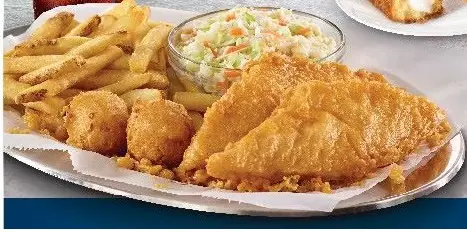 You don't have to wait for a trip to the coast to savor good seafood! Your local Long John Silver's menu has a fisherman's catch of sustainably sourced seafood waiting for you. Enjoy classics like platters and combos with a variety of fish, shrimp, and chicken, or tacos and meals with fish and shrimp hot off the grill. Or find new favorites when you try an order of the new Wisconsin Cheese Bites or returning Lobster Bites, made with Norway lobster tail.
Scroll through or search the table below to see prices for all the fresh catches on the Long John Silver's menu!
Long John Silver's Deals
Lobster Bites are back for a limited time at select Long John Silver's locations and are available on their own or as part of a Combo, Platter, or Feast. Check out our story for details on this and other offerings on the Long John Silver's menu, like the $10 Sea Shares special.
Long John Silver's sometimes offers coupons good in store or online, like $2 off a Variety Platter or $5 off an 8 Piece Family Meal. When we hear about new coupons, we'll share them with you in our article on Long John Silver's Coupons.
Long John Silver's Menu & Prices
---
Disclaimer: Menu and prices listed above are based on research of sample locations and are provided for informational purposes only. Since prices and availability may vary by location, please consult your local Long John Silver's menu for the latest details.
What's On The Long John Silver's Menu?
Long John Silvers specializes in seafood such as shrimp, fish, and crab.  The most popular types are fried, but you can often get grilled options for lighter fare.  Sure, they focus hardcore on seafood, but Long John Silver's also has fried chicken for the land lubbers.  Most meals come with their signature hushpuppies as a side.