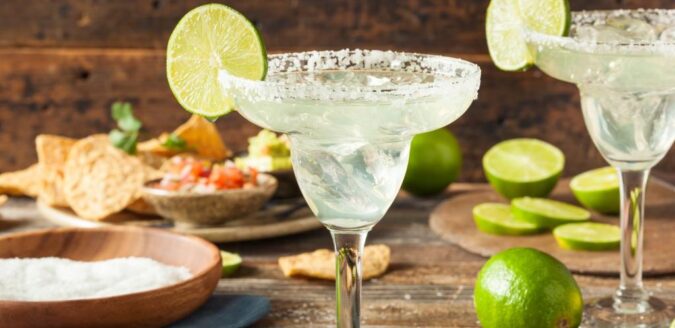 National Margarita Day is Thursday, February 22, 2018, and several chain restaurants plan to celebrate with Margarita specials starting at $2.
On The Border Mexican Grill & Cantina, which claims title as the Official Restaurant of National Margarita Day, has $2 Margaritas for National Margarita Day.  In fact, $2 Classic 'Ritas have been available at all participating On The Border locations nationwide from February 9 – 25, 2018.
The $2 special is for House Margaritas.  Ask for the deal when ordering; prices are $3 in some markets.    Top shelf, fruit-mix, and other specialty margaritas will be available at regular menu prices. Guests are also welcome to enjoy On The Border's complimentary chips and salsa as part of the margarita festivities.  Some locations will have free Queso with an entree order.
More details are at The OTB Margarita Day website.

Also celebrating the day are Bahama Breeze, Black Angus, Cheeseburger in Paradise and more places.
Bahama Breeze has $2.22 Margaritas (since Margarita Day is on 2-22) on Margarita Day.  Get a classic Margarita for $2.22 as the bar chain celebrates Margarita Day.   Also, the first 100 guests on Margarita Day can get a free bottle of margarita-inspired nail polish.  Bahama Breeze announced the promo on their Margarita Day page.
At Black Angus Steakhouse get premium Gold Strike Margaritas for $6.   The handcrafted cocktail is made with Sauza Blue Reposado 100% Blue Agave Tequila and Patrón Citrónge Liqueur infused with fresh lime-agave mix.  The $6 special is valid all day (2/22) at participating locations.  More details are in This Announcement from Black Angus.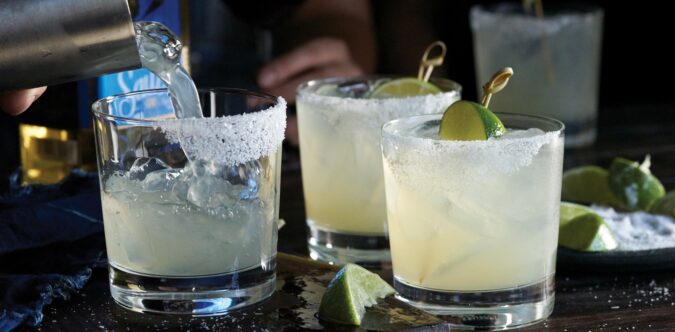 Buffalo Wild Wings has $5 House Margaritas and other specials starting on Margarita Day.  For complete details see:  Buffalo Wild Wings Specials
Cheeseburger and Paradise has $2.22 Classic Margaritas on Margarita Day at participating locations.  More details are in this Cheeseburger in Paradise announcement.
Chevy's Fresh Mex has a Mamacita Magic Margarita on Margarita Day.  The announcement is on the Chevys Home Page.
Chili's has three Margaritas for $5 to celebrate Margarita Day. Get $5 Presidente, Cuervo Blue and Tropical Sunrise. No coupon required, just ask your server for this special offer. Valid only on February 22, 2018 at participating Chili's locations. For more details see  This Announcement.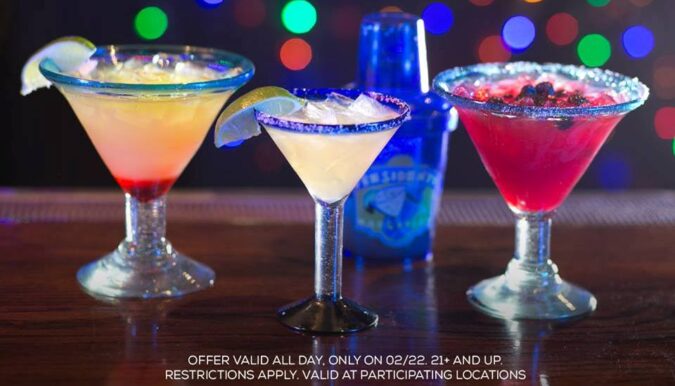 Margarita's Mexican restaurants have specials for the day including a $10 Margarita Flight featuring four Signature Margaritas. More details at:  Margaritaville Margarita Day
Miller's Ale House's has $2.22 Watermelon Margaritas on Margarita Day.  Miller's announced the deal on the Miller's Ale House Facebook page.
Taco Cabana as an all-Day Happy Hour with $3 Margaritas and $2 off all Quesadillas on Margarita Day. The chain announced the special on Facebook.
Tony Roma's has $4 Classic Romaritas all week for Margarita Day.  Get the $4 special February 19-25, 2018.  Tony Roma's announced the deal on their Specials Page.
Twin Peaks has $4 Margaritas on Margarita Day.  The chain announced the deal on the Twin Peaks Facebook page.
99 Restaurants is celebrating Margarita Day with 4.99 House Cuervo Margaritas.  The chain announced the Margarita Day special on Facebook.
* Price and participation may vary by location.
About Margaritas  (from Wikipedia)
A margarita is a cocktail consisting of triple sec, tequila and lime or lemon juice, often served with salt or sugar on the rim of the glass. The drink is served shaken with ice (on the rocks), blended with ice (frozen margarita), or without ice (straight up). Although it has become acceptable to serve a margarita in a wide variety of glass types, ranging from cocktail and wine glasses to pint glasses and even large schooners, the drink is traditionally served in the eponymous margarita glass, a stepped-diameter variant of a cocktail glass or champagne coupe.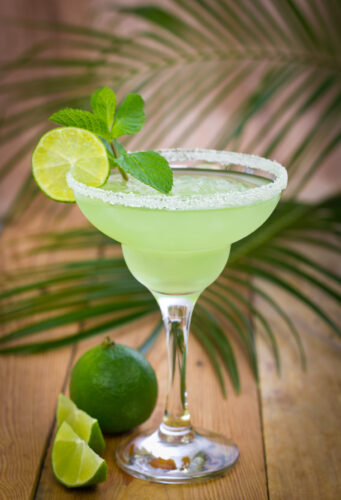 The IBA (IBA Official list of Cocktails) standard is 7:4:3, that is, 50% tequila, 29% Cointreau, 21% fresh lime juice.
The "Original Margarita" recipe as given by Cointreau on their website has less of their own sweet liquor: 1 part white tequila, 1/2 part Cointreau, and 1/2 part fresh squeezed lime juice.
Besides Cointreau, other orange-flavored liqueurs that might be used include Grand Marnier, Gran Gala, other brands of triple sec, or blue curaçao (yielding the blue margarita). When sweeter fruit juices or freshly puréed fruits are added to the margarita, the orange-flavored liqueur is often reduced or eliminated entirely. In addition to orange-flavored liqueurs, secondary liqueurs may occasionally be added to a cocktail, including melon-flavored or black raspberry-flavored. Other flavors include pineapple and watermelon.
Freshly squeezed lime juice is the key ingredient. The most common lime in the United States is the thick-skinned Persian lime. However, margaritas in Mexico are generally made with Mexican limes (Key limes). These are small, thin-skinned limes and have more tart and an often bitter flavor compared to Persian limes.
Frozen margarita
In addition to being shaken and served "up" like other cocktails, margaritas can also be served as a blended ice slush similar to other tropical-inspired mixed drinks like the hurricane or piña colada. This variant is known as a frozen margarita. The ingredients can be poured over crushed ice in a kitchen blender, or for larger establishments that serve many of these, a large quantity of a "house recipe" of frozen margarita can be kept in a machine designed specifically for the purpose (but also commonly used to serve non-alcoholic slush drinks); a cylinder leading to a pour spout is kept below freezing temperature, but an impeller within the cylinder constantly churns the mix so it can't freeze solid, and so it dispenses as a thick half-frozen slush. The first frozen margarita machine was invented on May 11, 1971 by Dallas restaurateur Mariano Martinez. The machine was originally a soft-serve ice cream machine and now sits in the Smithsonian National Museum of History.
For an official Margarita Recipe visit the International Bartenders Association.