Get a classic Pepperoni Pizza for $8 with a MOD Pizza special valid through October 30. That's a couple bucks off the normal price. You have to order online for the special. MOD has the offer details up on their website – you can start an order here too.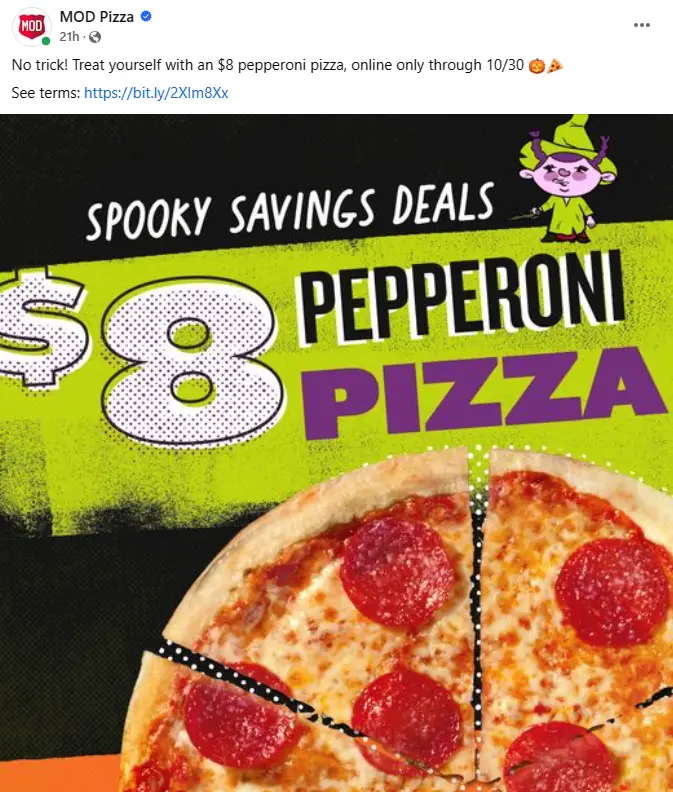 MOD Pizza Rewards Specials
MOD Pizza often has deals for Rewards members.  To download the Mod app and enroll in Mod Rewards visit:  https://modpizza.com/rewards/
You'll start your rewards account with a 75 point bonus then add 1 point for every $1 you spend. At 150 points, you'll get a reward good for a free MOD menu item. You'll also be able to:
Receive custom offers
Order ahead & skip the line
Find a store
Reorder recent meals\
What's On The MOD Pizza Menu?
MOD Pizza – which stands for "Made on Demand" – offers artisan style pizzas baked in an 800-degree pizza oven. Customers build their own pizza or salad, which costs the same no matter how many toppings they choose. ("Any toppings, same price.")  MOD's offers pizzas in 6-inch Mini and 11-inch MOD sizes and offers a gluten-friendly and cauliflower crust option.  The regular and gluten-friendly pizza dough and vegan cheese are dairy-free.
More Pizza Specials And Promo Codes
For more info on the latest promotions from other pizza restaurants, go to our Pizza Coupons and Promo Codes section.
How Much Is An 11 Inch Pizza MOD?
Prices vary by location, but an 11-inch pizza from MOD Pizza usually costs about $10.  They often have Flash MOD promotions, though, where you can get a particular type of pizza for less, usually $7 or so.
Where Can I Find MOD Pizza Locations?
There are over 500 MOD Pizza locations in the United States.  They only got started in 2008, and have been expanding fairly quickly.  Use the MOD Pizza location finder to get to one near you.  Most MOD Pizzas open around 10:30 – 11 AM, and close around 10 PM on weeknights, but they often stay open an hour or two later on weekends.
How Much Does MOD Pizza Delivery Cost?
MOD Pizza offers a solid delivery service via its third party partners like DoorDash.  They don't place as big of a focus on delivery as the competition, but they can pull it off well enough.  The delivery fee varies depending on where you live, but it's typically around $4.
To start a delivery order, visit the MOD Pizza online order page.
Where Is MOD Pizza's Nutritional Information?
MOD Pizza has a full set of nutritional and food allergen information on its website to help you meet your dietary needs.  To view the calorie counter, nutritional or allergen content, and ingredient information, visit the MOD Pizza Nutrition portal.
Does MOD Pizza Sell Gift Cards?
MOD Pizza gift cards are a popular item for online shopping.  Want one?  Visit the MOD Pizza gift card page here and add one to your shopping cart.  Sometimes, there are MOD Pizza coupons that give you an extra discount on a gift card purchase.  The special offer usually comes around during the springtime and holiday season, like Black Friday and Cyber Monday.  When a MOD Pizza gift card deal comes around, we'll spread the word!