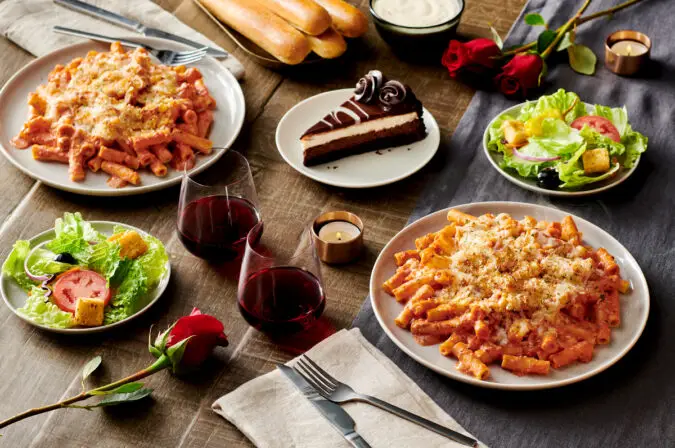 As Olive Garden's famous slogan would suggest, Olive Garden is the go-to Italian-American restaurant for families. In fact, since opening its first location in 1982, Olive Garden has grown to become the largest Italian restaurant chain in the United States. With its host of classic pasta dishes, the Olive Garden menu has a lot more to offer than unlimited soup, salad, and breadsticks. (But really, who can resist unlimited breadsticks?) There are a ton of pasta choices like Lasagna, Fettuccine Alfredo, Ravioli, and Ziti, to name a few.  There's plenty of other Italian classics like Chicken Parmigiana, too.  There's a Create Your Own Pasta option too, for those with something very specific in mind that can't be found on the menu.
While we eagerly await news that the Never Ending Pasta Pass will make a return for 2023, scroll through or search the table below to see everything that's cooking at Olive Garden!
Deals at Olive Garden
Current specials at Olive Garden include some new entrées making their debut for 2023, as well as a $6 Take Home Special that gets you another serving of your entrée to go for just $6 more. Read our article on Olive Garden Specials & Promo Codes for news on these deals and more, including lunch specials, the Never-Ending First Course, and the extensive kids' menu!
Olive Garden Prices & Menu
---
Disclaimer: Menu and prices listed above are based on research of sample locations and are provided for informational purposes only. Since prices and availability may vary by location, please consult your local Olive Garden for the latest details.