Get $3 off on your birthday with an Orange Leaf Frozen Yogurt coupon available through their rewards program.
Get an Orange Leaf Ounce Back card and and receive:
Every $1 spent = 1 point
Every 10 points = $1 added on to your Ounce Back card
$3 off on your birthday
$1 off on your cardiversary.
CLICK HERE to register or get more details from Orange Leaf Frozen Yogurt.
Orange Leaf 2019 Veterans Day
Orange Leaf Frozen Yogurt has free frozen yogurt for Veterans Day. On Monday, November 11, 2019, all veterans and active duty military are entitled to a free frozen yogurt with military ID.  Coupon is also required; CLICK HERE for your Orange Leaf coupon.
The Veterans Day offer was announced on the Orange Leaf Veterans Day Page.  Orange Leaf has about 200 locations.
Get info on all the Veterans Day deals in our EatDrinkDeals Veterans Day article.
About Orange Leaf Frozen Yogurt (From Wikipedia)
Orange Leaf Frozen Yogurt (or simply Orange Leaf) is an Oklahoma City-based chain of self-serve frozen yogurt franchises founded in 2008. It has spread to over 300 locations in the United States and has also expanded internationally.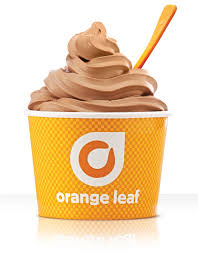 The stores are self-serve. They offer sugar-free, gluten-free, non-dairy, and vegan alternatives. The Oklahoman described the stores as "living rooms that happen to have yogurt dispensers".
Orange Leaf Prices
Orange Leaf  is a self-serve frozen yogurt shop that allows customers to fill a cup with their choice of frozen yogurt.  A cashier then weighs the cup and charges based on weight.  A typical price is around 50 cents per ounce.
Previously known as Orange Tree Frozen Yogurt, it was founded in 2008.  Mike Liddell and Reese Travis noticed a franchise was doing good business in Edmond, Oklahoma. They purchased a franchise in 2009, and Liddell purchased the company in 2010.  Liddell then moved the company from California to Oklahoma, hired Travis as CEO, and changed the name to Orange Leaf.
In April 2011, it had 63 stores open in the United States, and it expanded to 111 locations in September 2011. As of October 2013, it had over 300 locations (by 2017 that number had reduced to less than 210 locations).  In January 2018, Orange Leaf named Kendall Ware the President and COO.
Orange Leaf Yogurt Nutritional Information