Get $3 off on your birthday with an Orange Leaf Frozen Yogurt coupon available through their rewards program.
Get an Orange Leaf Ounce Back card and and receive:
Every $1 spent = 1 point
Every 10 points = $1 added on to your Ounce Back card
$3 off on your birthday
$1 off on your cardiversary.
CLICK HERE to register or get more details from Orange Leaf Frozen Yogurt.
About Orange Leaf Frozen Yogurt (From Wikipedia)
Orange Leaf Frozen Yogurt (or simply Orange Leaf) is an Oklahoma City-based chain of self-serve frozen yogurt franchises founded in 2008. It has spread to over 300 locations in the United States and has also expanded internationally.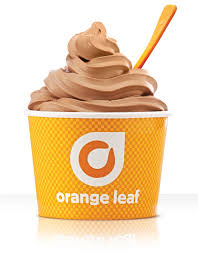 The stores are self-serve. They offer sugar-free, gluten-free, non-dairy, and vegan alternatives. The Oklahoman described the stores as "living rooms that happen to have yogurt dispensers".
Orange Leaf Prices
Orange Leaf  is a self-serve frozen yogurt shop that allows customers to fill a cup with their choice of frozen yogurt.  A cashier then weighs the cup and charges based on weight.  A typical price is around 50 cents per ounce.
Orange Leaf Yogurt Nutritional Information