Potbelly Cookies will offer a free cookie to all Perks members with an entree purchase through October 1. Potbelly posted the news on their social media. This would go on top of the free sandwich you get when you first sign up for Perks – you can enroll here.
Free Sandwich For Potbelly Perks Members
Potbelly Sandwich Shop has a free sandwich for new Perks members. Rewards members should find this deal in their My Perks folder after their first purchase of $5 or more.
To redeem this Perk, pay with your Potbelly Perks account online or by scanning your app in shop. You can sign up for rewards on the Potbelly Perks Page.
Kick off Back-To-School season with a buy one, get one free sandwich deal at Potbelly Sandwich Shop on August 22! Order online or in the app and use promo code BOGO at checkout to enjoy the freebie. You can start an online order here.
Get 1/2 off shakes on weekends at Potbelly Sandwich Shop now through July 30! You'll have to be a Perks member – you can sign up here. The offer is valid from 5 PM Friday through closing time on Sunday. Potbelly sent this message with the news: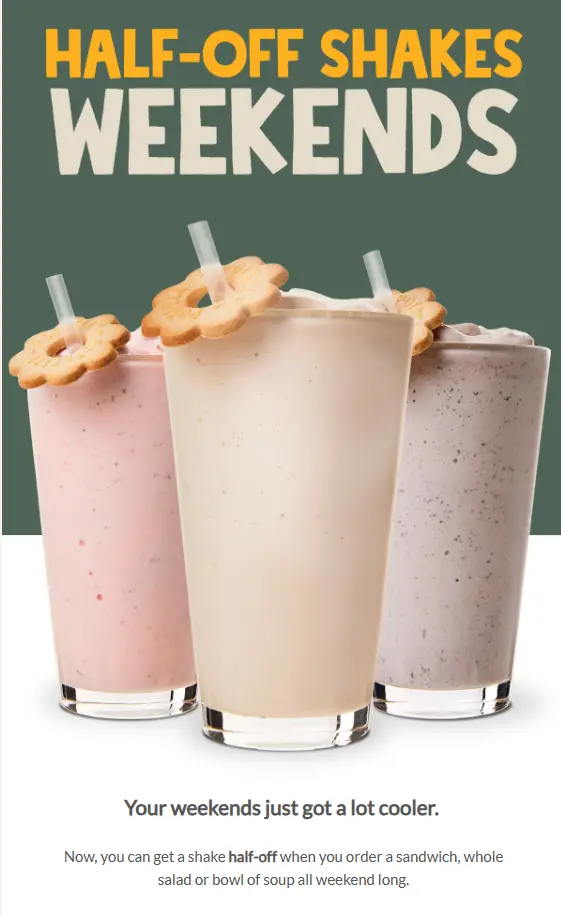 Potbelly's getting presents for everyone else for its birthday with a buy one, get one free offer on January 13. Buy one Original-sized sandwich and get another one free with promo code BOGO.  You'll have to order online or in the app for the deal. Potbelly sent this press release with the promo code.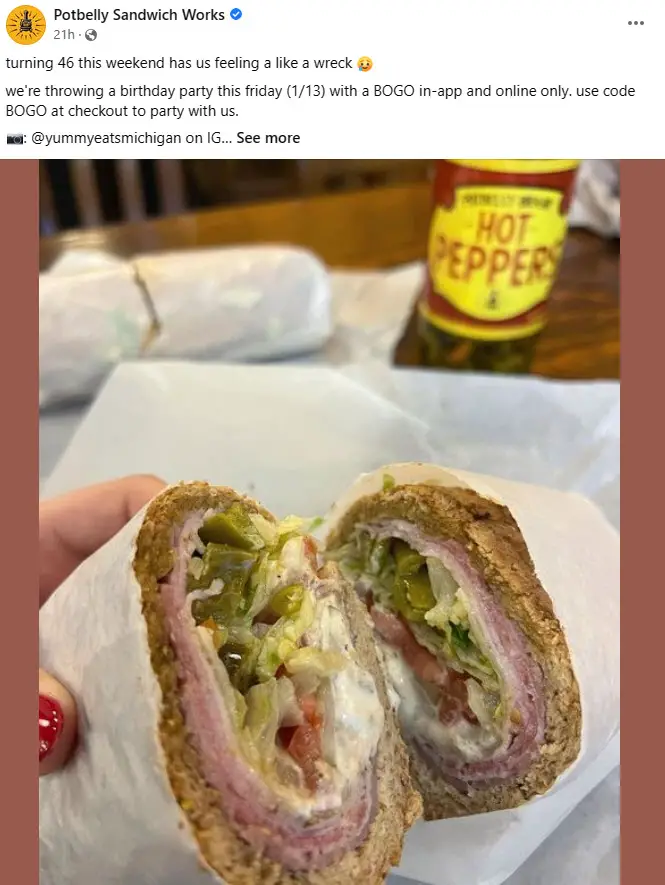 Potbelly's getting into the giving spirit for the season with a buy one, get one free offer on December 20.  Perks members can get an Original-sized sandwich and get another one free. So long as you sign up for Perks by December 20, you'll have the deal loaded into your account.
About Potbelly
Potbelly Sandwich Shop is an American fast-casual chain that focuses on subs. Potbelly started in 1977 in Chicago, Illinois, and now has around 450 locations in the U.S. They've also opened locations abroad in India, the United Kingdom, and the United Arab Emirates. Potbelly owns most of their locations, with around 10-15% of stores franchised. Potbelly offers a variety of sandwiches, salads, soups, and sides, with options for vegetarian and gluten-free diets.
Some of the popular menu items include the Cubano sandwich, Avo Turkey sandwich, Egg & Cheddar sandwich, Pizza Sandwich, and Apple Walnut Salad. Potbelly also offers a BIGS sandwich, with more bread, meat, cheese, and toppings than an Original sandwich.