Popeyes recently debuted their brand new Buffalo Ranch Sandwich. You can get the sandwich by itself for $4.99 or order it as part of a combo. The sandwich and a side will cost you $5.99. If you want a small drink and side, it will run you $6.99 – an upgrade to a medium drink and a regular side is 50 cents more, and the final tier – with a large drink and regular side is $7.99. If you order through the app or website, you will also get 150 Bonus points! The chain posted about the new item on their Facebook page:
Deals and Coupons
Get two free Tenders and a Biscuit with a drink purchase, Chicken Tenders Meals for 2 for $8.99, Family Meals for $19.99 and delivery deals with these Popeyes coupons.
However big your order is, there's probably something here to help you save some cash.  Some of these Popeyes coupons are good for savings of $10 or more!  CLICK HERE for your Popeyes coupons.
You can view coupons and redeem a coupon by clicking on the coupon you want and showing to your server on your mobile device.  No login is required to redeem a coupon in the restaurant.  If ordering online you'll need to sign into your account to redeem coupons. Here are the Popeyes coupons currently available.  Some deals are pickup only.
Free 2 pc Signature Chicken, 3 Tenders, 8 Nuggets or Chicken Sandwich with your first purchase on the Popeye's app
$5 Shrimp Tackle Box (pickup only)  – 8 pc Butterfly Shrimp, regular side, and one biscuit.
$6 3 pc Tenders Combo

2 Can Dine for $8.99: 5 pcs Chicken, 2 regular sides and 2 biscuits  

2 Can Dine for $8.99: 6 Tenders, 2 regular sides and 2 biscuits  

$19.99 Family Deal:  10 pcs Chicken, 2 large sides and 5 biscuits
$19.99 Family Deal:  14 Tenders, 2 large sides and 5 biscuits
Family Deal for $24.99:  14 pcs Chicken, 2 large sides and 7 biscuits
You can sign in at the Popeyes account sign-in page.  Or you can create a new account at the Popeyes new account page.
More from EatDrinkDeals
For more deals like this visit:  EatDrinkDeals Fried Chicken Deals
Want to get info on other deals, discounts, coupons and specials from your favorite restaurants?  Click here to see the latest and greatest from EatDrinkDeals!
Our Popeyes Coupons Policy
There may be other Popeyes printable coupons and promo codes out there, but unfortunately, they are often only available for specific locations, or have expired.  At EatDrinkDeals, our policy is to only publish Popeyes coupons that are widely available to avoid disappointing our users.  When Popeyes coupon codes are nationally available and from verifiable sources, we will post them here.  We test the coupons and promo codes for a variety of stores across the U.S. to make sure they work.  You won't be disappointed with a dud!  We only post the Popeyes deals that are widely available.
Popeyes Rewards Deals
Download the Popeyes app or visit its website and create an account for the revamped Popeyes Rewards program.  You'll get a free apple pie, regular side, or small drink for your trouble.  Earn 10 points for every dollar spent for online or app orders.  Spend 150-200 points for free biscuits or sides, 650 points for free Chicken Tenders, and just about any other item on their menu is up for grabs.  Plus, you'll be eligible for exclusive access to special offers, like an afternoon happy hour with $1 regular-size sides, a free drink, or a free chicken sandwich!  You can visit the Popeyes website here to sign up, or download the Popeyes app from the Apple Store here or the Google Play Store here.  You're sure to get the best deal this way.  You'll just need a phone number and an email address to get started.  It's easy to place an app order, and daily specials pop up here and there, too.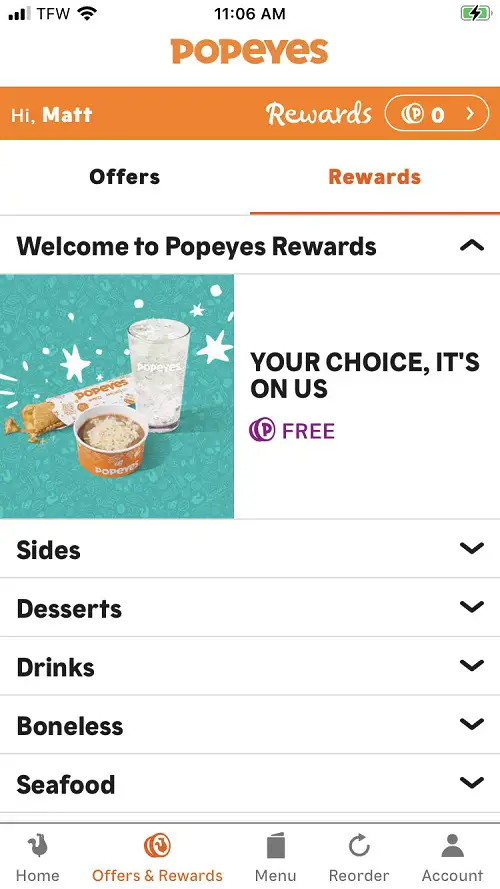 Popeyes Menu
Popeyes Louisiana Kitchen has a menu focused on their signature fried chicken, on the crunchy and spicier side of the spectrum.  There's a whole New Orleans flavor thing going on that helps it stand out from other fast food restaurants.  Sides include cole slaw, Cajun fries, cajun rice and other favorites.  Most meals come with a buttermilk biscuit, too.  By far the hottest item is the chicken sandwich.  They darn near ran out on a daily basis when it debuted.  You can always go with a staple like the 2-piece chicken dinner, too.  They also has some other entrees like popcorn shrimp if you're not in the mood for the chicken.
Popeyes Near Me
Popeyes has over 3,000 locations, most all in the United States, so chances are there's one near you.  You can find the nearest Popeyes location at: Popeyes Near Me
Popeyes Hours
Most Popeyes are open every day from 10 am to 10 pm, but times can vary. To find the hours, address and more details for your local Popeyes, select your location from: Popeyes Near Me
Most Popeyes restaurants remain closed for dine-in service due to the Coronavirus pandemic and are limited to drive-through and delivery service.
Popeyes Delivery
Popeyes offers delivery through its third-party delivery partners, Doordash and Postmates.  Usually there is a delivery fee, but delivery is free during special promotions.  For example, right now you can get free delivery on orders of $15 or more, according to the Popeyes homepage.  To start a Popeyes delivery order, or to check on Popeyes delivery deals, visit:  Popeyes Delivery
You can also place a delivery order through the Popeyes App.
Popeyes Nutrition
Popeyes lists food allergen information in their online and app menus.  To view the allergen content of any menu item, click here for the Popeyes Nutrition page.
When you start an online or order, you can make modifications to the menu ingredients online; when ordering at the restaurant, simply ask the crew member to hold a given ingredient.