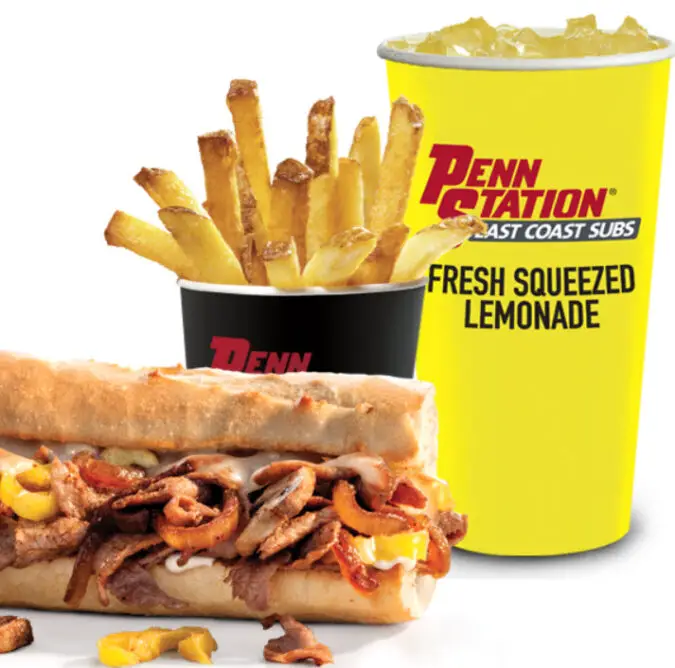 Penn Station East Coast Subs began with a commitment to quality ingredients and customer experience. Founder Jeff Osterfeld's concept for Penn Station, which opened its first location in downtown Cincinnati, Ohio in 1985, centered on preparing delicious subs in view of customers while using only the freshest ingredients.
Penn Station's claims to fame–grilled cheesesteak, fresh-cut french fries, and hand-squeezed lemonade–have been an integral part of the Penn Station menu since the sandwich chain got its start. From the classic Dagwood and Cheesesteak subs to fun twists on the traditional sandwich formula, like the Pizza and Artichoke subs, a stop at Penn Station is guaranteed to liven up your lunch break.
Scroll through or search the table below to see the menu and prices at Penn Station Subs!
Deals at Penn Station Subs
Penn Station often posts deals and coupons that can help you save a buck on your next sub. Read our article on Penn Station Subs Coupons & Specials for details on current coupons and the monthly special. For example, a coupon good through February 7, 2023, will get you $5 off an order of $25 or more!
Sign up for the EatDrinkDeals newsletter so you don't miss new coupons and deals from Penn Station Subs!
Penn Station Subs Prices & Menu
---
Disclaimer: Menu and prices listed above are based on research of sample locations and are provided for informational purposes only. Since prices and availability may vary by location, please consult your local Penn Station Subs menu for the latest details.