Join the Planet VIP club from Planet Smoothie and get a coupon for $1 off a 20 oz or larger smoothie.  You'll also earn 1 point for each $1 spent, and you'll get a $5 off promo code at 50 points.  It's like 10% off your purchase every time, basically.
To get more details or enroll in Planet VIP, visit the Planet Smoothie website here.
National Smoothie Day Annual Giveaway At Planet Smoothie
National Smoothie Day is June 21, and Planet Smoothie is offering a free Lunar Lemonade from 2-5 pm when you purchase a smoothie online or in-store and donate $1 to Alex's Lemonade Stand Foundation! Planet Smoothie posted the good news on their website.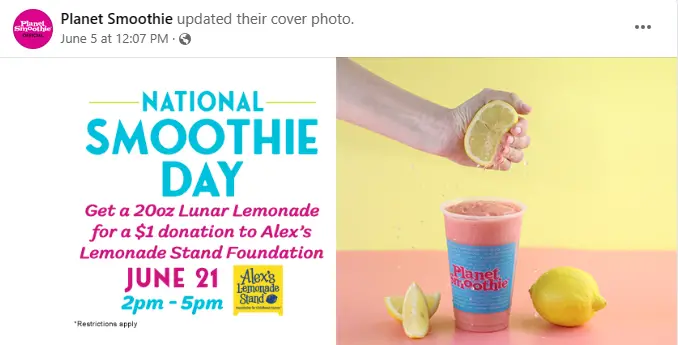 Planet Smoothie Menu
Visit our Planet Smoothie Menu page here if you want to browse their pricing.
About Planet Smoothie
Planet Smoothie is a chain of smoothie shops founded in 1995 in Atlanta, Georgia. The chain currently has over 100 locations in 20 states across the U.S.
Planet Smoothie specializes in made-to-order smoothies, using fresh ingredients. The menu includes classic fruit smoothies, as well as specialty smoothies that are designed to provide specific health benefits, such as boosting energy or supporting immune function. Some of the most popular flavors include:
Lunar Lemonade – a refreshing blend of lemon, lime, and coconut.
Dark Chocolate Banana – a rich and indulgent blend of dark chocolate and banana.
Acai Berry Boost – a superfood smoothie featuring acai berries, strawberries, and blueberries.
Peanut Butter Cup – a delicious combination of peanut butter, chocolate, and banana.
Kaleidoscope – a healthy green smoothie made with kale, spinach, and apple.
Island Impact – a tropical blend of pineapple, mango, and papaya.
Lean Green Extreme – a protein-packed smoothie made with spinach, kale, and whey protein.
Tropi-Kale – a sweet and tangy blend of pineapple, mango, kale, and ginger.
In addition to smoothies, Planet Smoothie also offers a variety of other healthy menu items, including protein bowls, wraps, and salads. The chain prides itself on using high-quality, natural ingredients, and many of its menu items are vegan or gluten-free.
Planet Smoothie locations have a bright and modern aesthetic with colorful decor and comfortable seating areas. Many locations also offer outdoor seating and free Wi-Fi, making them popular destinations for health-conscious customers looking for a quick and refreshing meal or snack.