Get an individual size pizza for just $5.99 with a Schlotsky's deal valid every day after 4 pm!  Here's the announcement on the Schlotzsky's Facebook page:
More from EatDrinkDeals
Want to get info on other deals, discounts, coupons and specials from your favorite restaurants?  Click here to see the latest and greatest from EatDrinkDeals!
Family Meal Deal $24.99 for 4
Get a Family Meal Deal to feed 4 at Schlotzsky's for just $24.99 for a limited time.  You'll get 4 entrees (medium sandwich, pizza or flatbread), 4 chips and 4 cookies.  To place an online order, click here for the Schlotzsky's website.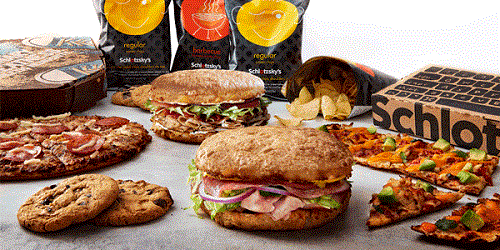 *Valid at participating Schlotzsky's locations. Offer valid only after 4 pm. Free delivery valid on orders over $15. Free Delivery not valid on Catering Orders. Limit one per person. Not valid with online orders. Exclusive of alcohol, tax, and gratuity.
Wednesdays Pizza BOGO
Buy one pizza and get one free all day every Wednesday with a new Schlotzsky's deal called Double Take Wednesdays starting on October 2, 2019.
Choose from Gourmet Pizzas from the Schlotzsky's menu like Grilled Chicken & Pesto, Fresh Veggie, the new Fiesta Chicken Pizza, and more.
"Our new recipes combine tradition with innovation to create a unique take on our most beloved menu items. By transforming our most popular sandwiches into pizzas, guests can enjoy a new savory version of their favorite sandwiches," says Beto Guajardo, President of Schlotzsky's.
Here's the Schlotzsky's press release announcing Double Take Wednesday special.
For other great Wednesday deals, check out our EatDrinkDeals Wednesday Restaurant Deals article.
Rewards Program
Get a Schlotzsky's coupon for a free sandwich when you enroll in their rewards program. You can join the program in two ways, either:
Download the Schlotzky's app to your mobile phone; or
Enroll here with your email address or Facebook account.
After you register you'll get a Schlotzsky's coupon for a free small Original® sandwich.
The Original sandwich features 13 fresh, flavorful ingredients served on Schlotzsky's legendary Fresh-from-Scratch® oven-baked sourdough buns. The Original is topped with lean smoked ham, genoa and cotto salamis, melted cheddar, mozzarella and Parmesan cheeses. It's layered with black olives, red onion, lettuce, tomato, mustard and signature dressing to create a truly one-of-a kind sandwich.  You can find the Schlotzsky's menu at https://www.schlotzskys.com/menu/
For more information or to find the nearest Schlotzsky's location, visit www.schlotzskys.com.
About Schlotzsky's (from Wikipedia)
The Schlotzsky's chain of restaurants specializes in sandwiches. Schlotzsky's has more than 350 franchised and company-owned locations worldwide. Most locations are in the south and southwestern United States.  The company has begun to expand into areas across the country, particularly the north and southeast.
On 21 November 2006, Focus Brands, an affiliate of private equity firm Roark Capital Group, acquired Schlotzsky's.  Focus Brands also owns Moe's Southwest Grill, Carvel, Cinnabon and Auntie Anne's.  The following year, the company named Kelly Roddy as president, who joined Schlotzsky's from H-E-B Grocery Company.  With Kelly on board, Schlotzsky's planned for growth and a system-wide reimage, which included updated restaurants, improved menus, table service, and the addition of Cinnabon. The company remodeled locations across the country with a "Lotz Better" look, which included bright, bold colors, circle-themed furniture and decor and playful slogans.
In 2016, Schlotzsky's introduced a new restaurant chain called Schlotzsky's Austin Eatery, which targets Millennials with a menu featuring Austin-inspired food from the city. The first location opened in Duluth, Georgia; other locations followed in a slow expansion. Much of the menu is the same with some slight variations to reflect the redesign, including sliders and tacos.