The holidays have arrived at Starbucks with the return of seasonal drinks like Peppermint Mocha and four specially designed holiday cups.
Holiday drinks available starting Friday, Nov. 2 are Peppermint Mocha – back for its 16th year – plus Toasted White Chocolate Mocha, Caramel Brulée Latte, Chestnut Praline Latte, Gingerbread Latte and Eggnog Latte, all available hot, iced and Frappuccino blended beverages.  Stores will transform with festive and warm trim and décor and Starbucks baristas will wear their red aprons.  In addition, Starbucks' famed holiday cups will be here.
Stores adorned in festive holiday cheer, cup designs unveiled
Starbucks holiday cups have themselves become a symbol of the season for more than two decades. Just as they did that first year in 1997, this holiday features a series of four unique cup designs.  The four holiday cups for 2018 are Stargyle, Stripes, Flora and Espresso Houndstooth.
Stargyle:  Stars often appear in Starbucks designs, even winking atop the Siren's crown in the company logo. The illustration of a couple reaching up to place a star atop a holiday tree from Christmas Blend 1999 was the starting point for this year's Stargyle design. Here the stars twinkle against a backdrop of interlinking diamonds in varying shades of Starbucks green.
Stripes:  A take on the iconic red cup, the Stripes holiday cup features graphic bands of bright poppy red and a darker cranberry, accented with white pale rose gold. A ribbon of black, white and Starbucks green on the back ties all the four cup designs and reappears in merchandise and store signage and displays.
Flora:  Ripe coffee cherries have evoked festive holly on packaging over many years, including 2013 and 2017. In a nod to Starbucks coffee heritage, the Flora design features mint-green graphic leaves with pops of colorful bright red berries against a cream-colored background.
Espresso Houndstooth:  Starbucks Christmas Blend Espresso Roast is known for its intense flavor and caramelly sweetness. Designers used fire to represent this rich, dark roast, and reimagined it as elegant flame in the red and white retro Espresso Houndstooth design.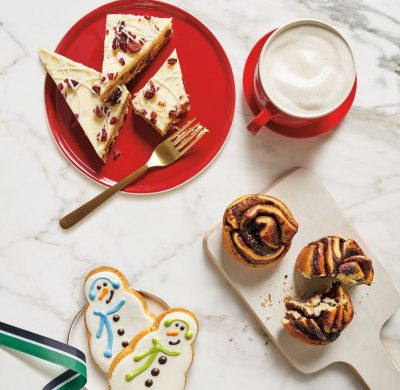 New holiday food to savor this season includes Chocolate Swirl Brioche, a buttery brioche layered with a dark "fudgy" chocolate filling, Pistachio Honey Croissant, and the Sugarplum Cheese Danish, made with croissant dough topped with creamy cheese filling and plum spread. These new holiday flavors join returning favorites Gingerbread Loaf, Penguin Cake Pop, Peppermint Brownie Cake Pop, Snowman Cookie, Cranberry Bliss Bar, Carved Ham & Swiss Breakfast Sandwich and Holiday Turkey Panini.
Starbucks Christmas Blend will also be back in Starbucks stores starting Nov. 2.
As the holiday season approaches, Starbucks® stores offer a cheerful collection of gifts, including shimmering cold cups, sleek tumblers, festive mugs and whimsically decorated Starbucks Cards. The holiday gifts will be available in stores in the United States and Canada starting tomorrow with more beautiful, curated merchandise added throughout the season. Find something for everyone on your list in this year's gift guide.