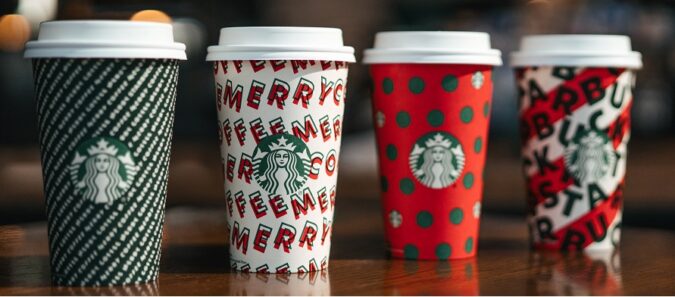 The Holidays arrived at Starbucks stores on Thursday, November 7, 2019 with the return of Peppermint Mocha and four new holiday cups.
"Starting tomorrow (Nov. 7) Starbucks stores in the United States and Canada will be decked out for the holidays with a fun and festive design worthy of that first sip of Peppermint Mocha (not to mention Toasted White Chocolate Mocha, Caramel Brulée Latte, Chestnut Praline Latte and Eggnog Latte)," Starbucks said in their announcement.
Here's what Starbucks fans will find on Thursday:
New Holiday Cups.  After creating over 50 designs to consider, Starbucks designers landed on a series of four designs in shades of red, white and Starbucks signature green.  The four cups (see photo above) available in stores starting Nov. 7 are:
Merry Stripes: From a distance, this cup looks like it's wrapped in green vintage wrapping paper. But up close, its tiny type offers a happy sentiment.
Merry Dance: A lively pairing of red and green letters jazz up a snowy white cup with a joyful expression.
Polka Dots: The traditional Starbucks red cup is dotted with green, with the Siren logo playfully popping in here and there.
Candy Cane Stripes: The colors of the holiday all come together with this design as the Starbucks wordmark falls like snow against stripes of candy cane red and white.
Return of Holiday Beverages. Starbucks stores in the United States and Canada will be decked for the holidays starting Nov. 7 to mark the return of the seasonal flavors of Peppermint Mocha, Toasted White Chocolate Mocha, Caramel Brulée Latte, Chestnut Praline Latte, and Eggnog Latte.  All are available hot, iced and Frappuccino blended beverages.
Red reusable cup.  Users with the limited-edition reusable red cup will get 50 cents off each 16 oz handcrafted holiday beverage now through January 7, 2019.
Holiday Food. On Thursday the holiday food items are here, including Holiday Turkey & Stuffing Panini, Cranberry Bliss Bar, Sugar Plum Cheese Danish, Snowman Cookie, Gingerbread Loaf, Peppermint Brownie Cake Pop, and Snowman Cake Pop.

Some additional ways Starbucks is celebrating the Holidays:
Instagram Stories: When customers snap a photo of a Starbucks cup through Instagram Stories, the photo will reveal special augmented reality effects that bring the Starbucks Holiday spirit to life! Learn how it works here.
Alaska Airlines Priority:  From November 7-10, all guests who show up to the gate with a Starbucks Holiday cup will receive priority boarding. Even more, guests on select West Coast flights will be surprised when they board a new holiday-themed aircraft, and some lucky passengers might find surprise Starbucks treats on their seats. Read more about the festivities here.
For more details visit:
*Qualifying holiday beverages include any size hot, iced or blended of the following: Caramel Brulée Latte, Chestnut Praline Latte, Eggnog Latte, Gingerbread Latte (available in Canada only), Hot Chocolate, Peppermint Hot Chocolate, Peppermint Mocha, Pumpkin Spice Latte, Salted Caramel Hot Chocolate, Salted Caramel Mocha and Toasted White Chocolate Mocha (available in the United States only).
✨Turn on your cheer – the holidays are back tomorrow, Nov. 7! Purchase a handcrafted holiday beverage and get a #Reusable #RedCup free. Hurry – only at participating stores in the U.S. & Canada while supplies last.✨ pic.twitter.com/38856oRAZ2

— Starbucks Coffee (@Starbucks) November 6, 2019
Starbucks Holiday Merchandise
Starbucks gave these details on their 2019 Holiday Merchandise.
IRIDESCENT COLD CUP – BLING PLATINUM & NEON PINK (24 OZ) $19.95
Starbucks Iridescent Cold Cup is back for a second season in Bling Platinum, and this time also in neon pink.
MIRROR GLITTER GOLD COLD CUP (24 OZ) $18.95.
Starbucks plastic Cold Cup in Mirror Glitter Gold comes with a mirrored finish and white glitter accent.
Double-walled to keep beverages colder longer, this pink cold cup features mirror foil for a beveled look.
GREEN CONFETTI TUMBLER (12 OZ) $19.95
This Green Confetti Tumbler is full of holiday cheer, with a red and green multi-color confetti print and glistening foil accents.
GLITTER GRADIENT PINK COLD CUP (24 OZ) $22.95
A must for the pink-obsessed, this cold cup has a glitter pink gradient with just the right amount of sparkle.
GOLD WATER BOTTLE (20 OZ) $22.95
For a sleek and minimalist on-the-go option, look no further than Starbucks new water bottle in high-shine gold.
STARBUCKS CHRISTMAS BLEND $14.95
Since 1984, Starbucks customers have celebrated the holidays with Christmas Blend. This full-bodied coffee features rare Sumatran beans, aged three to five years, blended with coffees from Colombia, Papua New Guinea and Indonesia. Bursting with spice and nostalgia, Christmas Blend is one of our oldest traditions and it also makes a perfect gift. Also available in decaf.