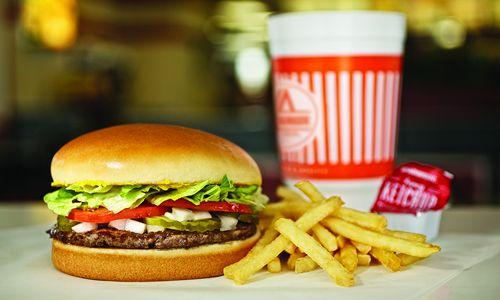 Whataburger is a certified "Texas Treasure" for a reason. Ever since Harmon Dobson opened the first Whataburger stand in Corpus, TX, in 1950, Whataburger has literally made a name for itself with the quality of the burgers on its menu. "What a burger!"
Each burger is made to order with 100% beef that has never seen the inside of a freezer, served up on a toasted bun big enough to fill both hands. And since many Whataburger locations are open 24/7 and also serve breakfast, you can get your fix of this American staple whenever the craving strikes. (Yes, there's a Breakfast Burger!) Turn your entrée of choice into a Whatameal to add a side and a drink.
Scroll through or search the table below to see the menu and prices at Whataburger. Then all you need to do is figure out whether you're in the mood for a classic Whataburger® Patty Melt or a Buffalo Ranch Chicken Strip Sandwich.
Deals at Whataburger
You can score a free Whataburger just by signing up for Whataburger Rewards! The rewards program lets you earn points to redeem for rewards, as well as other perks. Get the link to sign up today in our article on Whataburger Coupons & Deals.
Don't miss out on new deals and coupons at Whataburger and your other favorite burger joints. Sign up for the EatDrinkDeals newsletter today!
Whataburger Prices & Menu
---
Disclaimer: Menu and prices listed above are based on research of sample locations and are provided for informational purposes only. Since prices and availability may vary by location, please consult your local Whataburger menu for the latest details.
About Whataburger
Whataburger is a fast-food restaurant chain founded in 1950 in Corpus Christi, Texas. Their famous Whataburgers are served on a five-inch bun with a variety of toppings, including cheese, bacon, and jalapenos. Whataburger also serves chicken sandwiches, breakfast items, salads, and sides like French fries and onion rings.
Whataburger has a loyal following in the Texas, where most of its locations are located. The chain has over 800 locations in 10 states, including Texas, Oklahoma, and Florida. In addition to its classic menu items, Whataburger also offers limited-time specials and seasonal items, such as the "Pico de Gallo Burger" and the "Dr Pepper Shake".