Valentine's Day is the second busiest day of the year for dining out so you should plan ahead for a special date at your favorite restaurant.  The EatDrinkDeals annual roundup of Valentine's dinner deals runs the gamut from steak to pizza to ice cream, from fine dining to fast food deals, so there's something for every taste and budget.
Note that many deals below are good for several days in advance of Valentine's, which is Wednesday, February 14, 2018.  Here are the currently announced deals, check back later as more restaurants announce their Valentine's dinner plans.
Baker's Square has a Valentine's dinner for two for $19.99 available only on Valentine's Day.  Get  two "Just Right Portion" entrées and two slices of pie for only $19.99. "Just Right" entrees include Deluxe Chicken & Bacon Mac 'n Cheese, Fish & Chips, Chicken Tenders, Savory Pot Roast, Slow-Roasted Turkey and other options.  Visit the Baker's Square Valentines Dinner page for more details.
Baskin-Robbins is taking orders for their Valentine's Cakes, which are the perfect way to share a delicious treat and a personalized message with your loved ones.  Choose from "Be Mine" and other special cakes.  Visit the Baskin-Robbins Cakes website for more details and to start your order.  Use promo code LuvU2 at checkout and save $2 on a cake purchase.
Bertucci's has a $35 Valentine's dinner for two.  The dinner special includes two salads, two entrees such as Shrimp Rossini or Cheese Ravioli, and a dessert to share.  Upgrades from the $35 for two price are also available. Visit the Bertucci's Dinner for two page for more details.
Black Angus Steakhouse has two specials for Valentine's:
Filet Mignon and Twin Lobster Tails ($44, price varies per location). Black Angus Steakhouse's most tender cut of beef grilled to perfection and two exceptionally sweet lobster tails, partnered with warm molasses bread and two Classic Sidekicks.
Campfire Feast Dinner for Two ($59, price varies per location) – A choice of two entrees served with four Classic Sidekicks, an appetizer to share, warm molasses bread, and a decadent dessert.  Customers can reserve their table today here: https://www.blackangus.com/reservation/.
Bojangles' has brought back their Heart-Shaped Bo-Berry Biscuits to celebrate Valentine's Day. 

Buca di Beppo has a Valentine's Day dinner for two for $49.99.  The meal includes Heart-Shaped Lasagna, Buca Small Garlic Bread, Buca Small Mixed Green or Caesar Salad and Mini Chocolate Chip Cannoli.   Visit the Buca di Beppo Valentine's special site for more details or to make reservations.

California Pizza Kitchen has a Valentine's Sweet Deal for 2 menu available February 14-18, 2018.  Choose an appetizer, two entrees and a dessert for just $35.  Entrees include pizza, pasta, and full-size salads.   Visit the CPK Valentine's Day Dinner site for the menu and more details.  
Chevys Fresh Mex has a three-course Valentine's Dinner available February 12 – 18, 2018.  Prices vary by location. Visit the Chevys website for more details.
Dairy Queen has a Dipped Strawberry Blizzard for February.  Also to celebrate Valentine's see the new Dipped Strawberry Cupid Cake.  Visit the Dairy Queen Cakes Website to place an order online.

Dunkin' Donuts is celebrating Valentine's Day with heart-shaped donuts.  Visit the Dunkin' Donuts website for more details.
El Pollo Loco has a coupon for a $10 Meal for Two good from 2/14/18 – 2/18/18.  The mealincludes 2 Legs, 2 Thighs, 2 small sides, 2 loco salads, 2 churros and 2 drinks.  For more information and to get your coupon, visit  http://www.elpolloloco.com/valentines2018.
Fleming's Prime Steakhouse is serving their annual three-course Valentine's Day dinner featuring an 8 oz. Filet Mignon with your choice of King Crab or Colossal Shrimp.  The dinner is available February 9-18, 2018.  Prices are about $75 per person.   For guests looking to elevate their evening and spoil their Valentine's with an extravagant surprise, Fleming's is offering a $500 package that includes a prix fixe dinner for two, a bottle of Veuve Clicquot served tableside, and a memorable gift to take home — a stunning pendant from a luxury Fifth Avenue jeweler. Visit the Fleming's Valentines' Dinner website for more details.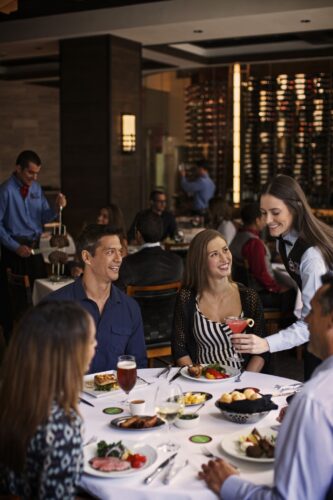 Fogo de Chao is giving away a free dining card for couples who dine with them from February 10 through February 17, 2018.  Free dining card, valued up to $63.95, is valid for one complimentary lunch or dinner with equal purchase from February 18 through May 3, 2018.   The chain announced the Valentine's special on Facebook.
Golden Corral has a Valentine's Buffet featuring new Shrimp and Prime Rib.  Weekend buffet prices will apply.   Visit the Golden Corral Website for more details.
Hooters Sports Bars have a buy 10, get 10 free deal on chicken wings on Valentine's Day in their "Shred Your Ex" promotion. Get 10 free boneless wings with the purchase of any 10 wings by shredding an image of your ex at Hooters or online at hooters.com/ShredYourEx. Visit the Hooter's Shred Your Ex announcement  for more details.
Hungry Howie's is offering their heart-shaped  pizza for $6.99 each, or $12.99 for two, on February 13-14, 2018.  Use promo code HEART1 to get the $6.99 deal or HEART2 to get two for $12.99.  Hungry Howie's announced the promo on the Hungry Howie's Home Page.  Start your order online now at: https://hungryhowies.hungerrush.com/
Joe's Crab Shack has a three-course dinner for $35 on February 10 – 14, 2018.  The dinner includes:  Appetizer Choice of: Crab Stuffed Mushrooms or Voodoo Chicken Bites;  Entrée Choice of: Twin Lobster Tails, Ribeye Steak or Shrimp Trio;  and Dessert Choice of: Crabby Apple Crumble or Campfire S'mores.  For more details visit Valentine Dinner at Joe's Crab Shack.
Krispy Kreme is offering several varieties of special Valentine's-themed doughnuts, plus get a free three-pack of doughnuts with purchase of a $10 gift card.  For more information, see Valentine's Donuts Are Back.

Macaroni Grill has dinner and gift card specials for Valentine's.  From February 9-14, 2018, get a three-course prix fixe dinner for $45 per couple.  Dinner includes a choice of one antipasti like Calimari or Bruschetta, a choice of one entrée such as Shrimp Scampi or Chicken Parmesan, and a choice of one dessert such as Homemade Chocolate Cake.  For more details see:  Valentine's at Macaroni Grill.  Also get 25% off e-gift cards now through February 14, 2018, using promo code VALENTINE.
Maggiano's has a Valentine's Dinner for two for about $85 per couple. From February 9-18, 2018, get two salads or a starter to share, two entrees such as Chicken Parmesan or Shrimp Scampi, and a dessert to share such as Tiramisu. For more details or to reserve see the Maggiano's Valentines Dinner Page.
Max & Erma has a Valentine's dinner for Two, $29.  Includes a shareable appetizer, 2 entrees and a dessert.  Good February 9 – 14, 2018.  More details are on the Max & Erma's home page.
McAlister's Deli has their annual Kids Eat Free special for Valentine's.  Get a free kids meal for up to two children aged 12 and under with the purchase of an adult dine-in entree.  For  more details, visit the McAlister's Facebook Page. *Up to 2 kids meals with the purchase of an adult entrée. Cannot be combined with any other offer. Valid for children under 12 years of age. Dine in only. No cash value. Valid at participating locations only. Valid 2/14/2018.
The Melting Pot often has special deals available during the week of Valentine's Day.  Specials vary by location, and reservations are strongly recommended.  Click here to find The Melting Pot nearest you and make reservations.
Miller's Ale House has a 12 oz. Choice Prime Rib dinner for $14.99 on Valentine's Day.  Also get half-priced bottled wines at some locations.   For details see the Miller's Ale House home page.

Mimi's Cafe has an three-course dinner for two starting at $45.  Good February 9 – 14, 2018. More details on the Mimi's Cafe Valentines Page.
Morton's The Steakhouse has a Valentines dinner special good Feb. 10-14, 2018.  Get a steak and lobster tail dinner for $59 per person. Prices slightly higher in some locations. You can find more details, including a list of participating locations, at:   Morton's Valentines Menu
Ninety Nine Restaurants has a special Valentine's Day menu with entrees starting at about $18.  Also, on Valentine's evening only, get a prime rib dinner special for $16.99 to $19.99.  For a complete menu and more details see Ninety Nine Restaurants Valentines.

O'Charley's has their Prime Rib Lovers' for Two special this Valentine's Day for just $13.99 each.  Visit the O'Charleys Facebook Page for more details.
Olive Garden has a Valentine's $34.99 takeout dinner for two for Valentine's.  Get a soup or salad with breadsticks and dipping sauce, a shareable entree for two, and dessert for $34.99.  Good for takeout only. Menu and more details on the Olive Garden Specials website.
Outback Steakhouse is featuring a 4-course Aussie Celebration for Two for Valentine's.  Starting at about $23, the meal for two  includes a Bloomin' Onion to share, two signature side salads, two entrée selections and a Cheesecake to share. Outback is also featuring their Steak and Lobster dinner starting at $15.99.  For details or to reserve, see the Outback Specials page.
The Palm has a Surf 'n Turf Valentines dinner for two for $195.  Special is good Feb. 13-15, 2018.  Get Nova Scotia Lobster with flavorful Prime Aged Steak or Filet Mignon, plus starter, sides and dessert. You can find more details at:   The Palm Valentines Dinner Special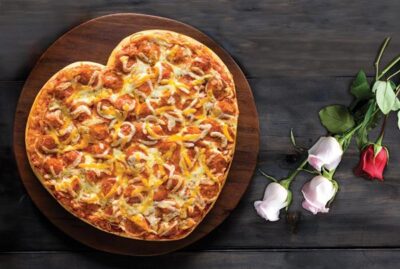 Papa Murphy's is offering their annual heart-shaped "HeartBaker" take-and-bake pizza at all locations nationwide now through Valentine's Day.  Pizzas start at $7; for $10, guests can purchase a "Sweetheart of a Deal," which includes the HeartBaker Pizza and Chocolate Chip Cookie Dough, as well.
Pizza Hut has a Valentine Bundle for $18.99 (price may vary).  Get a one-topping, heart-shaped pizza and your choice of dessert.  To order or for more details see the Pizza Hut website.
Potbelly Sandwich Shop offering Potbelly Perk Members a sweet BOGO. On February 14 only, Potbelly Perks Members can receive a free cookie with a purchase of another cookie. To claim this promo members can log into their Potbelly Perks account, add 2 cookies to their order, and the second cookie of equal or lesser value will be deducted from the total when they pay online or scan the app in-shop. The App is available for both Android and iPhone.
Qdoba has their annual Qdoba for a Kiss special for Valentine's Day.    At any participating Qdoba restaurant on February 14, guests who purchase one entrée and share a kiss with a friend or significant other will receive a second entrée (of equal or lesser value) for free. No coupon is required.  Qdoba announced the Valentine's promo on Facebook.
Ruth's Chris Steakhouse has a Surf 'n Turf Valentines menu starting at $49.95.   Special is good Feb. 9-18, 2018.  Get twin Cold Water Lobster Tails with your choice of steak starting at $49.95.  You can find more details at:   Ruth's Chris Valentines Dinner Special
Seasons 52 has an early Valentine's Dinner special. From February 11-13, 2018, get a three-course dinner for two for $60. Get a strater such as Lobster Bisque, an entree such as Filet Mignon, and a dessert such as Chocolate Brownie Ganache. Price is fixed at $60 per couple. For more details or to reserve see the Seasons 52 Valentines Page.
Shoney's has their annual 2 Can Dine for $24.99 Valentine's Day special.  From 4 PM to close February 14, 2018, visit Shoney's to enjoy these Valentine's specials:
Ribeye Steak, served with one side and Fresh Salad, Soup & Fruit Bar.

Chicken Caprese,  served with two sides and Fresh Salad, Soup & Fruit Bar.

Enhanced Seafood Bar – Including such items as Peel & Eat Shrimp, Garlic Grilled Shrimp, Stuffed Flounder, Coconut Shrimp, Crab Stuffed Shells, Baked Fish.
Also includes one Hot Fudge Cake dessert to share.  Visit the Shoney's Valentines Page for more details and to view the full menu.
Spaghetti Warehouse has an "Ultimate Feast" for $30 on Valentine's. Get a platter of the chain's most popular entrees including Chicken Parmigiana, Lasagne, Spaghetti and Ravioli, plus a serving of Italian Pork Sausages and fresh made Meatballs.   Visit Spaghetti Warehouse Valentines Dinner for more details.
Starbucks has new Cherry Mocha beverages for Valentine's.  Visit the Starbucks home page for more information.
TCBY has a buy one yogurt, get another for half price special.  Good only at select locations on Valentine's Day.    TCBY announced the Valentine's promo on Facebook.
Waffle House is now accepting Valentine's Day dinner reservations.  Visit Waffle House Valentines Dinner for details.
White Castle has their annual Valentine's dinner with tableside service at select locations from 4 – 10 PM on Valentine's Day.  Visit White Castle Valentine's Dinner for details.  Seating is limited and reservations are required, so visit the White Castle website to reserve your table in advance.
Valentine's Day Dining Statistics
The second most popular holiday for dining out after Mother's Day, this Valentine's Day is expected to be busy for restaurant operators across the nation. Not only will millions of Americans dine out on that day, but many are also choosing restaurant gift cards to celebrate the occasion.
According to the National Restaurant Association, Valentine's is second only to Mother's Day as the most popular holiday for dining out.  The NRA says about one-quarter of Americans dine out on Valentine's Day, and nearly one-third say they would also like to receive a restaurant gift card for Valentines.  When presented with a list of six possible Valentine's Day gifts, nearly one-third of the consumers who were polled favored restaurant gift cards, followed by jewelry, clothing/apparel, flowers, chocolate and perfume/cologne.
About Valentine's Day (from Wikipedia)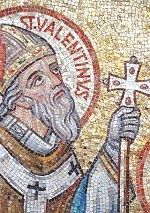 Saint Valentine's Day, also known as Valentine's Day or the Feast of Saint Valentine, is observed on February 14 each year. It is celebrated in many countries around the world, although it remains a working day in most of them.
St. Valentine's Day began as a liturgical celebration of one or more early Christian saints named Valentinus. Several martyrdom stories were invented for the various Valentines that belonged to February 14, and added to later martyrologies.  A popular hagiographical account of Saint Valentine of Rome states that he was imprisoned for performing weddings for soldiers who were forbidden to marry and for ministering to Christians, who were persecuted under the Roman Empire. According to legend, during his imprisonment, he healed the daughter of his jailer, Asterius. An embellishment to this story states that before his execution he wrote her a letter signed "Your Valentine" as a farewell.
The day was first associated with romantic love in the circle of Geoffrey Chaucer in the High Middle Ages, when the tradition of courtly love flourished. In 18th-century England, it evolved into an occasion in which lovers expressed their love for each other by presenting flowers, offering confectionery, and sending greeting cards (known as "valentines"). Valentine's Day symbols that are used today include the heart-shaped outline, doves, and the figure of the winged Cupid.