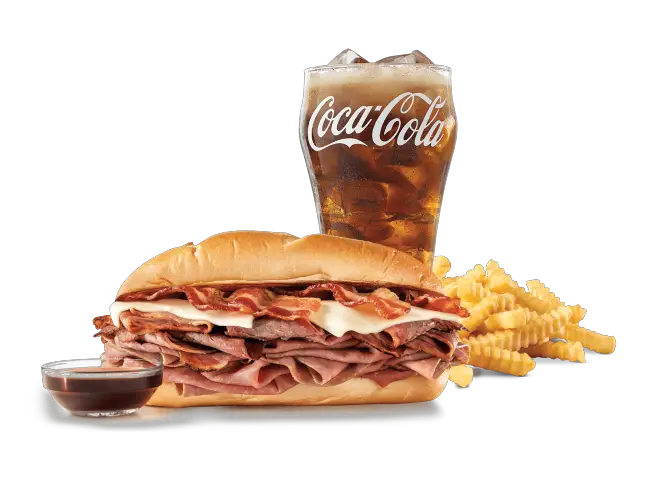 The Arby's menu boasts a great mix of perennial favorites like the Classic Roast Beef Sandwich, Smokehouse Brisket Sandwich, and perfectly seasoned Curly Fries alongside newcomers like the decadent Deluxe Wagyu Steakhouse Burger and fiery Diablo Chicken Sandwich.
Scroll through or search the table below to see prices for both classic sandwiches and new offerings on the Arby's menu.
Arby's Deals
For new daily deals to add to your repertoire, check out our article on Arby's Coupons & Specials. You can get a coupon for a free Classic Roast Beef Sandwich just by signing up for the Arby's email list, then keep an eye on your email for new Arby's coupons and discount codes as they roll out. In addition, Arby's is currently offering their 2 for $7 Everyday Value menu–a great deal that lets you pick two of the following menu items for just $7: Mozzarella Sticks, a Buffalo Crispy Chicken Sandwich, and/or a Ranch 'N Swiss Roast Beef Sandwich.
Arby's Menu & Prices
---
Disclaimer: Menu and prices listed above are based on research of sample locations and are provided for informational purposes only. Since prices and availability may vary by location, please consult your local Arby's menu for the latest details.
What's On The Arby's Menu?
Arby's says that they have the meats.  They sure do. The chain is known for their roast beef sandwiches and accordingly, they still have OG menu items like the Classic Roast Beef and Beef 'N Cheddar Sandwiches. However, in the past several years, Arby's has added other items. Their Market Fresh Sandwiches, Wraps and Salads can provide lighter fare. Their Crispy Curly Fries are still alive and kicking after all these years, too.