Arby's has a new online menu with $1, $2 and $3 items, a 2 for $7 Value Menu, app coupons and more specials.
Arby's $1, $2, And $3 Online Deals
Grab an assortment of classic Arby's grub for $1, $2 and $3 available for online orders only now through October 22. Choose from the following (you can start an online order here)
Curly Fries – $1
Classic Roast Beef – $2
Mozzarella Sticks – $2
Jamocha Shake – $2
Classic French Dip & Swiss Sandwich – $3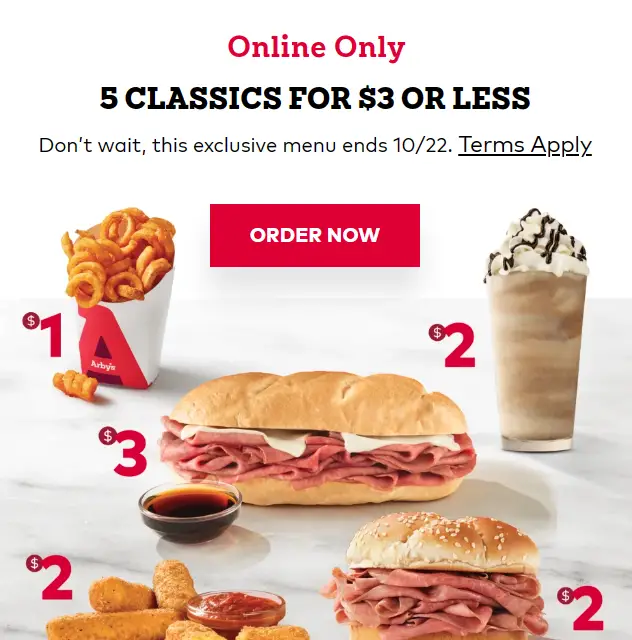 Arby's 2 For $7 Value Menu
Arby's has a 2 for $7 Value Menu that lets you pick between the Classic Beef 'n Cheddar Sandwich, Classic Chicken Sandwich and 6 pc Mozzarella Sticks.  They posted the deal on their website. They switch up the lineup every couple of months, so if these aren't your cup of tea, just check back soon.
Arby's Big Game Burger
Arby's is pushing the boundaries of fast food yet again with a new Big Game Burger made with venison, elk and beef.
Starting September 12, the Big Game Burger will debut nationwide for $8.79 in most locations. It's a 1/3 lb burger with about an equal amount of ground beef, elk and venison meat. The burger comes topped with crispy onions, pickles, melted Swiss cheese and steak sauce on a toasted bun. If you enjoy the great outdoors so much you can eat it, this Big Game Burger is worth a shot.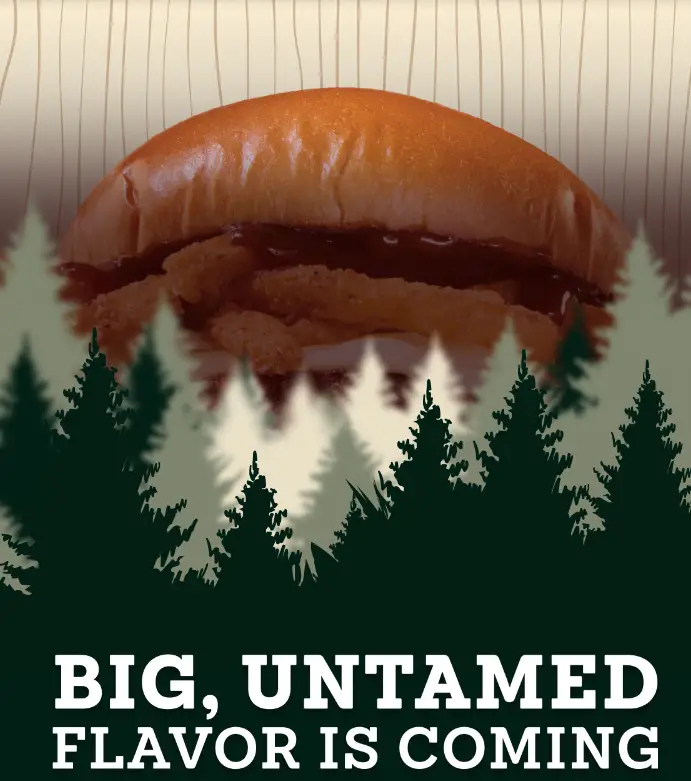 For more Arby's outdoor experiences and merch, check out ArbysHikeThru.com. They've pulled out all the stop s on this one. They have charted out a Big Game Burger Trail with a 4.1 mile hike through the Colorado Rockies to the most remote Arby's in the world!
Boneless Wings And Fry For $5 At Arby's
Boneless Wings are back on the menu at Arby's with a nice deal – get six plus a small fry for $5 for a limited time. Choose from the classic Buffalo style sauce or a Hot Honey BBQ sauce. Head in a try some out!
Does Arby's Have Coupons?
You can find coupons in the Arby's app every week.  Coupons are updated weekly and usually include these offers good for use once a week:
$3 off $10 or more purchase
$5 off $20 on weekends
Free small fries on Tuesdays.
To get these deals you'll need the Arby's App plus be a member of the Arby's Rewards program.  Sign up here:
Arby's also has another way to get coupons, the Arby's email program.
Get an Arby's coupon for a free Classic Roast Beef Sandwich when you sign up for Arby's email program.  CLICK HERE to enroll and get your Arby's coupon. You'll also receive other coupons, promo codes, and discount codes during the year along with other exclusive deals.
Here at EatDrinkDeals, we have a policy of only advertising the best deals. Rest assured, any Arby's coupon codes or mobile coupons that are posted here will be valid and will save you some precious moolah. Arby's cycles specials out frequently, so be sure to check back regularly so you don't miss any great Arby's deals!
Arby's Menu
Visit our Arby's Menu page for a full list of the items available, with prices. Or, visit their website here.
Where Can I Get The Arby's Mobile App?
Arby's has an app on the App Store and Google Play Store that you can download to get even more deals. After nine visits, you can get a free Roast Beef Sandwich and you can get free curly fries with any purchase on your birthday.
To read their privacy policy on information collected when using the app or website, click here.
Is There An Arby's Near Me?
There are over 3,300 Arby's locations in the United States it's one of the largest fast food chains in the world. Odds are you have a local restaurant within a couple miles! Nevertheless, you can find a nearby Arby's by visiting this site: Arby's Near Me
What Are Arby's Hours?
Most Arby's are open from around 10 am to 11 pm every day, but times can vary.  They don't serve breakfast, unlike many other fast food joints.  Some locations close later to cater to the night owls.  To find the hours, address and more details for your Arby's, select your location from: Arby's Near Me
Does Arby's Deliver?
Arby's has not heavily invested in its delivery offerings unlike other competitors, preferring to focus on the dine-in, take out and drive thru experiences instead.  However, 3rd party delivery services like DoorDash and Uber Eats will still deliver it to you for a fee, normally around $6-$8.
Where Is Arby's Nutrition Info?
Arby's lists its nutritional information online.  To view the nutritional content of any menu item, click here for the Arby's Nutrition page.