Bar Louie has a weekday "Appy Hour" at most locations with 1/2 off select appetizers and flatbreads.
To find the specifics for your local Bar Louie, select your location then click on Details.
Examples of Bar Bites on the Appy Hour half-price menu are Flash-Fried Calamari, Bavarian Pretzel Twists, Wings, Hummus, Crispy Potstickers and Flatbreads.  Flatbreads come in types like Roasted Veggie, Bourbon BBQ Pork and Pineapple, Pepperoni, and more.  Here's the Bar Louie menu.  Drink specials vary by location, but typical deals are $3.50 14 oz drafts, $4.50 wines by the glass, and $5.50 martinis.
Bar Louie Tuesday Special
Bar Louie has Half-Price Burgers at many locations on Tuesdays.
Choose your burger and get potato tots or fries for half price, or, in some locations, just $5 (less than half price). Where available, the deal is good from 5 pm to close.
To see if the deal is good at your local Louie's, select your location at the Bar Louie website then click View Details to view the local specials.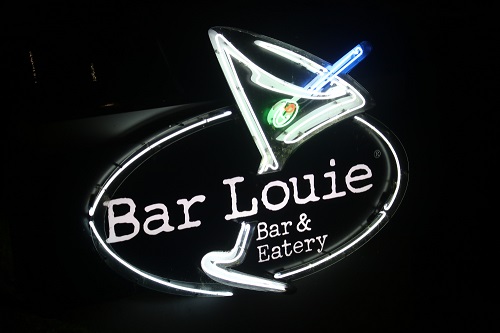 Bar Louie is a bar and restaurant chain founded in 1990. Bar Louie serves food, beer, and cocktails, from locations predominantly located in urban and suburban markets.
As of January 2018 there are approximately 133 locations, many of which can be commonly found in higher-end lifestyle centers, entertainment venues, and hotels. The company also awards franchises. Bar Louie is headquartered in Addison, Texas and Tom Fricke is the company's Chief Executive Officer. Sun Capital Partners is a major investor in the company dating back to June 2010.