Internationl Pi Day is March 14. Know why? The π symbol represents the ratio of a circle's circumference to its diameter. It's 3.14, plus a zillion other decimals after that. If you want more info, go find a math book somewhere. The important thing is that Blaze Pizza celebrates Pi Day every year with $3.14 pizzas! This year, though, you'll need to be a Blaze Rewards member to unlock the deal. Here's the details from the Blaze Pizza website – you can sign up for the Blaze Rewards app here to get ready, too. The $3.14 pizza offer is actually valid for about a month, so you can choose when to celebrate the occasion.
In the meantime, Blaze Pizza has online specials available every day like a pizza and fountain drink for $7.95, a Large Pepperoni Pizza for $9.95, a $19.95 Meal Bundle and more.
Click here for the Blaze Pizza ordering page. You'll see these offers in the Online Specials section of the menu in the left hand column (may vary by location):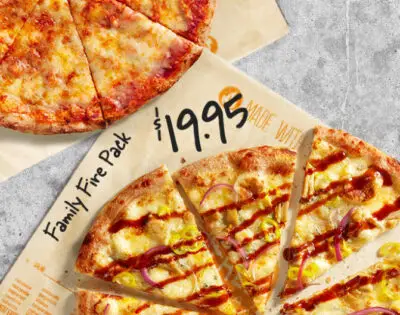 $7.95 Party of One – 11 inch 1 topping pizza and fountain drink (pick up only)
$9.95 Large Pepperoni Pizza
$26 Patio Bundle for Two – 2 BYO 11-inch pizzas + 2 fountain drinks + 2 Desserts
Take Three $10 – a half BYO or Signature Pizza, Side Salad, and a Bottled Drink. Pickup only.
$10 Large 1 Topping Pizza. Online only
$20 Two Large 1 Topping Pizzas
$22 Two Large 2 Topping Pizzas
$19.95 Build Your Own Bundle – one Large Signature Pizza, 4 pack of Dough Knots and choice of Entree Salad or two Desserts
$19.95 Family Fire Pack – one Large Signature Pizza and a Large Simple Pie
Dough Knots 10 pack or Dessert 4 pack for $6.85
$18.95 Large Build Your Own Pizza and 4 Dough Knots
* No substitutions. Tax not included. Only available online at participating locations.
More Pizza Coupons
Want more coupons from your other favorite pizza joints? Visit our EatDrinkDeals Pizza Coupons, Promo Codes and Specials section!
More from EatDrinkDeals
Want to get info on other deals, discounts, coupons and specials from your favorite restaurants? Click here to see the latest and greatest from EatDrinkDeals!
Blaze Pizza Cheesy Bread
Blaze Pizza has a new item on the menu with the arrival of Cheesy Bread! For $4.95, the Cheesy Bread is made with Blaze's fresh dough, whole-milk mozzarella cheese, oregano and drizzled with olive oil. Cheese lovers rejoice! Blaze announced the arrival of its Cheesy Bread on Facebook.
More Restaurant Daily Deals
Daily deals for all days of the week can be found here:
For more daily and weekly restaurant specials like these, see: Restaurant Daily Deals
If you're an AARP member, you can get every day discounts at Denny's, McCormick & Schmick's, Outback and more places. You can find all the details in our story, AARP Dining Discounts.
Also, many restaurant chains such as Bob Evans, Outback Steakhouse, Zoe's Kitchen and more offer discounts to the active military and veterans. Here's the EatDrinkDeals roundup, Restaurant Military and Veterans Discounts.