The Baskin-Robbins Flavor of the Month for March is Triple Mango!   Each scoop is infused with real mango pieces and finished with a mango ribbon to add just the right amount of sweetness to perfectly complement the fruity ice cream and sorbet base.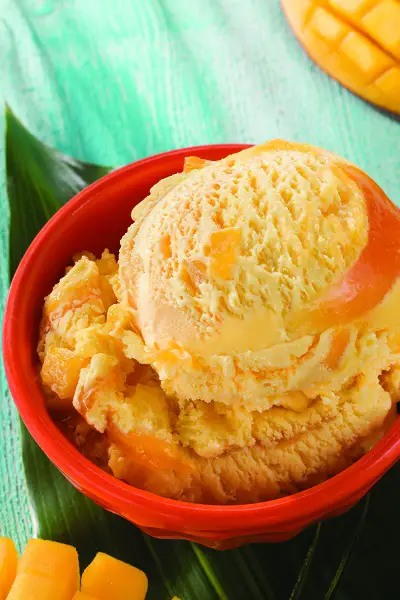 "We've been dreaming about spring and the island life all winter, and wanted to bring a taste of it to everyone with a burst of true mango flavor," said Nikki McKinnell, R&D Technologist, Baskin-Robbins U.S. and Canada in this press release. "We tried a lot of mangoes from around the world to get this flavor just right, and after many taste tests, included three varieties of premium Alphonso, Kent and Totapuri mangoes as the flavor combination truly transported us to Out-of-Office mode."
Also, remember that March 31 will have $1.70 scoops as part of Baskin-Robbins' Celebrate 31 celebration!  More details are below.
Baskin-Robbins Celebrate 31 Events – MARCH CANCELED
Baskin-Robbins has a $1.70 ice cream special on every 31st of the month.  However, Baskin-Robbins wants to do its part to limit the spread of coronavirus and has canceled the promotion for this month.  Baskin-Robbins provided the update on its website.
On the 31st of every month with 31 days (January, March, May, July, August, October and December) get all regular and kid-sized scoops for the special price of $1.70. Also you can two quarts of prepacked ice cream for $7.99. Or get a 56-oz ice cream pack for $9.99.
For more information about Baskin-Robbins' wide variety of premium ice cream flavors and frozen desserts, visit  www.BaskinRobbins.com or follow Baskin-Robbins on Facebook (www.facebook.com/BaskinRobbins), Twitter (www.twitter.com/BaskinRobbins) or Instagram (www.instagram.com/BaskinRobbins).
About Baskin-Robbins (from Wikipedia)
Baskin-Robbins is an American chain of ice cream and cake specialty shop restaurants. Burt Baskin and Irv Robbins founded the company in 1945 in Glendale, California. It claims to be the world's largest chain of ice cream specialty stores,[3] with 7,500 locations, including nearly 2,500 shops in the United States and over 5,000 in other countries as of December 28, 2013.  Baskin-Robbins sells ice cream in nearly 50 countries.
The company is known for its "31 flavors" slogan, with the idea that a customer could have a different flavor every day of any month. The slogan came from the Carson-Roberts advertising agency (which later merged into Ogilvy & Mather) in 1953. Baskin and Robbins believed that people should be able to sample flavors until they found one they wanted to buy. In 2005, the company updated its "BR" logo such that it doubles as the number "31" to represent the 31 flavors. The company has introduced more than 1,000 flavors since 1945.
Menus
Birthday Club
Sign up for the Birthday Club and get a free ice cream email on your birthday and a special discount on a birthday cake. Plus a BOGO scoop offer when you sign up and additional offers all year long.  Sign up HERE
Baskin-Robbins Locations
Click "Find a Shop" then enter your zip code or city and state to find a Baskin-Robbins location near you:  Baskin-Robbins Locations