Baskin-Robbins is launching a new Flavor of the Month and a lineup of new Sea-Inspired Creature Creations scoops and slices!
Creature Creations come in the form of ice-cream and ice-cream cakes. The former will feature playful cup designs including a shark, sea-turtle, and dolphin with an edible white chocolate topping and an explosion of sprinkles enticing you to come back for more! Creature-Creation Ice Cream Cakes will feature your favorite character as an ice-cream cake in your favorite cake and ice cream flavors!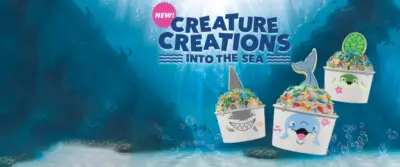 July means a new Flavor of the Month at Baskin-Robbins. The flavor this month is Beach Day, featuring blue sea salt vanilla-flavored ice cream swirled in a sand-like crunch of graham crackers mixed with milk-chocolate flavored caramel-filled sea turtles and colored frosting flecks!
New Sour Berry Lime Flavor
Spruce up your next Baskin-Robbins treat with the new Sour Berry Slime, available to go on top of anything for just $0.99.  The Sour Berry Slime adds a sweet and slightly sour kick to any scoop or shake on the menu.  You can also take a Sour Berry Slime bottle home to enjoy all summer for $6.99.  Baskin-Robbins posted the info on their website, and on Facebook.
Baskin-Robbins Flavor of the Month
The June Flavor of the Month is in at Baskin-Robbins.  Enjoy Summertime Lime all month long!  The flavor is made with a tangy lemon-lime slime ribbon into bright green and white citrus ice cream.  Jump into summer flavors with this one!  Baskin-Robbins posted the Flavor on their website.
Baskin-Robbins Takeout Sundae Kits
Have an Ice Cream Sundae party at your home with Do It Yourself Sundae Kits from Baskin-Robbins for $24.99!
The Kits come with 2 pre-packed quarts of ice cream, three toppings, a can of whipped cream and even some cherries.  Or, try the DIY Polar Pizza Kit for $24.99!  You'll get to customize either a Chocolate Chip Cookie or Double Fudge Brownie Crust, add a pre-packed quart of your favorite ice cream flavor, and add four toppings for some extra pizazz!
To view the menu, visit:  Baskin-Robbins DIY Kits
More from EatDrinkDeals
Want to get info on other deals, discounts, coupons and specials from your favorite restaurants?  Click here to see the latest and greatest from EatDrinkDeals!
Baskin-Robbins Celebrate 31 Events
In normal times, Baskin-Robbins has a $1.70 ice cream special on every 31st of the month.
On the 31st of every month with 31 days (January, March, May, July, August, October and December) get all regular and kid-sized scoops for the special price of $1.70. Also you can two quarts of prepacked ice cream for $7.99. Or get a 56-oz ice cream pack for $9.99.
Unfortunately, due to the pandemic, Baskin-Robbins has made the decision to cancel the most recent Celebrate 31 events.  Sorry, everyone!  Baskin-Robbins posted the news on Facebook.
For more information about Baskin-Robbins' wide variety of premium ice cream flavors and frozen desserts, visit  www.BaskinRobbins.com or follow Baskin-Robbins on Facebook (www.facebook.com/BaskinRobbins), Twitter (www.twitter.com/BaskinRobbins) or Instagram (www.instagram.com/BaskinRobbins).

More Restaurant Daily Deals
Daily deals for all days of the week can be found here:
For more daily and weekly restaurant specials like these, see:  Restaurant Daily Deals
If you're an AARP member, you can get every day discounts at Denny's, McCormick & Schmick's, Outback and more places.  You can find all the details in our story, AARP Dining Discounts.
Also, many restaurant chains such as Bob Evans, Outback Steakhouse, Zoe's Kitchen and more offer discounts to the active military and veterans.  Here's the EatDrinkDeals roundup, Restaurant Military and Veterans Discounts.