Dunkin' has a new daily happy hour from 2-6 pm featuring $2 medium lattes, cappuccinos and americanos.  Dunkin' announced the happy hour on their website.
* Almond milk an additional charge.  Participation may vary.  Limited time offer.  
Dunkin' Halloween Deals
Dunkin' has their Halloween Spider Donut in shops plus a special on their Munchkins now through October 31, 2019.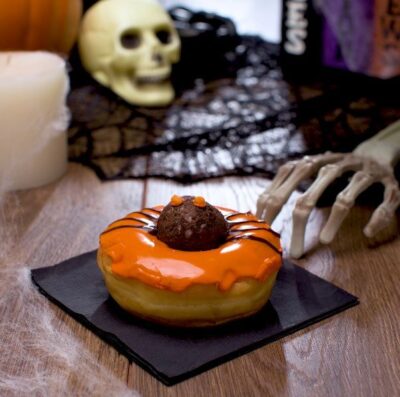 Dunkin's annual donut for Halloween, the Spider Donut, is available now through October 31, 2019, the chain said. This donut is frosted with orange icing with a sweet eight-legged donut creature on top, made from a glazed chocolate MUNCHKINS donut hole treat with chocolate drizzle for the spider legs and orange drizzle for the eyes.
Also at Dunkin' now through the end of October, get any 10 MUNCHKINS for the special price of $2.  The chain also has recipes to turn MUNCHKINS donut hole treats into monsters, mummies and more Halloween icons.
"All this month, you can get 10 MUNCHKINS® for the special price of $2," the chain announced. "For even more Halloween fun at home, you can transform your favorite Chocolate and Old Fashioned donut hole treats into fun little monsters, bats, pumpkins and mummies. Whether it's a big Halloween party or a fun family activity with the kids, these DIY Monster MUNCHKINS® are sure to be a hit!"
Recipes include directions on how to make a Monster, Bat, Mummy or a Pumpkin Munchkin.  For recipes and more details, visit the the Dunkin' Donuts News Page.
Looking for other great Halloween deals?  Check out our 2019 Halloween Restaurant Deals story!
Fall Menu
Dunkin' rolled out their fall menu of pumpkin coffees, pumpkin donuts, and more on Wednesday, August 21, 2019.
"While the calendar still says summer, here at Dunkin' we think it's never too early for one of our favorite fall flavors: PUMPKIN!" the chain announced.  The chain announced the 2019 Pumpkin rollout on the Dunkin News Page.
Dunkin's menu for Fall 2019 includes:
NEW Cinnamon Sugar Pumpkin Signature Latte: Dunkin' continues to take lattes to the next level with signature espresso drinks dressed up with exciting flavors and toppings. The new Cinnamon Sugar Pumpkin Signature Latte, available hot or iced, features pumpkin and cinnamon flavors.  Dunkin' tops the beverage with whipped cream, a caramel drizzle and cinnamon sugar topping for a tasty new seasonal sip.
Pumpkin Flavored Coffees: Dunkin's Pumpkin Flavored Coffees are the classic choice to fuel up for fall. Dunkin's pumpkin flavor swirl is available in its hot or iced coffee, Cold Brew, espresso drinks, frozen coffee and frozen chocolate.
NEW Apple Cider Donut and MUNCHKINS® donut hole treats: The taste of apple cider sweetens the season with Dunkin's Apple Cider Donut, featuring an apple cider cake ring tossed in cinnamon sugar. Perfect for sharing with friends this fall, guests can also enjoy Apple Cider MUNCHKINS® donut hole treats.
Pumpkin Donut and Muffin: Back again for fall is Dunkin's Pumpkin Donut, a glazed pumpkin cake donut that can also be enjoyed as bite-size MUNCHKINS® donut hole treats, as well as Dunkin's Pumpkin Muffin, topped with white icing and sweet streusel crumbs.
Dunkin' Pumpkin K-Cup® Pods: Guests can take the taste of Pumpkin home with Dunkin's Pumpkin K-Cup® Pods, available at participating Dunkin' restaurants for a limited time. Pumpkin flavored K-Cup® Pods and packaged coffee will also be available in grocery and other retailers nationwide as well as online at http://shop.dunkindonuts.com.
To learn more about Dunkin' Donuts, visit www.DunkinDonuts.com or follow them on Facebook (www.facebook.com/DunkinDonuts) and Twitter (www.twitter.com/DunkinDonuts).
About Dunkin' Donuts (from Wikipedia)
Dunkin' Donuts is an international doughnut and coffee retailer founded in 1950 by William Rosenberg in Quincy, Massachusetts.  Dunkin's major competitors include Krispy Kreme and Tim Hortons.  The company has more than 9,800 locations in 31 countries worldwide.  This includes more than 6,700 Dunkin' Donuts locations throughout the United States.