Dunkin' has partnered up with DoorDash for delivery – and from September 15 – 21, spend $10 or more for delivery with DoorDash and get a $0 delivery fee and free 25 count of MUNCHKIN Donut Holes!
"Dunkin' guests know they can count on us to offer the most convenient ways to enjoy their favorite coffee and food items. We are excited to kick off the fall season by continuing to expand our delivery footprint, teaming up with DoorDash for yet another way to keep Americans running by delivering their daily Dunkin' order right to their doorstep." said Brandy Blackwell, Director of New Business, Delivery & Catering, for Dunkin' U.S. in this press release.
Click here for the DoorDash website to start an order. You'll need to input your address and make sure a Dunkin' is in your delivery area first. DoorDash was spotted hyping the deal on Facebook, too.
https://www.facebook.com/DoorDash/photos/a.536487053080062/3587058928022844/
Dunkin' Fall Menu and Pumpkin Spiced Coffee
Dunkin's Pumpkin Spiced Coffee and other fall menu items return to Dunkin', and you can also get Harpoon Brewery beer in Dunkin' flavors this fall!
Dunkin' announced the full lineup on their website. Here's what's now available nationwide:
Signature Pumpkin Spice Latte: Dunkin's new Signature Pumpkin Spice Latte comes hot or iced and combines espresso with pumpkin and vanilla flavors, topped with whipped cream, a caramel drizzle, and cinnamon sugar topping.
Chai Latte: Sweetened chai tea blend with spices including cinnamon, cardamom, and nutmeg combined with milk.
Apple Cider Donut and MUNCHKINS® Donut Hole Treats: Apple cider cake ring tossed in cinnamon sugar.
Pumpkin Donut, MUNCHKINS® Donut Hole Treats, and Muffin: Glazed pumpkin cake donut that can also be enjoyed as MUNCHKINS® donut hole treats, and the Pumpkin Muffin, topped with white icing and sweet streusel crumbs.
Maple Sugar Bacon Breakfast Sandwich: Five half-slices of maple sugar seasoned bacon, egg, and white cheddar cheese served on a warm, flaky croissant.
Dunkin' also spread the word on their Facebook page. Welcome back PSL, we need you now more than ever!!!
"This is one of the most anticipated times of the year for Dunkin' guests, and we're excited to make pumpkin favorites available at Dunkin' restaurants earlier than ever," said Jill Nelson, Vice President, Marketing Strategy at Dunkin'. "This year, we have an especially robust menu of new products with something for everyone – from craveable bakery items to snacks and sandwiches that pair perfectly with our seasonal lattes and coffees. No one does fall flavor better than Dunkin'."
In other Pumpkin related news:
More from EatDrinkDeals
Want to get info on other deals, discounts, coupons and specials from your favorite restaurants? Click here to see the latest and greatest from EatDrinkDeals!
Dunkin' Beer with Harpoon Brewery
Dunkin' is really pumpin' this year – they've partnered up with Harpoon Brewery to release donut flavored beers this fall! There's four kinds available – and yes Pumpkin is one of them:
Harpoon Dunkin' Pumpkin – A Spiced Latte Ale brewed with pumpkin, pumpkin pie spices, and a splash of coffee.
Harpoon Dunkin' Boston Kreme – A Boston Kreme Stout brewed with real Dunkin' donuts and cacao nibs for a chocolatey taste.
Harpoon Dunkin' Jelly Donut – An IPA brewed with real Dunkin' donuts and raspberry purée.
Harpoon Dunkin' Coffee Porter – An American Porter with malty notes of chocolate, caramel, and toffee and the flavor of Dunkin' coffee.
Dunkin' posted the news about their donut flavored libations on their website.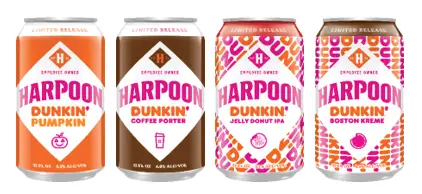 Snackin' Bacon
Dunkin' has new items like Snackin' Bacon, Matcha Lattes and Protein Muffins in addition to their standard coffee and donuts fare.
Bacon is great. It's great for breakfast, it's great to add to your burger for lunch or dinner, and now… Dunkin' has Snackin' Bacon!
Each order of Snackin' Bacon comes with eight half-slices of bacon seasoned with Sweet Black Pepper for a sweet and savory combo. Prices may vary, but in our research we saw it costing $2.79 in the Dunkin' App.
Matcha Lattes and Protein Muffins
Dunkin' has Matcha Lattes and Protein Muffins for all the healthy folks out there.
Based on Matcha green tea powder produced in the Nishio region of Aichi prefecture, Japan, where the finest Matcha has been grown for more than 800 years, the Matcha Lattes will be available hot, iced or frozen.


Fuel up your day with the new Protein Muffin, featuring blueberries, cranberries, sunflower seeds and pumpkin seeds!


Dunkin' posted the news about the new items on their website.
DD Perks Program
Join the DD Perks Program to earn free food with your regular purchases, plus access to other giveaways like free coffee and free donuts! Click here to join the DD Perks program on the Dunkin' website. DD Perks members earn 5 points for every $1 spent and can order ahead to avoid waiting in line. At 200 points (or $40 of purchases), get a free beverage.
To learn more about Dunkin' Donuts, visit www.DunkinDonuts.com or follow them on Facebook (www.facebook.com/DunkinDonuts) and Twitter (www.twitter.com/DunkinDonuts).