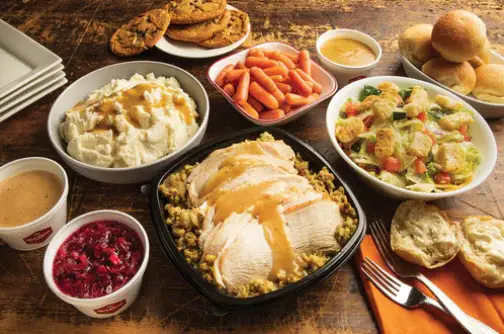 Bob Evans operates almost 500 restaurants in the United States today, but the chain of family restaurants has humble beginnings. In 1948, when founder Bob Evans couldn't source quality sausage for his tiny diner in Gallipolis, Ohio, he decided to make his own. The rave reviews of diner customers told Bob he was on the right track, and with the help of a group of friends and family, he established Bob Evans Farms in 1953.
"High-quality food and heartfelt hospitality" are still at the center of the Bob Evans brand. Bob Evans Restaurant menus feature all the homestyle favorites you can imagine: from hearty breakfasts to burgers, from chicken & noodles to apple pie.
Scroll through or search the table below to see the menu and prices at Bob Evans. Get ready to tuck in for a Dang Hot Chicken Sandwich and a slice of Holy Cow Chocolate Cake!
Deals at Bob Evans
Get a free Dinner Bell Plate when you download the Bob Evans mobile app! Read our article on Bob Evans Coupons & Menu Deals to find details on this and other current deals. Check out Family Meals, Pick 2 Combos, and the list of Dinner Bell Plates at Bob Evans.
Never miss a coupon from Bob Evans and your other favorite restaurants. Sign up for the EatDrinkDeals newsletter today!
Bob Evans Prices & Menu
---
Disclaimer: Menu and prices listed above are based on research of sample locations and are provided for informational purposes only. Since prices and availability may vary by location, please consult your local Bob Evans menu for the latest details.