Get $3 off a $25 check, or $2 off $15 with a Bob Evans coupon valid through September 18.  CLICK HERE for your Bob Evans coupon.
Bob Evans also has Pick Two Combos starting at $5.99, Kids Eat Free on Tuesday nights, and Dinner Bell specials for dine-in starting at $7.99.
Pick from a selection of salads, soups and sandwiches starting at $5.99 for the Pick Two Combos.  The Soup and Salad Combo is $5.99.  Choose from Chicken-N-Noodles, Baked Potato, and Hearty Beef Vegetable Soups with a salad and some rolls for a light meal.  The salad options are:
Summer Berry Salad
Wildfire Chicken Salad
Cranberry Pecan Chicken Salad
Grilled Chicken Cobb Salad
Get the Half Sandwich Combo for $6.99  Choose from one of the three previously mentioned soups or the Farmouse Garden Salad, and pair it with a Half Turkey Bacon Melt, Pot Roast, or All-American BLT Sandwich for something a little heartier.  Bob Evans posted about the Pick Two Combo deals on its website.
More from EatDrinkDeals
Want to get info on other deals, discounts, coupons and specials from your favorite restaurants?  Click here to see the latest and greatest from EatDrinkDeals!
Bob Evans Family Meals
Bob Evans has Family Meals to help you feed a group from 2 – 8 people.  Give yourself a break from cooking!  Choices include Country Fried Stick, Pot Roast, Slow Roasted Turkey, and more.  Prices range from $23 -$29 to feed 2 depending on your meal choice, a Family Meal for $49.99 to feed 6 – 8 people, or make it a lazy day and get feed a family of 4 breakfast, lunch AND dinner for $69.99!   Click here for the full lineup from the Bob Evans website.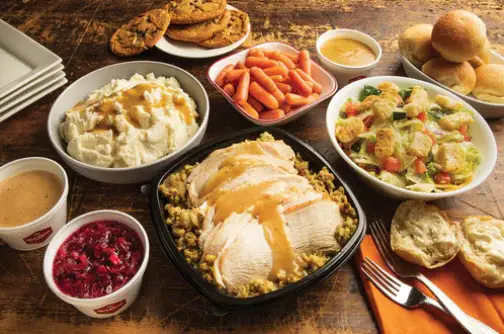 Bob Evans App and Free Pie Coupon
Bob Evans has a shiny new app with mobile ordering and mobile pay options.  They want you to use it, and they're offering a coupon for a free slice of pie just for downloading it.  Click here to get the Bob Evans app for iPhone or Android mobile devices.
Dinner Bell Plates $7.99
Bob Evans has announced 8 Dinner Bell Plate entrees available for $7.99 apiece.
"The Dinner Bell Plates were carefully chosen for variety and quality of ingredients as a part of our ongoing strategy to bring even more value to our guests in new ways this year," said Saed Mohseni, chief executive officer for Bob Evans Restaurants in this press release. "Our goal is to make it even easier for families to enjoy a meal together, whether they're visiting their local Bob Evans restaurant or placing an order for pick up or delivery to enjoy at their own table."
Choose from the following:
Tender Fried Pork Loin: breaded, country-fried and topped with gravy, served with mashed potatoes with gravy and Bob Evans signature coleslaw.
Lemon Pepper Sole Fillet: a wild-caught, mild white fish fillet seasoned with a blend of lemon and pepper then perfectly seared, served with a baked potato and sugar snap peas.
Smaller Portion Turkey & Dressing: a smaller serving of our iconic slow-roasted turkey and dressing, served with mashed potatoes and gravy.
Grilled Chicken Breast: a chicken breast grilled to perfection, served with mashed potatoes with gravy and fresh, buttered broccoli.
Country-Fried Steak: a down-home, country-fried steak smothered in country gravy, served with mashed potatoes with gravy and green beans with smoked ham.
Mushroom and Onion Chopped Steak: topped with sautéed mushrooms and onions and beef gravy, served with mashed potatoes with gravy and fresh, buttered broccoli.
Homestyle Boneless Fried Chicken: a crispy, boneless fried chicken breast, served with mashed potatoes with gravy and corn.
Ham Steaks: hickory-smoked ham steaks, served with mashed potatoes with gravy and fresh, buttered broccoli.
Bob Evans Kids Eat Free Tuesday
Bob Evans has a kids eat free deal every Tuesday.
Get one free kids meal with each adult entrée after 4 pm on Tuesdays.  Not valid with any other offers, coupons or discounts.  Dine-in only.  Bob Evans announced the kids eat free deal at:  Bob Evans Kids Menu.
Check out our Tuesday Daily Deals story for other restaurant specials on Tuesdays.
Bob Evans Menu
Bob Evans is known for its signature favorites like Rise & Shine breakfast, sausage gravy 'n biscuits, turkey and dressing and Knife & Fork Sandwiches.  The restaurant also offers up signature favorites like fried chicken, chicken salad, and steak, among many others.
You can find the Bob Evans menu at: Bob Evans Menu
Bob Evans Recipes
Bob Evans has recipes for many of their popular brunch, breakfast and dinner entrees at their Bob Evans Recipes site.
More Restaurant Daily Deals
Daily deals for all days of the week can be found here:
For more daily and weekly restaurant specials like these, see:  Restaurant Daily Deals
If you're an AARP member, you can get every day discounts at Denny's, McCormick & Schmick's, Outback and more places.  You can find all the details in our story, AARP Dining Discounts.
Also, many restaurant chains such as Bob Evans, Outback Steakhouse, Zoe's Kitchen and more offer discounts to the active military and veterans.  Here's the EatDrinkDeals roundup, Restaurant Military and Veterans Discounts.