Capriotti's Sandwich Shop has their annual $4 Bobbie sandwich special on Thursday, June 13, 2019.
To qualify for the special you'll need to have downloaded the CAPAddicts Rewards app and registered in the app by June 12, 2019.   You can download the app at:  https://www.capriottis.com/rewards/
Founded in 1976 in Delaware, Capriotti's has a 40-year nightly tradition of slow-roasting whole, all-natural turkeys in-house and hand-shredding them each morning to feature in a variety of fan-favorite subs. This includes The Bobbie, the shop's acclaimed 'Thanksgiving sandwich,' the Capastrami, made with hot pastrami, the Cole Turkey and the Cheesesteak.
"Every year for Capriotti's birthday, we love to celebrate both our fans who have remained loyal to us over the past 43 years, as well as our new fans who just discovered our amazing taste," said Ashley Morris, CEO of Capriotti's. "We are thrilled to be as strong as ever at 43, and continue to celebrate our classic recipes and quality ingredients, as well as fun twists and innovative sandwiches that keep these fans returning for more. We look forward to an even stronger 43 years ahead."
Capriotti's announced the June 13 special in a press release.  For more information about Capriotti's or to find a location near you, please visit, www.capriottis.com.
About Capriotti's (from Wikipedia)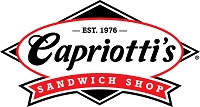 Capriotti's is a Las Vegas-based fast casual restaurant chain located in the United States. The restaurant chain was founded in Wilmington, Delaware in 1976. Capriotti's has 100 company-owned and franchise locations in 16 states.
Capriotti's specializes in cold, grilled, and vegetarian submarine sandwiches.  Each restaurant roasts whole turkeys for 12 hours nightly, hand pulls meats, and makes their own meatballs and coleslaw.
In November 2009, the Bobbie, one of Capriotti's signature sandwiches was voted "The Greatest Sandwich in America" by AOL.com. The sandwich is made with pulled turkey, cranberry sauce, stuffing and mayonnaise.  The Margolets named it after their aunt. In 2012, USA Today named Capriotti's one of the "10 Great Places for a Surprising Sandwich."