Captain D's has a new Ultimate Shrimp Feast menu available starting today, Monday, April 29, 2019.
The Ultimate Shrimp Feast – available now through July 14, 2019 –  features new Extra Crispy Shrimp – tender shrimp breaded with a buttermilk black pepper extra crispy coating. Extra Crispy Shrimp is served with D's Signature Batter dipped fish, choice of two sides and Captain D's world-famous hush puppies. Guests also can indulge in creamy shrimp scampi, delicious shrimp cooked in scampi sauce then poured over pasta, served with a choice of side and breadstick. The shrimp choices also include butterfly shrimp, popcorn shrimp and premium, fire-grilled shrimp all available with other Captain D's seafood favorites.
To complete this feast, Captain D's is bringing back their fried green tomatoes served with D's Dippin' sauce.
For menu and more details, visit  https://www.captainds.com/
About Captain D's (from Wikipedia)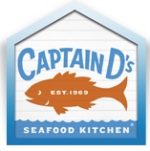 Captain D's is a U.S.-based chain of fast-casual restaurants, specializing in seafood and fish and chips. The restaurant also features a low-carbohydrate menu.   The first Captain D's restaurant opened in Donelson, Tennessee, in 1969 under the name "Mr. D's". The "D" is the initial of the last name of the co-founder, Ray Danner.
Many Captain D's locations were originally selected to be near existing Shoney's restaurants. Captain D's has grown to become a restaurant chain with about 520 locations in about 23 states (primarily in the South and Midwest) as well as overseas.