Captain D's has a new Lobster & Crab Celebration today through September 22, 2019.
Choices for this seafood celebration include plates of Lobster Bites or Crab Cakes served with D's Signature Batter Dipped Fish and Butterfly Shrimp, choice of two sides and D's World-Famous Hush Puppies.
Guests with bigger appetites should consider the Ultimate Lobster & Crab Platter. Also available on the fire-grilled menu is Crab Topped White Fish served over rice with a choice of two sides and a breadstick. Back by popular demand are North Atlantic Lobster Rolls, featuring luscious lobster from the cool waters of the North Atlantic served on a buttery roll, New England style.
Rounding out this celebratory feast is Captain D's Lobster Bisque made with North Atlantic lobster.
For menu and more details, visit  https://www.captainds.com/
About Captain D's (from Wikipedia)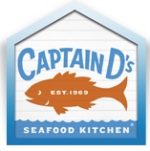 Captain D's is a U.S.-based chain of fast-casual restaurants, specializing in seafood and fish and chips. The restaurant also features a low-carbohydrate menu.   The first Captain D's restaurant opened in Donelson, Tennessee, in 1969 under the name "Mr. D's". The "D" is the initial of the last name of the co-founder, Ray Danner.
Many Captain D's locations were originally selected to be near existing Shoney's restaurants. Captain D's has grown to become a restaurant chain with about 520 locations in about 23 states (primarily in the South and Midwest) as well as overseas.