Every year since 2005, Chick-Fil-A has had Cow Appreciation Day in July and offered free food to those who dressed up like a cow.  Wear any sort of cow apparel and you can get a free entrée, such as an Original Chicken Sandwich, Chick-fil-A Nuggets (8- or 12-count), or a breakfast favorite such as the Egg White Grill.  Children wearing anything cow-like get a free Kid's Meal.  It's all a little silly, but in the spirit of free Chick-Fil-A it's good cheap fun.
So, when is Chick-fil-A's 16th annual Cow Appreciation Day coming in 2020?  Unfortunately, but not unexpectedly, Chick-Fil-A has announced that Cow Appreciation Day is officially postponed.  This is a major downer, but we hope things get better soon so we can dress children up in ridiculous outfits for our enjoyment like this:
In the meantime, enjoy summer classics like lemonade and the Peach Milkshake at your neighborhood Chick-Fil-A to drown your sorrows!
Summer Mango Passion Tea Lemonade and Peach Milkshake
Summer is heating up, and Chick-Fil-A has two ways to help you cool off – the return of its fan favorite Peach Milkshake, plus a new Mango Passion Tea Lemonade!
The Peach Milkshake is a longtime summer favorite made with real peaches.  You can get a small for about $3.50 and a large for about $4 – we saw prices ranging from $3.29 to $3.55 for the small in our testing.
The new Mango Passion Tea Lemonade is a mashup of Chick-fil-A Lemonade and Unsweetened Iced Tea blended with a mango and passionfruit flavored syrup.  "Summer is the perfect time for people to quench their thirst with a delicious and refreshing drink like Mango Passion Tea Lemonade," said Ben Bolling, beverages category leader at Chick-fil-A in this announcement. "It was well received when we tested it in Jacksonville, Fla., last fall, so we're excited to offer it to guests around the country and give them more variety to help sweeten up a meal or midday snack this summer."  Mango Passion Tea Lemonade costs around $1.99 – $2.09 for a small and about $2.30 for a large based on our testing.
Chick-Fil-A Family Meals
Chick-Fil-A is getting into the Family Meals game with some new options at participating restaurants.  The idea is to get entrees and sides a la carte to get what you want, but still give you a good deal.  For example, a 30 piece Chicken Nuggets (presumably to split 4 ways, but we won't judge if you take them all down) is about $13.50, and a 4 pack of Medium Fries is about $7.50.  So, if you're will to forgo a drink, you can feed a crew for $21!
Chick-Fil-A announced the new Family Meals in this press release.  Here's the options available:
Entrées:  30-count Chick-fil-A Nuggets, four Chick-fil-A Chicken Sandwiches, and four Spicy Chicken Sandwiches
Sides:  four Medium Waffle Potato Fries, four Medium Mac & Cheeses or four Chocolate Chunk Cookies
Beverages: Gallon of Freshly-Brewed Iced Tea (sweetened or unsweetened)
The easiest way to see if your local spot offers them is to check the menu in the app for the Build Your Own Family Meal section.  If so you'll see something like this: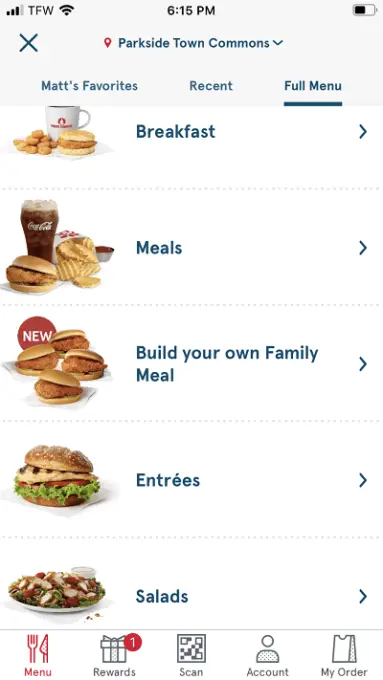 And you can build out your Family Meal here: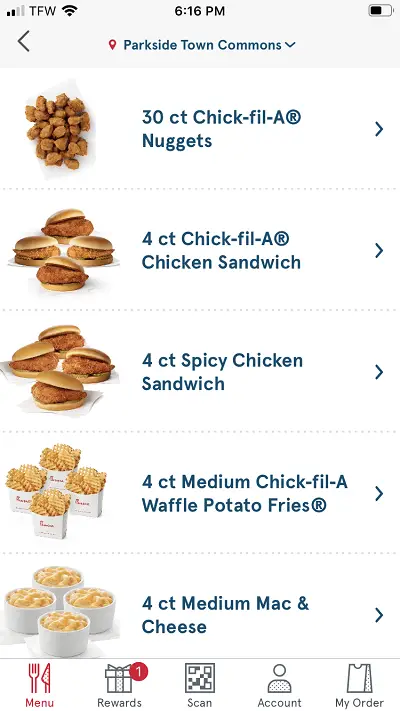 More from EatDrinkDeals
Want to get info on other deals, discounts, coupons and specials from your favorite restaurants?  Click here to see the latest and greatest from EatDrinkDeals!
Chick-Fil-A Coupons
Chick-Fil-A doesn't really do coupons.  However, if we see 'em, we put 'em up for you here!  About the closest thing there is would be Cow Appreciation Day.  It's not a Chick-Fil-A coupon, but you can dress up to varying degrees in a bovine costume and get free food.  It's worth it.
Chicken Parmesan Meal Kit
Chick-fil-A has added a Chicken Parmesan Meal Kit to its menu, for those who want to spice up their cooking at home.  Each meal kit comes with ready-to-heat ingredients to get you a feast for 2 hungry adults in about 25 minutes.  The kits cost about $15.  Specifically, you get:
Two seasoned, breaded and pressure-cooked Original Chick-fil-A Chicken filets
Marinara sauce
Italian-style cheeses
Creamy garlic and lemon pasta ingredients including spaghetti pasta, garlic alfredo sauce, kale, lemon and grape tomatoes
For more info or to place an order online, click here for the Chick-Fil-A Chicken Parmesan meal webpage.
Nightly Nuggets Recipes
I love Chick-fil-A, but I have three kids.  So I go there.  A lot.  It starts to get old after awhile.  Here comes Nightly Nuggets to the rescue!  This web series from Chick-fil-A gives you new ways to enjoy their food so you can keep your sanity, and your kids can still get their Chick-fil-A fix.  Here's a Sweet and Spicy Grilled Chicken Lettuce Wraps recipe they posted on Facebook to spice up dinner tonight!  Go to their Facebook feed to see the whole set of recipes!
About Chick-fil-A (from Wikipedia)
Chick-fil-A is an American fast food restaurant chain headquartered in the Atlanta suburb of College Park, Georgia, specializing in chicken sandwiches. Founded in 1946, it has been associated with the Southern United States, where it has become a cultural icon. 
Chick-fil-A has more than 2,300 restaurants. Unlike most fast food restaurants and retail chain stores, all Chick-fil-A restaurants are closed for business on Sunday.