Chick-Fil-A is getting into the Family Meals game with some new options at participating restaurants.  The idea is to get entrees and sides a la carte to get what you want, but still give you a good deal.  For example, a 30 piece Chicken Nuggets (presumably to split 4 ways, but we won't judge if you take them all down) is about $13.50, and a 4 pack of Medium Fries is about $7.50.  So, if you're will to forgo a drink, you can feed a crew for $21!
Chick-Fil-A announced the new Family Meals in this press release.  Here's the options available:
Entrées:  30-count Chick-fil-A Nuggets, four Chick-fil-A Chicken Sandwiches, and four Spicy Chicken Sandwiches
Sides:  four Medium Waffle Potato Fries, four Medium Mac & Cheeses or four Chocolate Chunk Cookies
Beverages: Gallon of Freshly-Brewed Iced Tea (sweetened or unsweetened)
The easiest way to see if your local spot offers them is to check the menu in the app for the Build Your Own Family Meal section.  If so you'll see something like this: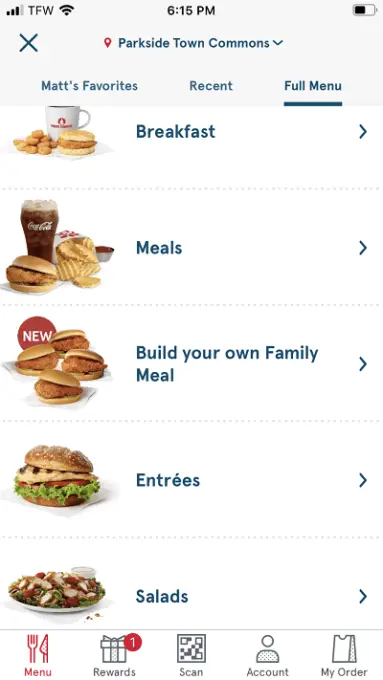 And you can build out your Family Meal here: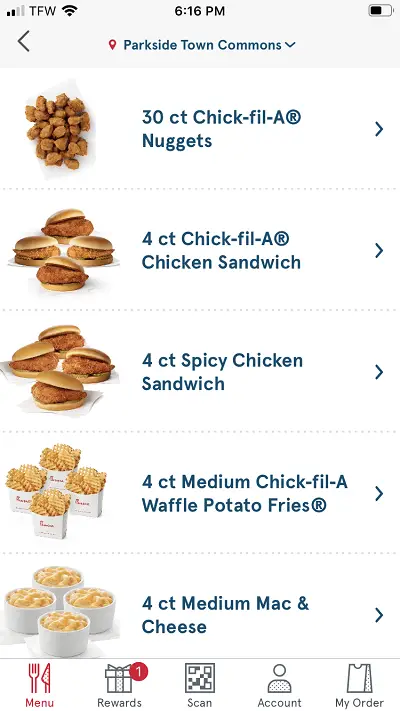 Want more fast food coupons and deals?  Click here to go to the EatDrinkDeals Fast Food Coupons, Specials and Deals section.
Chicken Parmesan Meal Kit
Chick-fil-A has added a Chicken Parmesan Meal Kit to its menu, for those who want to spice up their cooking at home.  Each meal kit comes with ready-to-heat ingredients to get you a feast for 2 hungry adults in about 25 minutes.  The kits cost about $15.  Specifically, you get:
Two seasoned, breaded and pressure-cooked Original Chick-fil-A Chicken filets
Marinara sauce
Italian-style cheeses
Creamy garlic and lemon pasta ingredients including spaghetti pasta, garlic alfredo sauce, kale, lemon and grape tomatoes
For more info or to place an order online, click here for the Chick-Fil-A Chicken Parmesan meal webpage.
Nightly Nuggets Recipes
I love Chick-fil-A, but I have three kids.  So I go there.  A lot.  It starts to get old after awhile.  Here comes Nightly Nuggets to the rescue!  This web series from Chick-fil-A gives you new ways to enjoy their food so you can keep your sanity, and your kids can still get their Chick-fil-A fix.  Here's a Sweet and Spicy Grilled Chicken Lettuce Wraps recipe they posted on Facebook to spice up dinner tonight!  Go to their Facebook feed to see the whole set of recipes!
About Chick-fil-A (from Wikipedia)
Chick-fil-A is an American fast food restaurant chain headquartered in the Atlanta suburb of College Park, Georgia, specializing in chicken sandwiches. Founded in 1946, it has been associated with the Southern United States, where it has become a cultural icon. 
Chick-fil-A has more than 2,300 restaurants. Unlike most fast food restaurants and retail chain stores, all Chick-fil-A restaurants are closed for business on Sunday.