Can you believe it is already November? The holidays will soon be upon us! From my perspective, this is definitely the best time of the year! Unfortunately, these months are also characterized by shorter days and colder weather. To keep you warm through this chilly weather, Chick-fil-A is bringing back their classic Chicken Tortilla Soup. This creamy blend of shredded chicken breast, navy and black beans, and an assortment of vegetables and spices is definitely worth trying this holiday season. Starting today, November 1, you can pick one up for a limited time at participating Chick-fil-A locations.
That's not all though. Chick-fil-A also announced the return of their Peppermint Chip Milkshake! If you want to get in the holiday spirit a bit early, you can pick this treat up today for a limited time at participating locations while supplies last. Check out the menu at your local Chick-fil-A to see if your location is selling the milkshake.
Chick-fil-A's Spicy Grilled Chicken Deluxe Sandwich
Spice up your life with the new Spicy Grilled Chicken Deluxe Sandwich at Chick-fil-A, in stores now. The sandwich comes with grilled chicken marinated in a spicy seasoning, served on a toasted multigrain brioche bun with Colby-Jack cheese, lettuce and tomato.  You can get the new creamy Cilantro Lime Sauce, designed just for this sandwich, to dress it up just a little more.
"We know guests are looking to add more variety to their meals, especially after a year where new food experiences were limited. The Grilled Spicy Deluxe is a flavorful twist on our current grilled offerings that we have been testing in select markets since 2017, and it provides a bold break from the standard lunch and dinner routines," said Leslie Neslage, director of menu and packaging at Chick-fil-A in this press release.
More From EatDrinkDeals
Want to get info on other deals, discounts, coupons and specials from your favorite restaurants?  Click here to see the latest and greatest from EatDrinkDeals!
Chick-Fil-A Family Meals
Chick-Fil-A is getting into the Family Meals game with some new options at participating restaurants.  The idea is to get entrees and sides a la carte to get what you want, but still give you a good deal.  For example, a 30 piece Chicken Nuggets (presumably to split 4 ways, but we won't judge if you take them all down) is about $13.50, and a 4 pack of Medium Fries is about $7.50.  So, if you're will to forgo a drink, you can feed a crew for $21!
Chick-Fil-A announced the new Family Meals in this press release.  Here's the options available:
Entrées:  30-count Chick-fil-A Nuggets, four Chick-fil-A Chicken Sandwiches, and four Spicy Chicken Sandwiches
Sides:  four Medium Waffle Potato Fries, four Medium Mac & Cheeses or four Chocolate Chunk Cookies
Beverages: Gallon of Freshly-Brewed Iced Tea (sweetened or unsweetened)
The easiest way to see if your local spot offers them is to check the menu in the app for the Build Your Own Family Meal section.  If so you'll see something like this: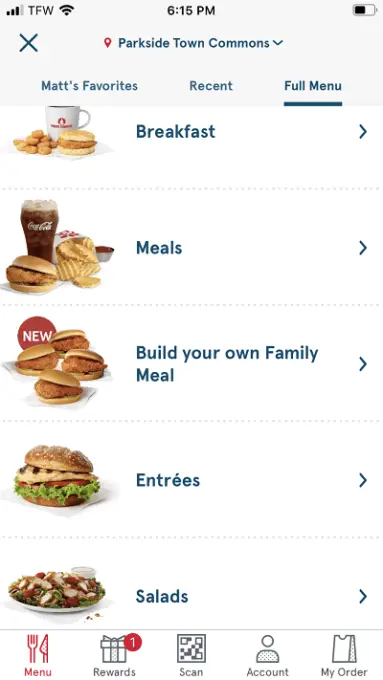 And you can build out your Family Meal here: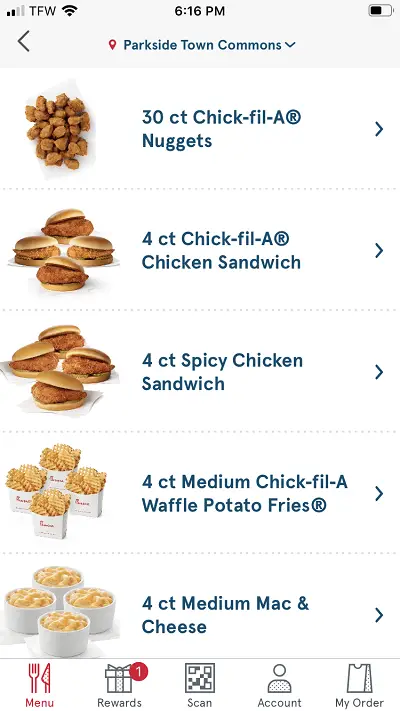 Chick-Fil-A Coupons
Chick-Fil-A doesn't really do coupons.  However, if we see 'em, we put 'em up for you here!  About the closest thing there is would be Cow Appreciation Day.  It's not a Chick-Fil-A coupon, but you can dress up to varying degrees in a bovine costume and get free food.  It's worth it.
Chick-Fil-A Menu
Are you looking for a juicy burger?  Look elsewhere.  Chick-Fil-A does chicken, and they do it extremely well.  But that's the only meat you'll find here.  The chicken can come on their signature Chick-Fil-A Sandwich, or nuggets, or strips, and it's always tasty.  The premium Waffle Fries are a great side, but there's healthier options like the Superfood side, too.  You can sip on a delectable milkshake for dessert among other choices, too.  Also, Chick-Fil-A is very kid friendly.  The kids meals have options for parents with stricter rules about healthy eating, but there's still plenty of fun to be had.  They're open for breakfast, too, with chicken biscuits, sausage biscuits (about the only time you'll find meat besides chicken), and signature Chick-n-Minis.  For the full Chick-Fil-A menu, click here for the Chick-Fil-A menu page and click "Menu" at the top.
Chick-Fil-A Near Me
There's over 2,600 Chick-Fil-A locations in the U.S.  They have their roots in the South, getting started in Georgia, but recently they've made their way all around the U.S. to the Northeast and West Coast.  You just won't find them as often in those regions of the country – yet.  They are expanding fast, so if you don't have one nearby, you just might soon!  You can find a Chick-Fil-A location near you at: Chick-Fil-A Near Me
Chick-Fil-A Hours
Most Chick-Fil-A restaurants are open from 6:30 am – 10 pm every day, but times can vary.  They stop serving breakfast around 10:30 in most locations.  To find the hours, address and more details for your Chick-Fil-A, select your location from:  Chick-Fil-A Near Me
Chick-Fil-A Delivery
Chick-Fil-A offers delivery through its third party partners, DoorDash, Grubhub and Uber Eats.  You can get delivery with a fee of $4 – $5, not counting a gratuity.  Please tip your delivery drivers!  To start a Chck-Fil-A delivery order, visit:  Chick-Fil-A Delivery
You can also place a delivery order through the Chick-Fil-A One app – click here to download it if you don't have it yet.  Overall, it's an excellent app.  In our review, we rated it a 9/10 for the crisp interface and easy ordering options.
Chick-Fil-A Nutrition
Chick-FIl-A proudly posts its nutritional information in their online and app menus.  To view the nutritional content of any menu item, click here for the Chick-Fil-A Nutrition and Allergens page.
When you start an online or order, you can make modifications to the menu ingredients online; when ordering at the restaurant, simply ask the crew member to hold a given ingredient.
More from EatDrinkDeals
Want to get info on other deals, discounts, coupons and specials from your favorite restaurants?  Click here to see the latest and greatest from EatDrinkDeals!
More Restaurant Daily Deals
Daily deals for all days of the week can be found here:
For more daily and weekly restaurant specials like these, see:  Restaurant Daily Deals
If you're an AARP member, you can get every day discounts at Denny's, McCormick & Schmick's, Outback and more places.  You can find all the details in our story, AARP Dining Discounts.
Also, many restaurant chains such as Bob Evans, Outback Steakhouse, Zoe's Kitchen and more offer discounts to the active military and veterans.  Here's the EatDrinkDeals roundup, Restaurant Military and Veterans Discounts.