Chick-fil-A has brought back some holiday favorites with the Peppermint Chip Milkshake and Chicken Tortilla Soup.  Here's the details:
The Peppermint Chip Milkshake starts with a Chick-fil-A Icedream dessert base, then hand spun with sweet peppermint bark and topped with a cherry and whipped cream.
The Chicken Tortilla Soup can warm you up on a cold day with a hearty taste featuring both spicy and original chicken
The new Chick-fil-A menu items are available beginning on November 14.  More details are at:  Chick Fil A announces Holiday 2022 menu
Chick-fil-A Rewards Deals
The Chick-fil-A rewards program – called Chick-fil-A One – allows you to earn points and collect rewards like birthday gifts.  Chick-fil-A One has 4 membership tiers, with the benefits growing as you make more purchases and move up the ladder. All the membership tiers get you points on every dollar you spend, a birthday reward valid for 30 days, and "just because" gifts that come at random times.  What can be better than free chicken sandwiches?!
To sign up or read more, visit:  Chick-fil-A One
Chick-Fil-A Coupons
Chick-Fil-A doesn't really do coupons.  However, if we see 'em, we put 'em up for you here!  About the closest thing to Chick-fil-A coupons are the Chick-fil-A One program and Cow Appreciation Day.  Those are your best bets to snag a free entree or other low prices for your next order.
Our policy is to only publish a coupon code that is widely available to avoid disappointing our users. When discount codes or promo codes are nationally available and from verifiable sources, we will post the latest Chick-Fil-A special offers here, so you only pay the best price for your favorite food!  If you're trying to find info on the best discount codes, you've come to the right place.
When held, Cow Appreciation Day is on the 2nd Tuesday of July.  It's not a Chick-Fil-A coupon, but you can dress up to varying degrees in a bovine costume and get free food.  It's worth it.  (Due to the pandemic, Chick-Fil-A Cow Day was postponed in 2020 and 2021.)
Chick-Fil-A Menu
Are you looking for a juicy burger?  Look elsewhere.  Chick-Fil-A does chicken, and they do it extremely well.  But that's the only meat you'll find here.  The chicken can come on their signature Chick-Fil-A Sandwich, or nuggets, or strips, and it's always tasty.  The premium Waffle Fries are a great side, but there's healthier options like the Superfood side, too.
You can sip on a delectable milkshake for dessert among other choices, too.  Also, Chick-Fil-A is very kid friendly.  It's probably near tops on the list of favorite foods for little ones.  The kid's meal has options for parents with stricter rules about healthy eating, but there's still plenty of fun to be had.  They're open for breakfast, too, with chicken biscuits, sausage biscuits (about the only time you'll find meat besides chicken), and signature Chick-n-Minis.
Chick-Fil-A does its fair share of limited time items, like the famous Peach Milkshake in summertime, or the Chicken Tortilla Soup in the winter.
For the full Chick-Fil-A menu, click here for the Chick-Fil-A menu page and click "Menu" at the top.
The Chick-Fil-A Mobile App
We downloaded the Chick-Fil-A app (get it here from the Google Play Store) to test out how you can get some tasty food at an affordable price.  Iphone users can download here at the App Store.
Convenience and Reliability
We found the design and user interface to be appealing and easy to use.  We logged in with an existing Google account. You can also log in with your Facebook account or create a separate Chick-fil-A One account.  Payments can be set up with a credit card or with PayPal.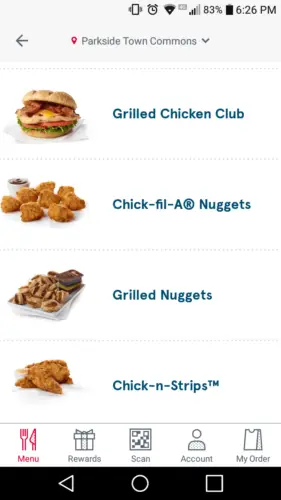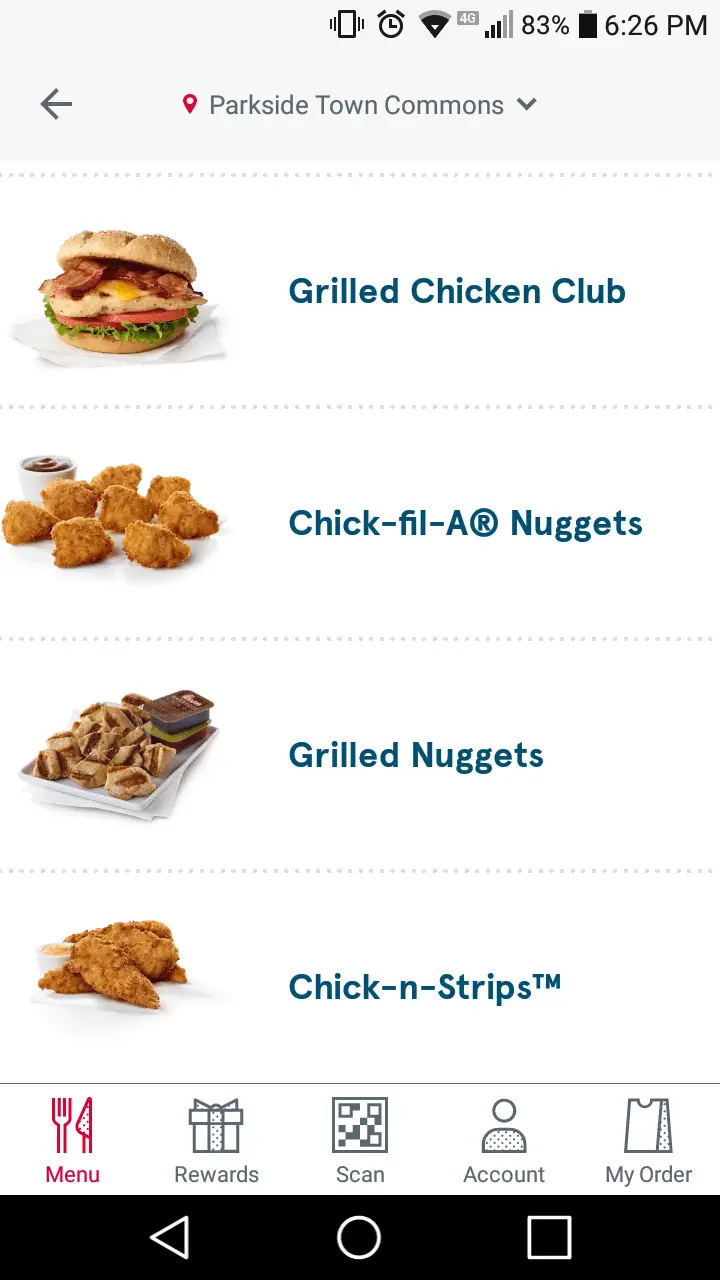 Ordering is easy.  Select the Menu option and you will be asked to pick a location.  You can allow the app to view your location if you want it to automatically find the nearest one for your mobile order.  Or, you can search by city, state, or zip code.  You can also add Favorites for quick access to your preferred spots near home, or work, or anywhere else.  Once your order is complete, you'll select a payment method and then you can head in to pick up your delicious bounty!
Pickup is generally handled in a separate area apart from the line for customers ordering on-site, but your local Chick-fil-A may use a different layout.  Even if you're planning on dining in the restaurant, you can use the app to avoid long lines during the busier times of the day.  Note that you'll need to tell the app when you're there so that your food will be prepared.  This is also when your selected credit card or PayPal account is charged.  Chick-fil-A does this to ensure that your order will be hot and fresh.  If you have hungry children (or hangry adults) in your crew, you may want to tell the app that you've arrived a few minutes before you actually get there.  Online orders are the way to go, people.  That way you can get right to eating!
Rewards and Savings
In response to customer feedback, Chick-fil-A revamped its app rewards in 2018.  Now, customers can clearly see that every $1 spent equals 10 rewards points.  Small items such as hash browns or a chocolate chunk cookie cost 150 points, with sandwiches and nuggets in the 500 – 1000 point range.  The Cobb, Market or Spicy Southwest Salads are going to run you a whopping 1500 points, though.  Not a great deal.  Points are redeemed by adding them to your order on the app, or by scanning them at the restaurant when you order in person.  Loyal customers who accumulate 1000 points or 5000 points get Silver and Red status, respectively.  This allows you to earn points 10-20% faster and gift rewards to friends and family. From time to time, you might be gifted rewards from your favorite locations, and you'll get a birthday reward too.  As far as other coupons and deals, Chick-fil-A doesn't run much through the app.
Is Chick-fil-A one of the best restaurant apps to save your money?
9/10
Chick-fil-A has one of the best apps around.  Ordering, payment and pickup are convenient, and we have almost never had problems with our pickups during repeated market testing.  The rewards are pretty good, but there aren't any special deals or coupons native to the app that you are missing out on if you don't use it.  Just remember to tell the app "I'm here" a bit ahead of time to avoid a wait, particularly during peak hours.
Is there a Chick-fil-A Near Me?
There's over 2,700 Chick-Fil-A locations in the United States! They have their roots in the South, getting started in Georgia, but they're a fully American fast food restaurant chain.  They've recently they've made their way all around the U.S. to the Northeast and West Coast.  You just won't find them as often in those regions of the country – yet.  They are expanding fast, so if you don't have one nearby, you just might soon!
You can find a Chick-Fil-A location near you at: Chick-Fil-A Near Me
What are Chick-fil-A's Hours
Most Chick-Fil-A restaurants are open from 6:30 am – 10 pm every day, but times can vary.  They stop serving breakfast around 10:30 in most locations.  To find the hours, address and more details for your nearest restaurant, select your location from the Chick-Fil-A Near Me
Does Chick-fil-A Offer Delivery?
Chick-Fil-A offers delivery through its third party partners, DoorDash, Grubhub and Uber Eats.  You can get delivery with a fee of $4 – $5, not counting a gratuity.  Please tip your delivery drivers!  To start a Chck-Fil-A delivery order, visit:  Chick-Fil-A Delivery.  Sometimes we'll spot a GrubHub promo code or something similar for delivery fees; we'll be sure to post it here to help you get the lowest price.
You can also place a delivery order through the Chick-Fil-A One app – click here to download it if you don't have it yet.  Overall, it's an excellent app.  In our review, we rated it a 9/10 for the crisp interface and easy ordering options.
Where Can I Find Chick-fil-A's Nutritional Information?
Chick-fil-A proudly posts its nutritional information in their online and app menus.  To view the nutritional content of any menu item, click here for the Chick-Fil-A Nutrition and Allergens official website.
When you start an online or order, you can make modifications to the menu ingredients online; when ordering at the restaurant, simply ask the crew member to hold a given ingredient.
Does Chick-fil-A Offer Gift Cards?
Gift card purchases from Chick-Fil-A are a popular item for online shopping.  Looking for one?  Visit the Chick-Fil-A website here.  Gift cards have no cash value, but don't have an expiration date generally.
More from EatDrinkDeals
Inflation stinks!  Want to get make your money go further with the best deals, discounts, top coupons and promotional codes from your favorite restaurants?  Click here to see the latest and greatest from EatDrinkDeals!
More Restaurant Daily Deals
Daily deals for all days of the week can be found here:
For more daily and weekly restaurant specials like these, see:  Restaurant Daily Deals