Try these Jimmy John's promo codes out on your next online order and save some cash, Freaky Fast!
SAVE – Buy one Regular or Giant sandwich, get another half off through 12/18
FREESIDE – Free side with any Regular or Giant sandwich purchase through 12/18
GOAL – 20% off pickup orders through 12/18
Jimmy John's posted the promo codes on their website.
How Can I Get A Free Jimmy John's Sub?
Jimmy John's has a new reward program, and just for signing up you'll earn a free sandwich after your first order.  You'll need to provide an email address.  Free food is the best!
To sign up or read more about Freaky Fast Rewards, visit: Jimmy John's Free Sandwich Reward
Does Jimmy John's Have Specials In Their App?
The Jimmy John's app can help you out on your Freaky Fast orders.  Save your favorite items to make it even Freakier Faster and schedule ahead when you know your next run is coming!  The app has a great user interface for online orders.  Also, you'll get notice of any promotional code or coupon codes and more special offers reserved for the biggest Jimmy Johns fans.  It's a great chance to save big bucks.
What's On The Jimmy John's Menu?
Jimmy John's is all about the sandwiches.  A Jimmy John's sandwich comes in a Regular 8″ or Giant 16″ size, and select products have a Little Johns smaller option.  They do also the Unwich option if you aren't into their french bread (but it is delicious!).  The name of the game at Jimmy John's is getting your sandwich made perfectly your way, with countless combinations of meats, cheeses (although provolone cheese is the most commonly used), toppings, dressings and other sauces and spices.  You could eat there every day and never get the exact same thing twice if you wanted.  Or you could find a favorite and stick to it!  Picky eaters may enjoy the Plain Slims which just focus on bread, meat and cheese.  Sides are basic, like a bag of Jimmy chips and cookies for dessert.  The sandwiches are the stars here.  For the full current menu, click here for the Jimmy Johns' website.  Get some delicious food at an affordable price.
Does Jimmy Johns Ever Have Coupons?
Yes!  Recently, we've seen some Jimmy Johns coupons for 20% off your order, $5 off an order of $20 or more, and buy one sandwich, get another 50% off.  The offers usually run for a couple of months at a time with a promo code for online orders.
Our policy is to only publish a Jimmy John's discount code that is widely available. When Jimmy Johns coupons or promo codes are nationally available and from verifiable sources, we will post 'em here, so you only pay the best price for your favorite food!  We're always scouring all of our sources and public social media to find amazing deals for our audience!
Where Do I Put A Jimmy John's Promo Code?
Here's how to use Jimmy John's promo codes:
Go to the Jimmy John's website to start an online order.  Select a Delivery or Pickup order, then find the location you want.  You can let the site use your own location to find the nearest Jimmy John's if you want.
Go through the Jimmy John's menu and order all the sandwiches and other stuff you want.
When you see your Order Summary, look a little further down the page for a white space that says "Promo Code".  Enter the promo code here, then hit the "Apply" button.
Here's what it looks like when the promo code is entered correctly: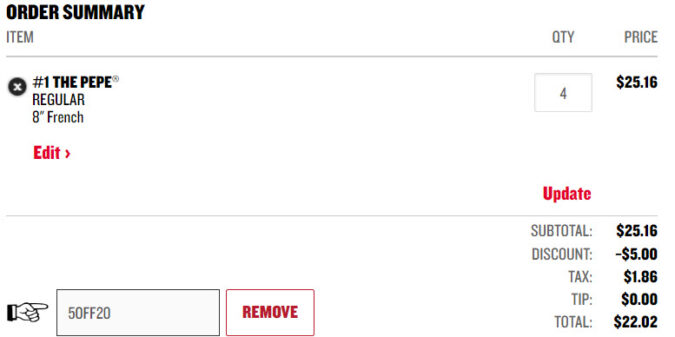 And there you have it!  Now you're saving like a pro!
Is There A Jimmy John's Near Me?
There are around 2,800 Jimmy John's locations in the U.S.  They're all over.  You can find your local Jimmy Johns restaurants near you at: Jimmy Johns Near Me
What Are Jimmy John's Hours?
Most Jimmy John's are open around 10:30 or 11 am until 9 or 10 pm, but times can vary.  In many of the busier locations, they'll be open into the wee hours of the morning for the late night crowd.  To find the hours, address and more details for your Jimmy Johns, select your location from the Jimmy Johns website.
Does Jimmy Johns Deliver?
Get Jimmy Johns delivered straight to your door, Freaky Fast!  Unlike a lot of other sub shops, Jimmy Johns has been doing delivery for awhile.  They're pretty good at it.  Usually they've got a free delivery deal running.  To start a Jimmy John's delivery order, visit:  Jimmy Johns Delivery
Where Is Jimmy Johns Nutritional Information?
Jimmy John's lists food allergen and nutritional information in their online and app menus.  To view the nutritional content of any menu item, click here for the Jimmy John's Nutritional Calculator page.
When you start an online or order, you can make modifications to the menu ingredients online; when ordering at the restaurant, you just ask your server to make the sandwich exactly the way you want it.
Does Jimmy John's Sell Gift Cards?
Jimmy Johns gift cards are a popular item for online shopping.  Looking for one?  Visit the Jimmy Johns official website here and add one to your shopping cart.  Sometimes, Jimmy John's offers an e-Bonus Card limited time offers with purchase of an individual gift card.  The special offer usually comes around during the springtime and holiday season, like Black Friday and Cyber Monday.  Gift cards have no cash value, but don't have an expiration date generally.  You can usually get free shipping on the Jimmy John's gift card if you order the physical version.
More from EatDrinkDeals
Inflation stinks!  Want to get make your money go further with the more great deals, discount codes, coupons and specials from your favorite restaurants?  Click here to see the latest and greatest from EatDrinkDeals!
More Restaurant Daily Deals
Daily deals for all days of the week can be found here:
For more daily and weekly restaurant specials like these, see:  Restaurant Daily Deals