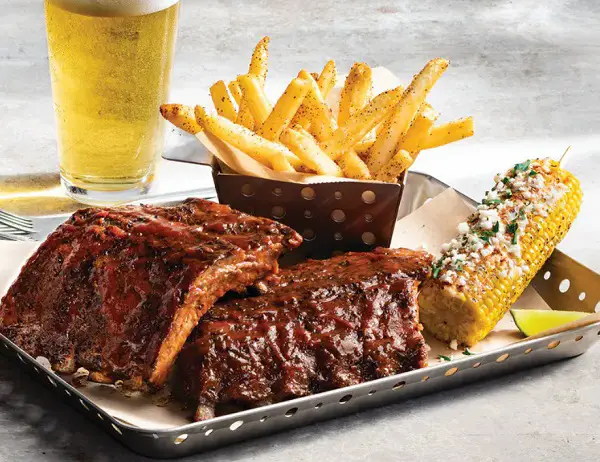 There's a lot more to love on the Chili's menu than just baby back ribs. From burgers to tacos, fajitas to a wide selection of margaritas, lunch specials to the new 3 for Me value meal, it's easy to find a new favorite at Chili's.
Scroll through or search the table below to see prices for the Chili's menu, then try to resist ordering a Molten Chocolate Cake on your next visit!
Chili's Deals
Share the love with friends and family this holiday season with a gift card deal at Chili's. Get a $10 Bonus Card with the purchase of $50 in Chili's gift cards now through December 31, 2022. The Bonus Card is valid from January 1, 2023 to February 13, 2023.
For details on Happy Hour at Chili's and the new margarita of the month–the Santa's Secret Stache 'Rita, complete with a fun Santa's Moustache Straw–check out our article on Chili's Happy Hour.
Chili's is offering a great deal with their new 3 for Me value meal, which gets you a beverage, appetizer, and entrée starting at just $10.99! Add an alcoholic beverage, dip, or dessert for a little extra. Read our story on Chili's Coupons & Specials for more info.
Chili's Menu & Prices
---
Disclaimer: Menu and prices listed above are based on research of sample locations and are provided for informational purposes only. Since prices and availability may vary by location, please consult your local Chili's menu for the latest details.
What's On The Chili's Menu?
Chili's got its start with a focus on Southwestern style food, but has since branched out to serve a wide variety of meals like fajitas, tacos, sandwiches, and more.  Some fan favorite feature items are the Baby Back Ribs and Big Mouth Burgers.  There's also a selection of salads and lighter fare.  It's an interesting mix of Mexican food with your more typical American fare.  Basically, the Chili's menu has something for just about everyone.  As we mentioned in our Chili's story, the 3 for $10.99 menu is an amazing discount and just may be the best way to eat at Chili's for an affordable price.  The $10.99 Menu or Dinner for Two for $25 are some of the best prices available, but many locations also offer lunch specials if you're looking for a great deal.
Chili's also has a full bar with a wide array of alcoholic beverages such as beer, wine and spirits to help you let loose.