Chili's has a brand new 3 for Me lineup starting at $10.99.  Guests can order a drink, appetizer, and entree. Here are your options:
Drinks:
Fountain Drink
Lemonade
Iced Tea (Regular or Flavored)
Appetizers:
Chips & Salsa
Bowl of Soup
Side Salad (House or Caesar
Entrees:
$10.99

Old-timer with Cheese
Buffalo Chicken Ranch Sandwich
Big Mouth Crispy Chicken Sandwich

$11.99

Chicken Crispers (Original, Crispy, or Crispy Honey-Chipotle)
Individual Chicken Fajitas
Cajun Chicken Pasta
Chicken Bacon Ranch Quesadillas

$12.99

Cilantro-Lime Carne Asada
Cajun Shrimp Pasta
Margarita Grilled Chicken
Individual Shrimp Fajitas

$14.99
For $2.49 more, you can spike, dip, or sweeten your meal with items including:
Spike (choose 1)
Classic Margarita
Draft Beer (excludes 15 oz. Domestic Craft Beer)
Wine (5 oz. House Red or White)
Dip
Bottomless Chips with your choice of three signature dips from:

Skillet Queso
White Queso
Guacamole
Fresh Salsa
Homemade Ranch
Sweeten
Note that each addition you make to the 3 for Me will cost you $2.49 more – if you were to pick two of spike, sweeten, and dip, you would tack on roughly $5 to your base cost and if you were to choose all 3, you would add on roughly $7.50 to the base cost of your meal.  Chili's has the 3 For Me details up on their website.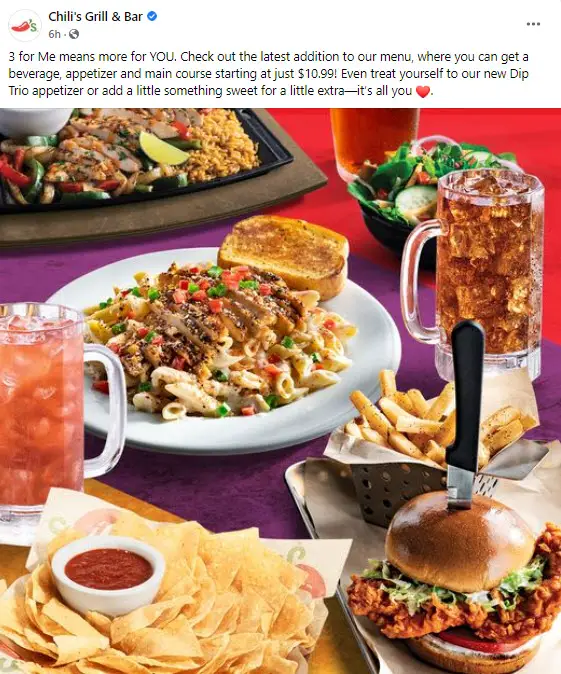 More from EatDrinkDeals
Inflation stinks!  Want to get make your money go further with the best deals, discount codes, latest coupons and special deals from your favorite restaurants?  Click here to see the latest and greatest from EatDrinkDeals!
Chili's LunchBreak Combos For $9
Score a cheap lunch with the Chili's LunchBreak Combos for just $9 from 11 AM – 4 PM Monday – Friday.  You'll get a Soup or Salad and an lunch portion (smaller sized) entree.  Choices include the Bacon Ranch Chicken Quesadilla, Chili's OG Chili and Chipotle Chicken Fresh Mex Bowl.  Or, go nuts with dessert early in the day with the Molten Chocolate Lava Cake!  Other options are available for an additional charge. Chili's has the LunchBreak Combos up on their online menu.
Chili's Expanded Happy Hour During Football
For the 2022 season, when football is on, Happy Hour is on at Chili's.  Specials will vary by location, and are subject to state and local alcohol laws, some of which prohibit specials on drink pricing.  In this press release, Chili's is sure talking a big game.  On the drinks menu, you can get a 16 oz. Bud Light as low as $3 or Modelo for $4, margaritas like the Tequila Trifecta and Straw-Eddy 'Rita for $6, and the new Chili's Ranch Water for a basic cocktail.  It's Patron Reposado Tequila, soda and a splash of lime.  No frilly fruity sweet and sour stuff here.  
For food, there's 10 new Bar Bites that are available during Happy Hour.  Options include old reliable favorites like wings in 9 different flavors, White Queso Curly Fries, a Chili's Philly cheesesteak, and more options.  Chili's has the Football Happy Hour promo up here on their website.  To check on the specials specific to your location, though, we recommend you click here on the Chili's Happy Hour page and punch in your zip code to get the most accurate information.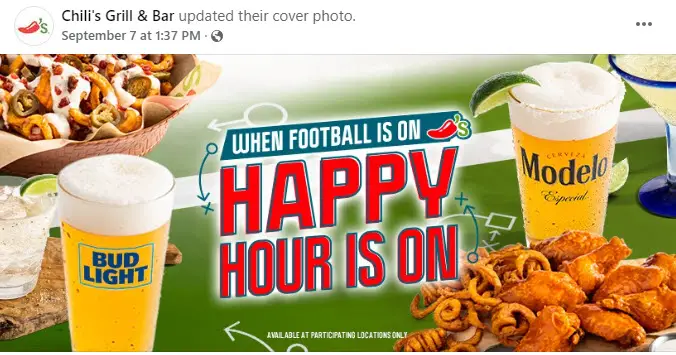 Chili's Drink Specials
Want to know more about Chili's drink specials, like their $5 'Rita of the Month and Happy Hour deals?  Go to our EatDrinkDeals Chili's Drink Deals here!
Big Mouth Burger
Chili's has Big Mouth Burgers, piled high with 5 meats and priced with fries at about $14.
The burger is made with a half-pound of hamburger plus brisket, bacon, rib meat and sausage.  The Boss has 1,650 calories total.  Split it with a friend if you can't handle it all yourself!
and many consumers will want to make it a shared meal.
*The Boss Burger is priced at $14 to $15 in most markets.  You can find the complete menu of Chili's burgers at  https://www.chilis.com/menu/big-mouth-burgers
Chili's App
Chili's has a mobile app to help with pickup and curbside orders.  We rated it a 7/10 in our review, finding it well constructed with worthwhile Chili's Rewards.
Chili's Menu
Chili's got its start with a focus on Southwestern style food, but has since branched out to serve a wide variety of meals like fajitas, tacos, sandwiches, and more.  Some fan favorite feature items are the Baby Back Ribs and Big Mouth Burgers.  There's also a selection of salads and lighter fare.  It's an interesting mix of Mexican food with your more typical American fare.  Basically, the Chili's menu has something for just about everyone.  Click here for the full Chili's menu on its website.  As we mentioned above, the 3 for $10.99 menu is an amazing discount and just may be the best way to eat at Chili's for an affordable price.  The $10.99 Menu or Dinner for Two for $25 are some of the best prices available, but many locations also offer lunch specials if you're looking for a great deal.
Chili's also has a full bar with a wide array of alcoholic beverages such as beer, wine and spirits to help you let loose.
My Chili's Rewards Coupons
The My Chili's Rewards program offers lots of perks.  Get Chili's coupons for free kids meals, free appetizers or desserts, and more.  Plus, you'll get a free dessert on your birthday!  Free food rules!  New customers should totally take advantage of it.  Click here to sign up for the Chili's Rewards program.  It's worth it.
Chili's Near Me
Chili's has locations all over the map with over 1,500 restaurants n the U.S.  Looking for a local restaurant near you?  Click here to find a Chili's location near you using the Chili's store locator. 
Chili's Hours
Chili's is open for lunch and dinner every day.  Most Chili's restaurants open at 11, and usually close around 10 pm during the week, or around 11 pm or midnight on weekends.  To find the hours for your Chili's, click here to use the Chili's store locator.  Once you pick one, you should see a button that says "Details" to take you to the latest information on store hours. 
Chili's Delivery
Chili's offers delivery via its third party delivery partner DoorDash and other major food delivery services.  You can order directly from the Chili's website, though.  The delivery charge will vary, but typically there will be a "Delivery Fee" of $3.99 and a "Service Fee" of $3 on top of that, totaling about $7.  But hey, it's Chili's delivered to your doorstep!  To start a delivery order from Chili's, click here for the Chili's website and click "Order Now" at the top.  If we spot any free delivery Chili's promo codes, we'll be sure to post them here.
Chili's Nutritional Information
Chili's has a full listing of calorie and nutritional information available online. To view the calories and nutritional information, click here for the official Chili's info.
More Chili's Coupons and Promotional Codes
Sometimes we'll come across other Chilis promo codes and printable coupons, but unfortunately, they are often only available for specific locations or areas. You may see a Chilis online coupon for a free dessert or free chips with a bar code, but these generally don't work as they are one-time use only.
At EatDrinkDeals, our policy is to only publish Chili's discount codes that are widely available to avoid disappointing our users. When a Chili's coupon code is widely available and from verifiable sources, we will post it here, so you only pay the best price for your favorite food!  If you're trying to find info on the latest Chilis coupons to get a lower price, you've come to the right place.  We'll help you get the best deal.
Chili's Gift Cards
Gift cards from Chili's are a popular item for online shopping.  Looking for one?  Visit the Chili's website here.  Sometimes, Chili's will offer e-Bonus Card limited time offers with purchase of a gift card.  The special offer usually comes around during the springtime and holiday season.  Gift cards have no cash value, but don't have an expiration date generally.  However, the Bonus Card often does.
More Restaurant Daily Deals
Daily deals for all days of the week can be found here:
For more daily and weekly restaurant specials like these, see:  Restaurant Daily Deals.