The Chili's 3 for Me lineup starts at $10.99 and gives you a drink, appetizer, and entree.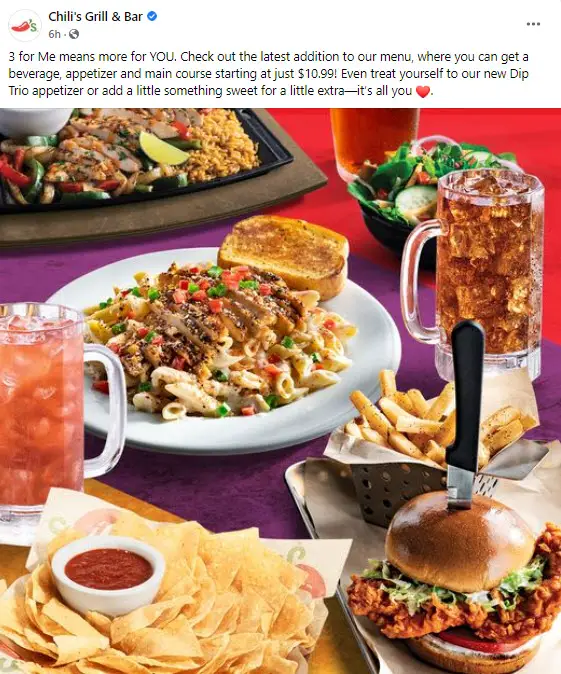 Here are your options in the 3 For Me offer:
Drinks:
Fountain Drink
Lemonade
Iced Tea (Regular or Flavored)
Chips & Salsa
Bowl of Soup
Side Salad (House or Caesar
Entrees:
$10.99

Old-timer with Cheese
Secret Sauce Burger
Big Mouth Crispy Chicken Sandwich

$13.99

Chicken Crispers (Original, Crispy, or Crispy Honey-Chipotle)
Chicken Bacon Ranch Quesadillas

$15.99

Cilantro-Lime Carne Asada
Cajun Shrimp Pasta
6 oz. Classic Sirloin
For $2.49 more, you can spike, dip, or sweeten your meal with items including:
Spike (choose 1)
Dip
Bottomless Chips with your choice of three signature dips from:

Skillet Queso
White Queso
Guacamole
Fresh Salsa
Homemade Ranch
Sweeten
Note that each addition you make to the 3 for Me will cost you $2.49 more – if you were to pick two of spike, sweeten, and dip, you would tack on roughly $5 to your base cost and if you were to choose all 3, you would add on roughly $7.50 to the base cost of your meal.  Chili's has the 3 For Me details up on their website.
Chili's LunchBreak Combos For $10
Score a cheap lunch with the Chili's LunchBreak Combos for just $10 from 11 AM – 4 PM Monday – Friday.  You'll get a Soup or Salad and an lunch portion (smaller sized) entree.  Choices include the Bacon Ranch Chicken Quesadilla, Chili's OG Chili and Chipotle Chicken Fresh Mex Bowl.  Or, go nuts with dessert early in the day with the Molten Chocolate Lava Cake!  Other options are available for an additional charge. Chili's has the LunchBreak Combos up on their online menu.
Chili's Drink Specials
Want to know more about Chili's drink specials, like their $5 'Rita of the Month and Happy Hour deals?  Go to our EatDrinkDeals Chili's Drink Deals here!
Chili's App
Chili's has a mobile app to help with pickup and curbside orders.  We rated it a 7/10 in our review, finding it well constructed with worthwhile Chili's Rewards.
Are My Chili's Rewards Coupons Worth It?
The My Chili's Rewards program offers lots of perks. For starters, you get a free order of Chips & Salsa or a free drink every time you visit. Plu, you'll get coupons for free kids meals, free appetizers or desserts, and more. And a free dessert on your birthday!  Free food rules!  New customers should totally take advantage of it.  Click here to sign up for the Chili's Rewards program.  It's worth it.
Where Is There A Chili's Near Me?
Chili's has locations all over the map with over 1,500 restaurants n the U.S.  Looking for a local restaurant near you?  Click here to find a Chili's location near you using the Chili's store locator. 
What Are Chili's Hours?
Chili's is open for lunch and dinner every day.  Most Chili's restaurants open at 11, and usually close around 10 pm during the week, or around 11 pm or midnight on weekends.  To find the hours for your Chili's, click here to use the Chili's store locator.  Once you pick one, you should see a button that says "Details" to take you to the latest information on store hours. 
How Do I Order Chili's Delivery?
Chili's offers delivery via its third party delivery partner DoorDash and other major food delivery services.  You can order directly from the Chili's website, though.  The delivery charge will vary, but typically there will be a "Delivery Fee" of $3.99 and a "Service Fee" of $3 on top of that, totaling about $7.  But hey, it's Chili's delivered to your doorstep!  To start a delivery order from Chili's, click here for the Chili's website and click "Order Now" at the top.  If we spot any free delivery Chili's promo codes, we'll be sure to post them here.
Where Do I Find Chili's Nutritional Information?
Chili's has a full listing of calorie and nutritional information available online. To view the calories and nutritional information, click here for the official Chili's info.
More Chili's Coupons and Promotional Codes
Sometimes we'll come across other Chilis promo codes and printable coupons, but unfortunately, they are often only available for specific locations or areas. You may see a Chilis online coupon for a free dessert or free chips with a bar code, but these generally don't work as they are one-time use only.
At EatDrinkDeals, our policy is to only publish Chili's discount codes that are widely available to avoid disappointing our users. When a Chili's coupon code is widely available and from verifiable sources, we will post it here, so you only pay the best price for your favorite food!  If you're trying to find info on the latest Chilis coupons to get a lower price, you've come to the right place.  We'll help you get the best deal.
Gift cards from Chili's are a popular item for online shopping.  Looking for one?  Visit the Chili's website here.  Sometimes, Chili's will offer e-Bonus Card limited time offers with purchase of a gift card.  The special offer usually comes around during the springtime and holiday season.  Gift cards have no cash value, but don't have an expiration date generally.  However, the Bonus Card often does.