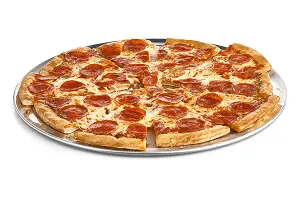 Whether you need to feed a crowd with a giant 28″ Piezilla, find something the whole family will love with a trip to the Cicis buffet, or customize the specialty Deep Dish or Stuffed Crust pizza of your dreams, the Cicis Pizza menu has what you want for lunch or dinner.
Scroll through or search the table below to see prices for everything the Cicis Pizza menu has to offer, from specialty pizzas like the Zesty Ham & Cheddar and Chicken Bacon Club to sides and desserts like Jalapeño Poppers and Cicis Pizza's famous Cinnamon Rolls!
Cicis Pizza Deals
Take a look at our article on Cicis Coupons, Promo Codes & Deals for details about the Cicis Pizza buffet, where you can mix and match your favorite pizza, pasta, salads, soups, and desserts for a great low price.
How does free pizza sound? Good? If so, consider downloading the MyCicis mobile app and enrolling in the MyCicis Rewards program. Visit Cicis five times and make a purchase of $6 or more each time to earn a free adult buffet or a free carryout 1-topping pizza. Read up on this and other deals in our article: Cicis Coupons, Promo Codes & Deals.
Cicis Pizza Menu & Prices
---
Disclaimer: Menu and prices listed above are based on research of sample locations and are provided for informational purposes only. Since prices and availability may vary by location, please consult your local Cicis Pizza menu for the latest details.
What Is On The Cicis Menu?
The Cicis menu focuses on a wide variety of pizzas. Dine-in guests generally go with the All You Can Eat buffet option that starts at just $5.99 in most locations. Try Cicis' signature pizzas like Alfredo, Mac & Cheese, Zesty Veggie, and Zesty Ham and Cheddar. Or, stick to traditional favorites like Pepperoni, Supreme and Meat Eater. Cicis doesn't have as wide of a variety on their menu as the biggest national competitors, like Domino's and Pizza Hut. However, they do have a variety of dessert pizzas to satisfy your sweet tooth when you're full up the savory stuff.