Cotton Patch Cafe has a new Classic Meals Menu For $12  guaranteed to fill you up at a reasonable price!
Options include the Chicken Fried Steak Jr., Chicken Fried Chicken Jr., Blackened Tilapia, Chicken N' Dumplins, Vegetable Platter, Chicken Quesadilla Jr., Beef Tips Jr., Steak Fingers, Chicken Tenders, and Meatloaf.  You can find the 10 Under 10 deal on the Cotton Patch Home Page.
Two for $23
Cotton Patch Cafe has a new Two for $23 special for a limited time. Choose two entrees and 2 fixin's each from a variety of choices. The offer is valid for dine-in orders only. Your entree choices are:
Meatloaf
Alfredo Pasta
Fried Shrimp
Grilled Shrimp
Chipotle Maple Chicken
Lemon Herb Grilled Salmon
Chipotle Maple Grilled Salmon
Grilled Chicken Caesar Salad
Grilled Chicken Tex-Mex Salad
Grilled Chicken Strawberry Pecan Salad
Grilled Chicken Cobb Salad
For Fixin's, choose from:
Garlic Mashed Potatoes
Mac & Cheese
French Fries
Baked Squash
Steamed Veggies
Fried Okra
Fresh Broccoli
Southern Green Beans
Whole Kernel Corn
Black-Eyed Peas
Cinnamon Apples
Broccoli Rice Casserole
Loaded Baked Potato
Sweet Potato Fries
House Salad
Caesar Salad
Cup of Soup
Cotton Patch Cafe posted the 2 For $23 offer on their website.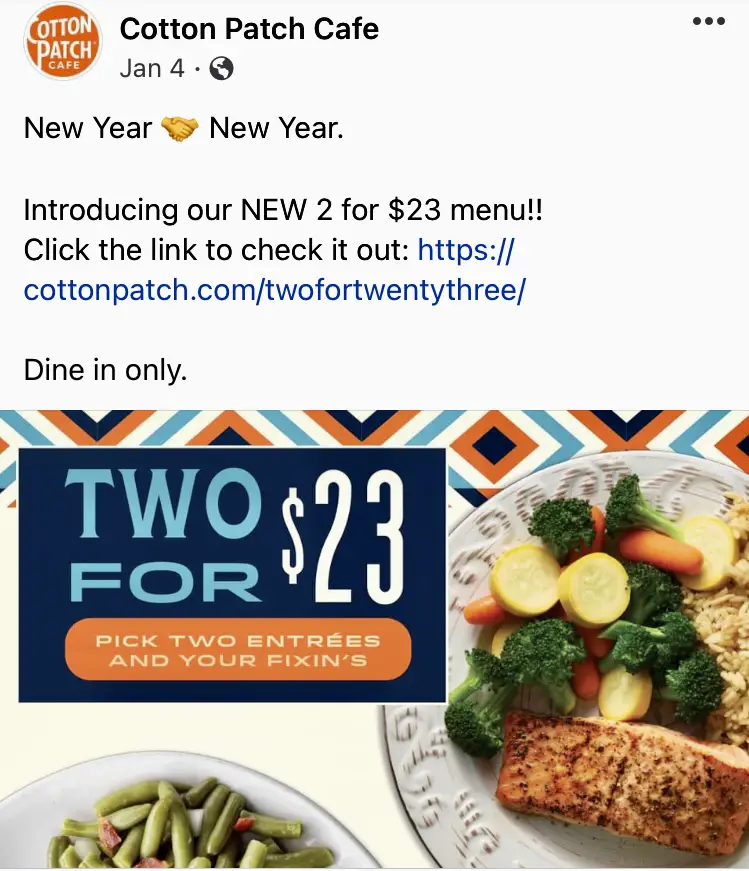 Cotton Patch Cafe has $5 appetizers and desserts on Wednesdays and a kids eat free offer on Thursdays.
More Cotton Patch Cafe Specials
Get select appetizers and desserts for $5 when you dine-in at on Wednesdays.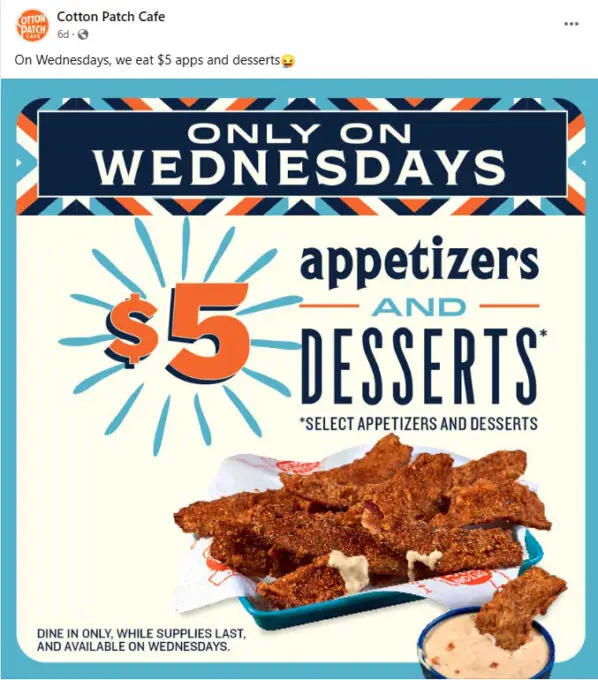 Also, get a free Kids Meal with a $10 or more adult entree purchase on Thursdays.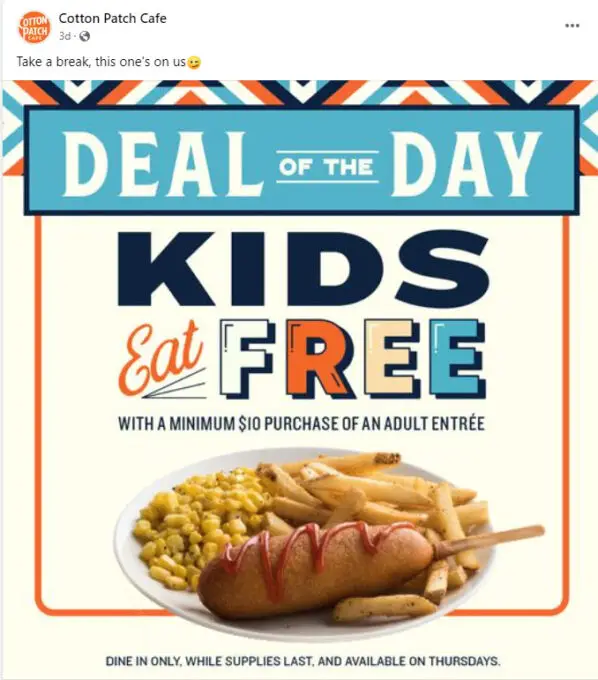 Get a 16 oz. T-Bone steak with baked potato and salad for $22.89 on Saturdays.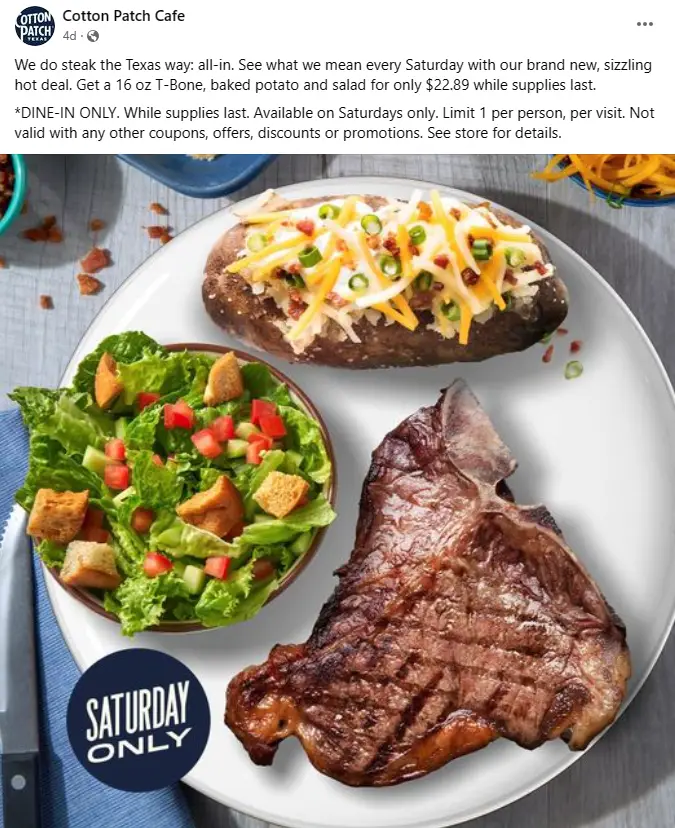 Fish Frydays
Get a Fried Fish or Grilled Salmon entree, golden fries, hushpuppies and homemade rolls for $12 during the Frydays special.  You can find the deal on their homepage.
Previous Offers
Here are some prior promo codes, to give you an idea of what types of discounts you can get from Cotton Patch Cafe:
| | |
| --- | --- |
| Cotton Patch Promo Code | Description |
| CP20 | 20% off your order – EXPIRED |
| USA247 | 20% off your order – EXPIRED |
| CP20 | 20% off your order – EXPIRED |
| 20OFF | 20% off your order – EXPIRED |
| SAVE20 | 20% off your order – EXPIRED |