Cotton Patch Cafe has Family Meals to feed 4-6 people, $8.99 Early Bird dinner specials from 3-6 pm on weekdays, and $6.99 lunch specials from 11 am – 3 pm on weekdays.
Family Meals for $33 to Feed 4-6
The Family Meals all cost $33.  Each comes with Family Size Fixin's of Garlic Mashed Potatoes, Southern Green Beans, Whole Kernel Corn, plus 6 rolls and butter.  Choices of entree are Mama's Meatloaf, Chicken Spaghetti or Chicken Tenders.  If you need more sides, you can get them for $3 each.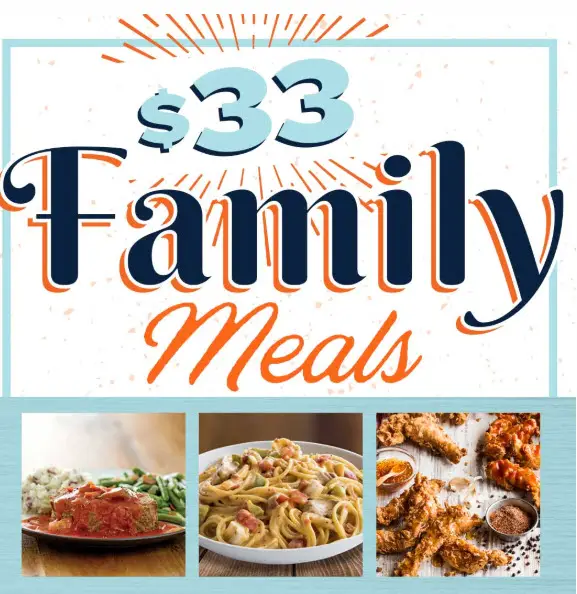 To view the current specials visit the Cotton Patch Promos page.
More from EatDrinkDeals
Want to get info on other deals, discounts, coupons and specials from your favorite restaurants?  Click here to see the latest and greatest from EatDrinkDeals!
Tender Tuesdays $20 for 20 Tenders Deal
Enjoy Tender Tuesdays at Cotton Patch Cafe – get 20 buttermilk hand battered chicken tenders for just $20!  Cotton Patch Cafe announced the deal on their Promos Page and on Facebook.
Cotton Patch Cafe Lunch Specials
Enjoy a $6.99 lunch at Cotton Patch Cafe from 11 am – 3 pm Monday – Friday.  Each entree comes with one side.  Your choices are: Chicken Spaghetti, a Bowl of Soup and Side Salad, Smothered Chopped Steak, Chicken Fried Chicken, and Chicken Fried Steak. For more details, you can click here for the Cotton Patch Cafe express lunch webpage.  You may need to enter your preferred location first to see the lunch menu.
Early Bird Specials 3-6 PM Mon-Fri
The Early Bird gets the deal!  For $8.99, choose from one of six entrees available, like Chipotle Maple Chicken, and be proud that you saved some money because your tummy was growling in the early afternoon!  Cotton Patch Cafe announced the special on its website and also on Facebook.
Cotton Patch Cafe was born in Nacogdoches, TX in 1989. The idea was simple. Make classic Texas recipes from scratch and serve them with the kind of hospitality that you can only find in Texas.
The cafe has about 50 locations in Texas, Arkansas, New Mexico and Oklahoma.  Some of their Texas-inspired specialties include Chicken Fried Steak and Cadillac Queso.