Cumberland Farms has specials on pizza, including a 99-cent regular slice, $2.39 Super Slice, and  $6.99 whole pizza.
CLICK HERE for the latest pizza promos at Cumberland Farms.  Also get BOGOs on drinks and candy and other specials; you can find the current specials on the Cumberland Farms Deals page.
The Cumberland Farms app gives you additional specials, including 10-cent a gallon savings on gas.

About Cumberland Farms (from Wikipedia)
Cumberland Farms, colloquially known as "Cumbies," is a regional chain of convenience stores based in Westborough, Massachusetts, operating primarily in New York, New England and Florida. Cumberland Farms operates roughly 600 retail stores, gas stations, and a support system including petroleum and grocery distribution operations in 11 states, including Connecticut, Florida, Massachusetts, Maine, New Hampshire, New York, Rhode Island, and Vermont.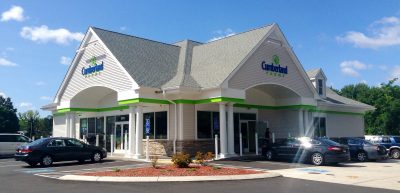 Cumberland Farms offers a large assortment of food service items, candy, snacks, and chilled drinks, which it calls "The Chill Zone", along with Cumberland Farms branded chips, pastries, candy, and coffee, etc.