Firehouse Subs has a Family Meal Deal for $24 that gets you 3 Medium Subs, 3 chips and 3 cookies.  Sub choices are the Hook & Ladder, the Firehouse Meatball, and the Italian.  Firehouse posted the deal on their website.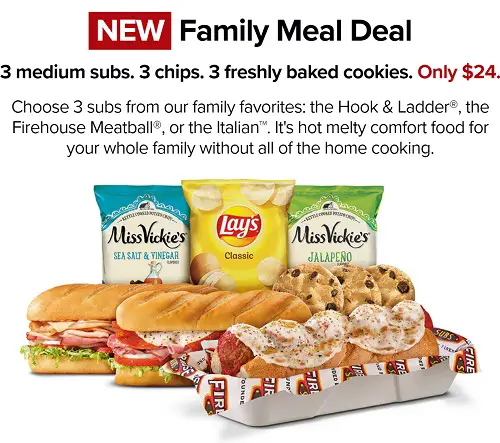 * No substitutions. Plus tax. Not valid with other coupons or offers. Limited time only. Participating locations only. Menu item prices may vary for delivery. 
$4.99 Choice Subs Special
Get select subs for just $4.99 with the new Choice Subs special at Firehouse Subs.
Choose from a medium Smoked Turkey Breast, Virginia Honey Ham, or USDA Choice Roast Beef, each priced at $4.99.
Firehouse Subs announced the limited-time special on the Firehouse Subs Home Page and on Facebook.
Rewards Program
Get a Firehouse Subs coupon for a free sub on your birthday when you register for the Firehouse Rewards program.
You can register online, or via the Firehouse app.  CLICK HERE  to download the Firehouse app for iOS or Android.   Or, to enroll without using the app, CLICK HERE.
You'll get a coupon for a free medium sub on your birthday.  The free birthday sub is explained in the Firehouse Subs video below.
About Firehouse Subs
Firehouse Subs® is a fast casual restaurant chain with a passion for Hearty and Flavorful Food, Heartfelt Service and Public Safety. The chain was founded by brothers and former firefighters Chris Sorensen and Robin Sorensen.  Firehouse Subs is a brand built on decades of fire and police service, steaming hot subs piled higher with the highest quality meats and cheeses and its commitment to saving lives through the establishment of the non-profit Firehouse Subs Public Safety Foundation®.
The restaurant is built upon a family of franchise operators who share their same passion for generously serving food and community. In 2015, Firehouse Subs expanded its brand presence to the international market, debuting in Ontario, Canada. Also in 2015, the brand introduced its first digital loyalty rewards program, Firehouse Rewards.  The program allows guests to earn and redeem points for each visit through a smartphone app.
Firehouse Subs is consistently recognized as a leader in the fast casual segment. For the last three years, Firehouse Subs was ranked No. 1 by Technomic's Chain Restaurant Consumers' Choice Awards among fast casual brands in the categories of overall brand (2017), food quality (2016), service (2015) and atmosphere (2014). Forbes recognized Firehouse Subs in 2015 as a Best Franchise to Buy.
To learn more, visit www.firehousesubs.com