There's a new Smokin' Triple Stack Sub at Firehouse, plus daily specials of other subs for around $8.50.
Smokin' Triple Stack Sub At Firehouse
Get jacked up for the Smokin' Triple Stack Sub at Firehouse Subs for a limited time! You're getting beef brisket, smoked turkey breast and Virginia honey ham all at once on this bad boy. Then, the sub gets topped with melted cheddar cheese, sweet & tangy slaw, barbecue sauce, and mayo. Pricing for the sub is around $6-$6.50 for a Small, $11 – $11.50 for a Medium, and $15 or so for a Large. You can include it as part of a combo with Chips and a Drink too, for about $3 – $3.50 more.
Prime Rib Steak Sub
Firehouse Subs recently debuted their new Prime Rib Steak Sub. This sub features sliced prime rib steak that has been cooked for 12 hours, along with caramelized onions, melted provolone, lettuce, tomato, deli mustard, and garlic mayo on a toasted bun. You can order the sub in three sizes: small, medium, and large. The small will cost you $5.99, the medium costs $7.99, and the large is $14.99. Note that pricing and participation are subject to vary depending on your local Firehouse. The Prime Rib Steak sub is only available for a limited time so try it while you can!
Does Firehouse Subs Have Daily Specials?
Firehouse has Daily Specials with a different sub every day for $8.59 in most locations.  Prices may be vary in some markets, but this was the most common price we came across in our research.  The sub specials are:
Monday – Firehouse Meatball
Tuesday – Turkey Bacon Ranch
Wednesday – New York Steamer
Thursday – Spicy Cajun Chicken
Friday – Jamaican Jerk Turkey
Saturday – Club on a Sub
Sunday – Italian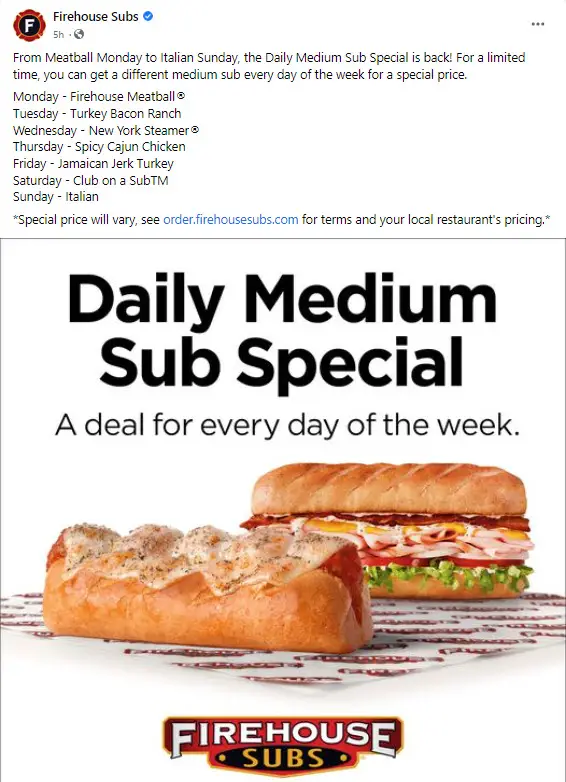 Can I Eat At Firehouse Subs For $6?
Firehouse Subs has small subs and kids meals starting around $6.
To view the local menu for your Firehouse Subs, visit:  https://firehouse.alohaorderonline.com/StartOrder.aspx
How Can I Get A Free Firehouse Sub On My Birthday?
Get a Firehouse Subs coupon for a free sub on your birthday when you register for the Firehouse Rewards program.
You can register online, or via the Firehouse app.  CLICK HERE to download the Firehouse app for iOS or Android, or to enroll online with your email.
You'll get a coupon for a free medium sub on your birthday.  The free birthday sub is explained in the Firehouse Subs video below.
What Is The Firehouse Subs Name Of The Day Game?
Around once a year, Firehouse Subs will run its popular Name Of The Day promotion.  If you're one of the lucky folks who has the same first name as one of those listed, you can get a free Medium Sub with any other purchase!  Sometimes, it's very generic, like if you name starts with "C" or "J".  Other times, it's more specific, like if you name is Sally, Sam, or Sandra.  Firehouse Subs will run the Name Of The Day for a couple of weeks, so chances are at some point you'll be able to cash in.

What's On The Firehouse Subs Menu?
If you want to browse around, visit our Firehouse Subs menu page here. Or, visit their website here.
Is There A Firehouse Restaurant Near Me?
There are approximately 1,200 Firehouse Subs locations in the United States and Canada.  There's mostly in the U.S. in just about every state. You can find your local Firehouse Subs restaurants near you at: Firehouse Subs Near Me
What Are Typical Firehouse Subs Hours?
Most Firehouses open around 10 – 10:30 AM but times can vary.  In many of the busier locations, they may stay open until 10 or 11 pm.  To find the hours, address and more details for your local spot, select your location from the Firehouse Subs website.
Does Firehouse Subs Have Delivery?
Firehouse offers delivery through its third-party delivery partners like Doordash and Uber Eats.  Usually there is a delivery fee of $4 – $5.  To start a Firehouse delivery order, visit:  Firehouse Delivery
You can also place a delivery order through the Firehouse Subs App – click here to download the app if you don't have it yet.
Where Do I Find Firehouse Subs Nutritional Information?
Firehouse lists food allergen and nutritional information in their online and app menus.  To view the nutritional content of any menu item, click here for the Firehouse Nutritional Calculator page.
When you start an online or order, you can make modifications to the menu ingredients online; when ordering at the restaurant, you just ask your server to make the sandwich exactly the way you want it.
Does Firehouse Subs Sell Gift Cards?
Firehouse Subs gift cards are a popular item for online shopping.  Looking for one?  Visit the Firehouse Subs official website here and add one to your shopping cart.  Sometimes, there are Firehouse coupons that give you an extra discount on a gift card purchase.  The special offer usually comes around during the springtime and holiday season, like Black Friday and Cyber Monday.  We'll keep you posted when a deal comes up!