The Carnival has come to town with Krispy Kreme and some special doughnuts available through August 8!  The Carnival Doughnuts available are:
Caramel Apple Doughnut:  Filled with Caramel Apple Kreme and topped with green apple icing, caramel drizzle and rainbow sprinkles, plus a pretzel stick for some savory flavor mixed in.
Caramel Popcorn Doughnut:  Filled with Caramel Popcorn Kreme, then topped with caramel drizzle and caramel popcorn.
Cotton Candy Doughnut:  An Original Glazed doughnut dipped in cotton candy icing then topped with real cotton candy sugar, buttercream and sprinkles.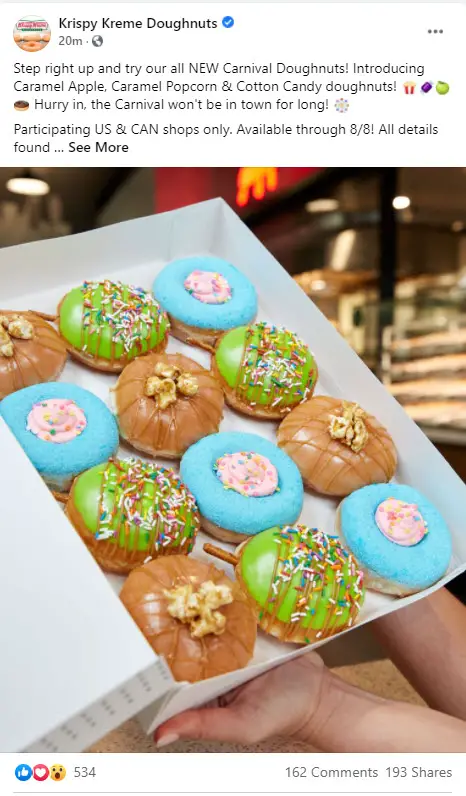 Krispy Kreme Free Doughnuts For Vaccinated Customers
Also, now through the end of the year, you can show your vaccination card at Krispy Kreme for a free Original Glazed Doughnut every day at participating locations!  To qualify, you'll need to have at least your first dose of the vaccine, and you must show your vaccination record card.  This offer is valid through the end of 2021, according to this press release.
Want to get info on other deals, discounts, coupons and specials from your favorite restaurants?  Click here to see the latest and greatest from EatDrinkDeals!
Krispy Kreme Menu
Krispy Kreme is all about the doughnuts.  They serve coffee and other beverages too, but we all know what the star of the menu is.  In addition to everyday items like the Original Glazed Doughnut, and varieties with icing, sprinkles, or cream-filled doughnuts, Krispy Kreme is always cooking up something new for seasonal times and for special holidays.  Halloween themed doughnuts, Christmas doughnuts, pumpkin spiced doughnuts in the fall, and all other sorts of goodies.  To see what's on tap at Krispy Kreme right now, click here for the Krispy Kreme menu.  And when you drive by, look for the lit up sign to tell you that there's hot and fresh doughnuts that were just baked!
Krispy Kreme Near Me
Krispy Kreme has about 1,000 locations in the U.S. in most states.  They're one of the biggest doughnut chains in the world, so chances are you've got one close by.  You can find the Krispy Kreme location near you at: Krispy Kreme Near Me
Krispy Kreme Hours
Most are open from 6 am – 10 pm every day, but times can vary.   They might stay open until 11 on weekends depending on the location.  To find the hours, address and more details for your Krispy Kreme, select your location from: Krispy Kreme Near Me and click on a particular location for more details, like hours of operation.
Krispy Kreme Delivery
Krispy Kreme offers delivery when you order directly on its website via its third party partners like DoorDash.  Usually there is a delivery fee of about $4-5.  That's a small price to pay for tasty doughnuts to show up at your door!  To start a Krispy Kreme delivery order visit:  Krispy Kreme Delivery
You can also place a delivery order through the Krispy Kreme app – click here to download it!
Krispy Kreme Nutrition
Krispy Kreme lists nutritional information in their online menu.  To view the nutritional content of any menu item, click here for the Krispy Kreme menu.