Krispy Kreme's free doughnuts offer ended May 11, but they are now allowing $1 Original Glazed Dozens with the purchase of any other dozen to Healthcare Workers on Mondays through September 7!  You'll need to bring a valid work ID to get the special price.  Krispy Kreme posted the deal on Facebook.
More from EatDrinkDeals
Want to get info on other deals, discounts, coupons and specials from your favorite restaurants?  Click here to see the latest and greatest from EatDrinkDeals!
About Krispy Kreme (from Wikipedia)
Krispy Kreme is an American global doughnut company and coffeehouse chain based in Winston-Salem, North Carolina.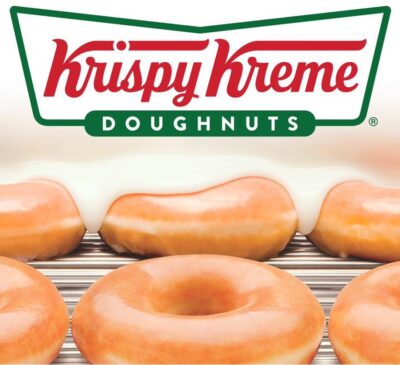 Vernon Rudolph founded Krispy Kreme in 1937.  Vernon bought a yeast-raised recipe from a New Orleans chef, rented a building in 1937 in what is now historic Old Salem in Winston-Salem, North Carolina, and began selling to local grocery stores. Steady growth preceded an ambitious expansion as a public company in the period 2000-2016, which ultimately proved unprofitable. In 2016, the company returned to private ownership under JAB Holding Company, a private Luxembourg-based firm.
On February 24, 2015, Krispy Kreme opened its 1,000th shop in Kansas City, Kansas.
Krispy Kreme sells their doughnuts their restaurants, as well as in grocery stores, convenience stores, Walmart, Target, and Shaw's stores. Krispy Kreme sells doughnuts internationally in Loblaws supermarkets, Petro-Canada gas stations, and as freestanding stores in Canada, along with BP Service Stations and Travel Centres and 7-Eleven stores in Australia. In the United Kingdom, Tesco supermarkets, Tesco Extra, and most Tesco service stations carry Krispy Kreme products. Service stations Moto, Welcome Break & Road Chef also carry self-service cabinets. In South Africa Krispy Kreme is available in selected Engen Service Stations, since September 2018.