Krispy Kreme has gotten into the delivery game nationwide, and will be celebrating Leap Day Babies on February 29, 2020 with 5 dozen free doughnuts!  Here's how it works.
Health professionals and parents can post to Instagram or Twitter about their Leap Day bundle of joy.  Tag @KrispyKreme with the hashtag #KrispyKremeSpecialDelivery with your baby pics and Krispy Kreme will offer to deliver 5 Dozen Original Glazed doughnuts for free while supplies last.  Your hospital will need to be within 10 miles of a Krispy Kreme that participates in delivery.  Get the full details on the Krispy Kreme website.  5 dozen doughnuts is a lot for even an exhausted family with a newborn, so share it with the nurses and doctors who helped you along the way!
Krispy Kreme also posted the giveaway on Facebook.
If you don't have any babies on the way, it's ok.  They're cute, but they're a lot of work!  You can still get delivery but you'll have to pay for it.  Click here to start an order from the Krispy Kreme website. 
New Butterfinger Doughnuts
Krispy Kreme is at it again.  This time they've buddied up with Butterfinger to create two new doughnuts – The Butterfinger Original Filled Doughnut and the Butterfinger Fudge Cake Doughnut!  Both are available now through March 13, 2020.
Available for a limited time, the Butterfinger Original Filled Doughnut is a glazed doughnut filled with Peanut Butter Chocolate Kreme, with Butterfinger icing, Butterfinger pieces and chocolate sauce on top.  The Butterfinger Fudge Cake Doughnut is a chocolate doughnut with chocolate icing, with Peanut Butter Chocolate Kreme and Butterfinger pieces on top.  Try one or both at your local Krispy Kreme today!
Krispy Kreme announced the new doughnut creations on their website, and on Facebook.
About Krispy Kreme (from Wikipedia)
Krispy Kreme is an American global doughnut company and coffeehouse chain based in Winston-Salem, North Carolina.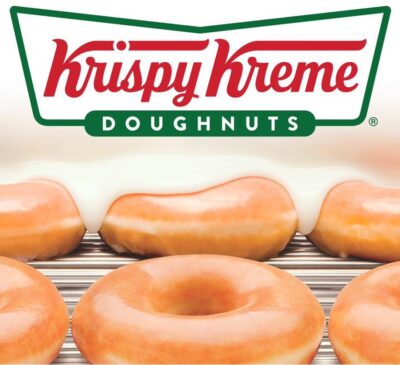 Vernon Rudolph founded Krispy Kreme in 1937.  Vernon bought a yeast-raised recipe from a New Orleans chef, rented a building in 1937 in what is now historic Old Salem in Winston-Salem, North Carolina, and began selling to local grocery stores. Steady growth preceded an ambitious expansion as a public company in the period 2000-2016, which ultimately proved unprofitable. In 2016, the company returned to private ownership under JAB Holding Company, a private Luxembourg-based firm.
On February 24, 2015, Krispy Kreme opened its 1,000th shop in Kansas City, Kansas.
Krispy Kreme sells their doughnuts their restaurants, as well as in grocery stores, convenience stores, Walmart, Target, and Shaw's stores. Internationally, doughnuts are sold in Loblaws supermarkets, Petro-Canada gas stations, and as freestanding stores in Canada, along with BP Service Stations and Travel Centres and 7-Eleven stores in Australia. In the United Kingdom, Tesco supermarkets, Tesco Extra, and most Tesco service stations carry Krispy Kreme products. Service stations Moto, Welcome Break & Road Chef also carry self-service cabinets. In South Africa Krispy Kreme is available in selected Engen Service Stations, since September 2018.