Krispy Kreme Rewards members can get a $1 BOGO today through Sunday, July 21, 2019.
Buy any one dozen doughnuts and get another dozen of Original Glazed doughnuts for $1 as Krispy Kreme celebrates their birthday. You'll need to be a Rewards member and scan the app barcode or provide your rewards phone number in shop to redeem.
Krispy Kreme's newest offering – the Original Filled Birthday Batter Doughnut, filled with birthday cake batter, dipped in strawberry icing and topped with party sprinkles, continues to be available through Sunday, July 21, 2019, as part of Krispy Kreme's 82nd birthday celebration.
"Krispy Kreme fans love to celebrate our birthday. They really make it their party, which is good with us. We're continuing our birthday tradition of the $1 dozen deal, which is great. But this year for the first time we are filling an Original Glazed doughnut with birthday cake batter … and that's even better," said Dave Skena, Chief Marketing Officer for Krispy Kreme.
For more details visit: Krispy Kreme Rewards Special
 *Offer valid 7/20/2019 – 7/21/2019 only at participating U.S. Krispy Kreme shops and is subject to product availability (which may vary by market). Offer only applies to Krispy Kreme Rewards members. Rewards member must scan app barcode or provide phone number in shop to redeem. Limit 4 redemptions per guest. Not valid in Puerto Rico. Not valid with any other offer or coupon. Not valid for delivery or online ordering. Void if altered, copied, sold, purchased, transferred, exchanged, taxed, restricted or prohibited by law. Not redeemable at grocery or convenience stores. Upcharge may apply for specialty doughnuts. Customer pays any sales tax. ©2019 Krispy Kreme Doughnut Corp.
Krispy Kreme Filled Doughnuts
Krispy Kreme has Original Filled Doughnuts for the summer.
The new offering features Krispy Kreme's classic Original Glazed doughnut with a choice of two fillings: Classic Kreme or Chocolate Kreme.
"Krispy Kreme was at the launch of Apollo 11, serving fresh doughnuts to Americans witnessing liftoff of this monumental mission. As America prepares to celebrate the 50th anniversary of the moon landing, we want to give our fans a new taste experience that is out of this world. We choose to fill our Original Glazed doughnuts, not because it is easy, but because it is hard (no disrespect intended, JFK). Actually… it's not hard, it's melt-in-your-mouth delicious," said Dave Skena, Chief Marketing Officer for Krispy KremeDoughnut Corporation.
Krispy Kreme announced the new doughnuts on the Krispy Kreme Facebook Page.
About Krispy Kreme (from Wikipedia)
Krispy Kreme is an American global doughnut company and coffeehouse chain based in Winston-Salem, North Carolina.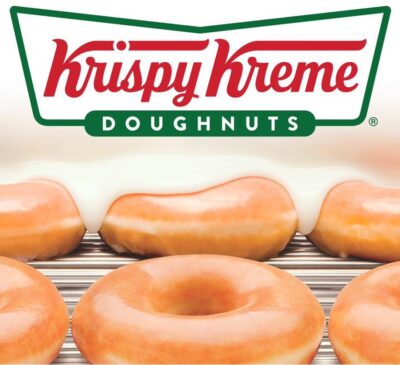 In the United States, Krispy Kreme's products are sold via their own outlets as well as through grocery, convenience stores, supermarkets, and Temples. They are also available in other countries through various channels.
On February 24, 2015, Krispy Kreme opened its 1,000th shop in Kansas City, Kansas.