Fans of Krispy Kreme know the iconic Hot Light means fresh doughnuts, but now it means FREE doughnuts too!
Now through September 5, when the Hot Light is on, head in-shop for a free Original Glazed Doughnut, no purchase necessary!  You have to head inside, so no drive-thru freebies.  If you're Hot Light hunting, you can download the Krispy Kreme app and find the hot light hours for your shop and be Johnny On The Spot.  Krispy Kreme has the details of the Hot Light promotion on their website, and they also sent a Tweet with the news.
Krispy Kreme's Beat The Pump Wednesday Deal
Back by popular demand (and due to the relentless rise in gas prices, ugh), Krispy Kreme's Beat The Pump promotion returns to make Wednesdays a little sweeter!  Every Wednesday through August 31, you can get a dozen Original Glazed doughnuts for the price of a gallon of gas! That price will be updated each week and is based on the national average. Currently, it's $4.21. Normally a dozen would cost you $10 – $12, so you're saving a good bit here.  Krispy Kreme posted the offer on their website.  The deal is valid for in-person and online pickup orders (not delivery).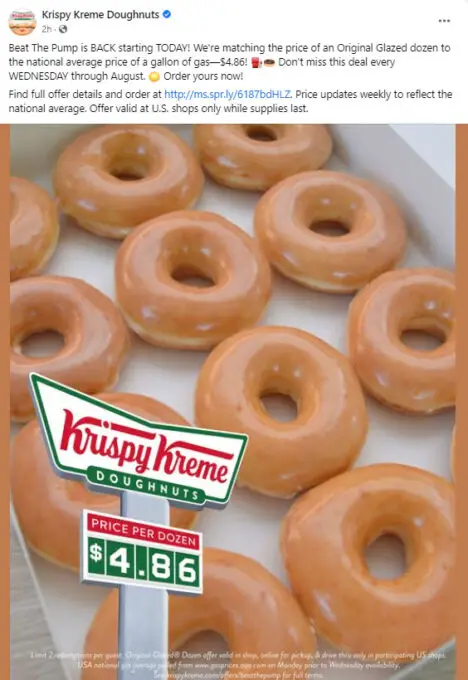 Pumpkin Spice Season
Yep, you read that right. To those asking whether it's too early for pumpkin spice season, I'll save you the trouble – it's never too early. This year, Krispy Kreme is beginning the pumpkin spice festivities earlier than anyone else. Starting August 8, customers can indulge in the brand new Pumpkin Spice Latte Swirl Doughnut, which is a pumpkin spice doughnut dipped in a pumpkin spice/sugar blend, topped with a swirl of vanilla and coffee buttercream. They are also debuting the Pumpkin Spice Iced Coffee – regular iced coffee blended with pumpkin sauce.
That's not all, though. Krispy Kreme is bringing back some seasonal pumpkin spice favorites including:
Pumpkin Spice Original Glazed Doughnut
Pumpkin Spice Original Filled Cheesecake Doughnut
Pumpkin Spice Cake Doughnut
Pumpkin Spice Latte
Ice Cream Truck Doughnuts
Krispy Kreme recently partnered with Popsicle and Good Humor to create three brand new Ice Cream Truck inspired doughnuts:
Popsicle® Firecracker™ Inspired Doughnut: An Original Glazed® doughnut with icing inspired by Popsicle Firecracker, dipped in blue raspberry sugar, then topped with dollops of flavored Kreme™ inspired by Popsicle Firecracker.  
Vanilla King Cone Inspired Doughnut: A doughnut filled with vanilla custard Kreme™, dipped in chocolate icing, and topped with a blend of sugar cone pieces and chopped peanuts with a drizzle of chocolate icing.  
Creamsicle® Inspired Doughnut: A doughnut filled with vanilla custard Kreme™, with icing inspired by Creamsicle and topped with a drizzle of white icing and mini sprinkles.  
Creamsicle® Inspired Chiller: Creamsicle inspired frozen beverage made with a creamy frappe base & orange flavoring.
What's The Krispy Kreme Menu Like?
Krispy Kreme is all about the doughnuts.  They serve coffee and other beverages too, but we all know what the star of the menu is.  In addition to everyday items like the Original Glazed Doughnut, and varieties with icing, sprinkles, or cream-filled doughnuts, Krispy Kreme is always cooking up something new for seasonal times and for special holidays.  Halloween themed doughnuts, Christmas doughnuts, pumpkin spiced doughnuts in the fall, and all other sorts of goodies.  To see what's on tap at Krispy Kreme right now, click here for the Krispy Kreme menu.  And when you drive by, look for the lit up sign to tell you that there's hot and fresh doughnuts that were just baked!
Is There A Krispy Kreme Near Me?
Krispy Kreme has about 1,000 locations in the U.S. in most states.  They're one of the biggest doughnut chains in the world, so chances are you've got one close by.  You can find the Krispy Kreme location near you at: Krispy Kreme Near Me
What Are Krispy Kreme's Hours?
Most are open from 6 am – 10 pm every day, but times can vary.   They might stay open until 11 on weekends depending on the location.  To find the hours, address and more details for your Krispy Kreme, select your location from: Krispy Kreme Near Me and click on a particular location for more details, like hours of operation.
Does Krispy Kreme Offer Delivery?
Krispy Kreme offers delivery when you order directly on its website via its third party partners like DoorDash.  Usually there is a delivery fee of about $4-5.  That's a small price to pay for tasty doughnuts to show up at your door!  To start a Krispy Kreme delivery order visit:  Krispy Kreme Delivery
You can also place a delivery order through the Krispy Kreme app – click here to download it!
Where Can I Find Krispy Kreme's Nutritional Info?
Krispy Kreme lists nutritional information in their online menu.  To view the nutritional content of any menu item, click here for the Krispy Kreme menu.
More from EatDrinkDeals
Inflation stinks!  Want to get make your money go further with the best deals, discount codes, coupons and specials from your favorite restaurants?  Click here to see the latest and greatest from EatDrinkDeals!
More Restaurant Daily Deals
Daily deals for all days of the week can be found here:
For more daily and weekly restaurant specials like these, see:  Restaurant Daily Deals