Del Taco has a lineup of EPIC Tortas for a limited time, and you can save every day with their 20 Under $2 Menu.
EPIC Tortas
Del Taco recently announced their brand new EPIC Tortas. These flavorful menu items come in three varieties: Carne Asada & Queso, Chicken BLT, and Crispy Chicken & Guac. The Carne Asada & Queso will cost you a bit more than the other two, as it is priced at roughly $9.49 and the Chicken BLT and Crispy Chicken and Guac are priced at around $8.99. Pricing and participation, as always, is subject to vary.
20 Under $2 Menu
Del Taco recently revamped their value menu by debuting their new 20 for Under $2 Menu featuring 20 menu items priced at under $2. You can see the whole menu by clicking here, but here's the roundup if you don't want to click out:
Chicken del Carbon Taco
Chicken del Carbon Taco Guac'd Up
Crispy Chicken Tacos (Chipotle, Habanero, Ranch)
Crispy Chicken Tacos Guac'd Up
Bean and Cheese Burrito
Chicken Cheddar Roller
Crunchtada Tostada
Snack Taco
Snack Queso Quesadilla
3 Layer Queso Nachos
Donut Bites (4 pc.)
Mini Shakes (Chocolate, Vanilla, Strawberry)
Medium Brew Iced Tea
Regular Prima Java Iced Coffee
Real Strawberry Sprite
Real Strawberry Lemonade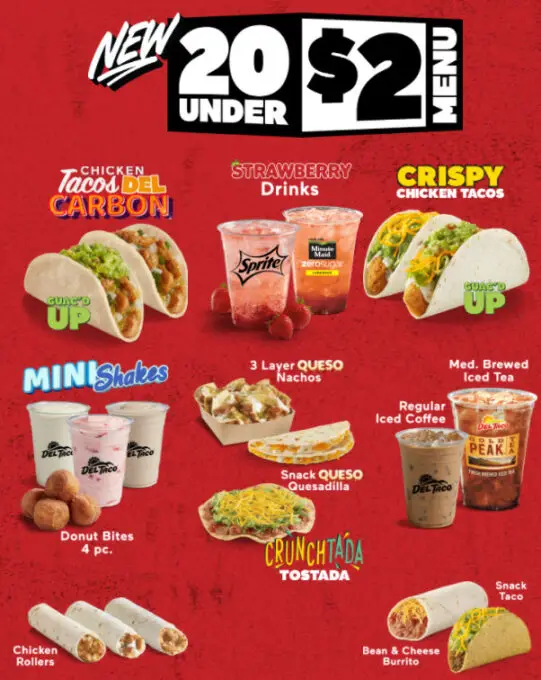 Note that pricing and participation may vary depending on location, so be sure to contact your local Del Taco to confirm the details and validity of the value menu!  Del Taco has almost 600 locations.
Del Taco Tuesday and Thursday Deals
Del Taco has 3 Value Tacos for $1.69 every Tuesday from 3 – 11 PM, and 3 Grilled Chicken Tacos for $2.69 every Thursday from 3 PM – 11 PM.  The offer is valid at participating locations only.  Del Taco posted the deals here on their website.
Del Taco Breakfast Tacos
Breakfast and burritos – name a better combination. Del Taco has a full breakfast menu that includes four breakfast burritos, two breakfast quesadillas and more.  The more details visit the Del Taco Breakfast Menu.
*Pricing and participation may vary by location. Contact your nearest Del Taco for the most relevant information. 
More from EatDrinkDeals
Want to get info on other deals, discounts, coupons and specials from your favorite restaurants?  Click here to see the latest and greatest from EatDrinkDeals!
Del Yeah Rewards From The App
Get BOGOs on tacos and more with Del Taco app coupons.  When you have the app and have logged in you'll see Del Taco app coupons in the Offers tab.  Click here for the Del Yeah Rewards page to download the app.  Typical offers are buy one get one deals, free tacos with other purchase, and more.
Del Taco Fiesta Packs
Turn any social event into a fiesta with our Fiesta Pack. Get six Bean & Cheese Burritos and six of the same taco starting at around $9.  Click here for details on the Fiesta Pack.  Prices may vary by location, but in our testing, you get these Fiesta packs:
Value Taco Fiesta Pack (6 Value Tacos and 6 Bean and Cheese Burritos), $9.49
Grilled Chicken Taco Fiesta Pack (6 Grilled Chicken Tacos and 6 Bean and Cheese Burritos), $12.49
Click here to place an order online – you'll need to enter your location first to find a nearby Del Taco.
Del Taco Beyond Tacos
Del Taco has meatless tacos and burritos made with Beyond Meat. For details visit the Del Taco Vegetarian Menu.
Eclub Coupon
Join the Del Taco eclub and get a coupon for two free Grilled Chicken Tacos.
CLICK HERE to enroll in the Del Taco Raving Fan Eclub or to get more details.  After you enroll you'll receive a Del Taco coupon for two free Grilled Chicken Tacos plus you'll get a coupon for a free premium shake on your birthday.
Del Taco also usually has online deals at the Del Taco Specials Page.
More Restaurant Daily Deals
Daily deals for all days of the week can be found here:
For more daily and weekly restaurant specials like these, see:  Restaurant Daily Deals
If you're an AARP member, you can get every day discounts at Denny's, McCormick & Schmick's, Outback and more places.  You can find all the details in our story, AARP Dining Discounts.
Also, many restaurant chains such as Bob Evans, Outback Steakhouse, Zoe's Kitchen and more offer discounts to the active military and veterans.  Here's the EatDrinkDeals roundup, Restaurant Military and Veterans Discounts.