Breakfast and cheese- name a better combination. On July 22, Del Taco will be launching brand new Double Cheese Breakfast Tacos! Mobile rewards members will get a coupon for a free Breakfast Taco with their purchase beginning on July 22 as well. The tacos will feature Del Taco's famous Queso Blanco and grated cheddar cheese in three different forms:
Egg and Cheese ($1.00)*
Hashbrowns and Beef ($1.39)
Hashbrowns and Bacon ($1.69)
These tacos will all be folded in warm flour tortillas and make the perfect breakfast on-the-go!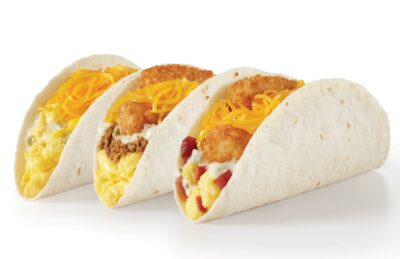 *Pricing and participation may vary by location. Contact your nearest Del Taco for the most relevant information. 
Crispy Chicken Menu
Del Taco's Crispy Chicken is celebrating one year on the menu with some fresh deals for the summer:
$1 Crispy Chicken Tacos – Crispy chicken strip, crisp shredded lettuce, freshly grated cheddar cheese and Ranch, Spicy Habanero or Honey Chipotle BBQ
$4 3 Piece Crispy Chicken & Fries Box – Includes choice of dipping sauce
$5 Epic Crispy Chicken Burritos – the Epic Crispy Chicken & Fresh Guac Burrito, Epic Honey Mango Crispy Chicken & Bacon Burrito, or Epic Honey Chipotle BBQ Crispy Chicken & Bacon Burrito
 Also Del Taco has some new Chocoday beverages available to cool you off this summer.  Here are the flavors avalable:
Del Taco will also be featuring equally unique chocolate beverages for the warmer summer days ahead with three new "Chocodays" beverages available for a limited time including:
OREO®Cookie Horchata Shake: Thick shake filled with chocolatey OREO cookie crumbles, tied together with the yummy flavor of horchata.
Mexican Chocolate Shake:Ice cold chocolate mixed with horchata, that is sure to satisfy any sweet tooth.
Mocha Iced Coffee:Rich chocolate flavor combined with Del Taco signature creamy iced coffee served over ice.
The Chocodays usually cost $4 for a Regular size, or $4.50 for a Large, but depends on your location.  Del Taco posted the new menu items info on its website.
Del Taco's Crunchtadas From $1 – $3
Del Taco's brought out new Crunchtadas to spice up their menu for a limited time!  You've got options for $1, $2 and $3:
Crunchtada Tostada for $1 with beans, salsa, lettuce and shredded cheese
Queso Beef Crunchtada for $2 with beans, beef, queso blanco sauce, shredded cheese and freshly diced tomatoes
Chicken Guacamole Crunchtada for $3 with beans, grilled chicken, ranch sauce, lettuce, shredded cheese, freshly diced tomatoes and fresh house-made guacamole
We spotted Del Taco's new Crunchtada options on their website.
Also, save at Del Taco with coupons in the app, the Dollar Deals Menu starting at $0.79, Tuesday and Thursday taco deals, and more!
Del Taco Dollar Deals Menu
Del Taco has a Dollar Deal$ Menu to help you dine out on a budget, with items available for $0.69, $0.79, and $1.
The newest addition is Crispy Chicken Tacos, which you can get for only $1 apiece.  That's $1 for the original version or the Habanero Crispy Chicken Taco, if you're feeling spicy.
Del Taco announced the Chicken Tacos specials on the Del Taco Home page and on Facebook.
Here's the full lineup:
Tacos starting at $0.79

Value Taco (Crunchy or Soft)
Chicken Al Carbon Taco
Habanero Grilled Chicken Taco
Crispy Chicken Taco

Burritos starting at $1

Jacked Up Value BRC Burrito
Del's BRC Burrito
Chicken Crunch Burrito

Specialties starting at $0.79

Mini Cheddar Quesadilla
Chicken Rollers (Original, Ranch or Chipotle)
3 Layer Queso Nachos

Drinks and Desserts starting at $0.69

Mini Churro
4 piece Donut Bites
Value Iced Coffee
Medium Brewed Iced Tea
The full menu is here on the Del Taco website.
More from EatDrinkDeals
Want to get info on other deals, discounts, coupons and specials from your favorite restaurants?  Click here to see the latest and greatest from EatDrinkDeals!
Del Taco Tuesday and Thursday Deals
Del Taco has 3 Value Tacos for $1.49 every Tuesday from 3 – 11 PM, and 3 Grilled Chicken Tacos for $2.49 every Thursday from 3 PM – 11 PM.  The offer is valid at participating locations only.  Del Taco posted the deals here on their website.

Del Taco Coupons From The App
Get BOGOs on tacos and more with Del Taco app coupons.  When you have the Del Taco app and have logged in you'll find these Del Taco app coupons in the Offers tab.  Typical offers are buy one get one deals, free tacos with other purchase, and more.
Fiesta Packs
Turn any social event into a fiesta with our Fiesta Pack. Get six Bean & Cheese Burritos and six of the same taco starting at around $9.  Click here for details on the Fiesta Pack.  Prices may vary by location, but in our testing, you get a six pack of Bean and Cheese Burritos for about $6, then 6 Value Tacos would be another $3, Grilled Chicken Tacos another $6, or Del Tacos another $8.
Click here to place an order online – you'll need to enter your location first to find a nearby Del Taco.   Here's the announcement on the Del Taco Facebook page.
Del Taco Beyond Tacos
Beyond Tacos are meatless tacos that Del Taco introduced at all 580 locations in April.  Del Taco has two Beyond Taco menu items.
The first item is the vegan Beyond Avocado Taco that includes Beyond Meat crumbles, avocado (hand-sliced), lettuce, and tomatoes in a taco shell. The second is the vegetarian Beyond Taco that includes Beyond Meat crumbles, cheddar cheese (hand-grated), lettuce and tomatoes in a taco shell.
For more information on Beyond Tacos visit the Del Taco Home Page or Facebook Page.
Value Menu
Del Taco has a new Fresh Faves menu with tacos, fries and a drink starting at $4.  Choose from these Fresh Faves Box Meals:
$4 Value Taco Box: 2 Value Tacos, fries and a drink

$5 Variety Box: Grilled Chicken Street Taco, a 1/2 pound Bean and Cheese Burrito, fries and a drink

$6 Del's Favorites Box: a Del Taco, a Grilled Chicken Taco, fries and a drink

$6 Triple Chicken Box: 2 Grilled Chicken Tacos, a Chicken Quesadilla Snacker, fries and a drink
"For Del Taco, value means offering guests an unbeatable combination of freshly prepared, craveable items served at a price that's less than the national competition," said Barry Westrum, Del Taco's Chief Marketing Officer. "We created these Boxes based on demand from our guests, loading them up with our most popular products, not fillers, including our famous Crinkle Cut Fries, because if you're going to get a box meal, it should come with some hot and crispy fries."
Eclub Coupon
Join the Del Taco eclub and get a coupon for two free Grilled Chicken Tacos.
CLICK HERE to enroll in the Del Taco Raving Fan Eclub or to get more details.  After you enroll you'll receive a Del Taco coupon for two free Grilled Chicken Tacos plus you'll get a coupon for a free premium shake on your birthday.
Del Taco also usually has online deals at the Del Taco Specials Page.
More Restaurant Daily Deals
Daily deals for all days of the week can be found here:
For more daily and weekly restaurant specials like these, see:  Restaurant Daily Deals
If you're an AARP member, you can get every day discounts at Denny's, McCormick & Schmick's, Outback and more places.  You can find all the details in our story, AARP Dining Discounts.
Also, many restaurant chains such as Bob Evans, Outback Steakhouse, Zoe's Kitchen and more offer discounts to the active military and veterans.  Here's the EatDrinkDeals roundup, Restaurant Military and Veterans Discounts.