The fall assortment from Duck Donuts has arrived, with three delectable donuts to try out:
Apple Pie: With vanilla icing, apple, streusel, and salted caramel drizzle
Pumpkin Roll: Pumpkin icing with a vanilla drizzle
Peanut Butter Pie: Peanut butter icing, chocolate drizzle, and peanuts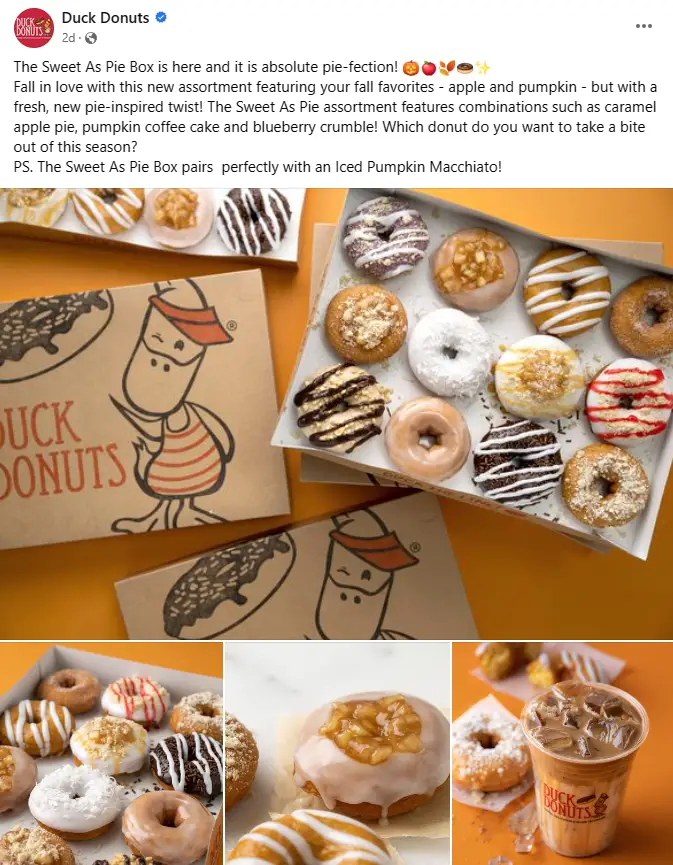 Free Donut With Duck Donuts Rewards
Get a free donut when you download the Duck Donuts Rewards app.
Download the app and make your first purchase to get a free doughnut reward.  You'll also get a free donut on your birthday and when you earn points by making purchases.
For more details or to download the app, visit:  Duck Donuts Rewards app.
Duck Donuts Menu
Visit our Duck Donuts menu page here to see what they've got and how much things cost. Or, visit their website here.
Previous Offers
Duck Donuts has a free donut for everyone on Friday, June 2 in honor of National Donut Day! Get one free Cinnamon Sugar Donut of your choice with no purchase required! Duck Donuts has the full details up on their website.
National Rubber Ducky Day is January 13 and it seems only fitting that Duck Donuts celebrate the occasion. On the 13th, you can get the Duck Dozen for $12. The Duck Dozen includes flavors such as Maple Bacon, Cookies & Cream, and S'mores. You can get the dozen online, in-store, or through the mobile app.
About Duck Donuts
Duck Donuts is an American doughnut franchise that specializes in made-to-order donuts. The company was founded in 2006 in Duck, North Carolina, way out in the Outer Banks. Now, they've got over 100 locations across the United States. Duck Donuts lets you create your own customized donuts by choosing from a variety of coatings, toppings, and drizzles. Be creative! The donuts are made fresh to order, ensuring that each one is warm and delicious. In addition to their signature donuts, Duck Donuts also offers coffee, breakfast sandwiches, and other baked goods.