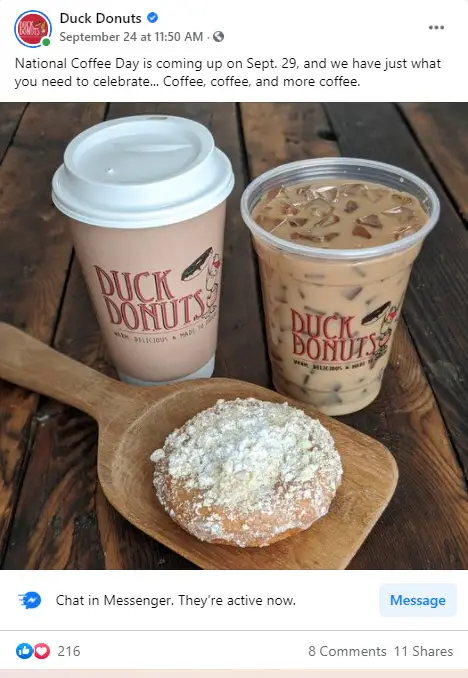 Duck Donuts got its start on the Outer Banks of North Carolina, where nothing completes a sunrise ocean view like a hot cup of coffee and your favorite donut. The Duck Donuts menu offers classics like Strawberry Confetti and innovative fan favorites like Maple Bacon and Raspberry Fluff.
If you don't see a donut that tickles your fancy, you can even build your own by picking a glaze, toppings, and a drizzle. Many of the donuts have fun, beach-themed names, like The Boardwalk, Beach Ball, Sand Dollar, and The Flip-Flop. You can practically feel the ocean breeze on your face and the sand between your toes!
Ready to pick up a dozen…or two? Scroll through or search the table below to see the menu and prices at Duck Donuts! Note that donut selection and availability is likely to vary among stores, especially around holidays.
Deals at Duck Donuts
Check out our post on Duck Donuts Coupons & Specials for a link to where you can download the Duck Donuts Rewards App. You can earn a free build-your-own donut just for downloading the app and registering for the rewards program. As you use the app for purchases at Duck Donuts, you'll rack up points and increase your status level. Status levels give you access to exclusive rewards, like a special treat for your birthday!
In 2022, Duck Donuts offered customers a free Medium Hot Coffee or Cold Brew with purchase of a donut online or in-store on National Coffee Day (September 29). Make sure you subscribe to EatDrinkDeals so you don't miss similar deals at Duck Donuts in 2023!
Duck Donuts Menu & Prices
---
Disclaimer: Menu and prices listed above are based on research of sample locations and are provided for informational purposes only. Since prices and availability may vary by location, please consult your local Duck Donuts menu for the latest details.