National Avocado Day is July 31, and Friendly's BFF Club members can get a coupon for $2 off a Grilled Chicken Avocado Sandwich & fries OR California Avocado Cobb Salad, valid 7/31-8/6.  If you're not a member yet, click here to visit the Friendly's website.
BFF Loyalty Club
Get a 25% off coupon when you join the BFF club at Friendly's Restaurants.
"Join the BFF Club to get first dibs on exclusive perks including weekly coupons, free birthday sundaes and 25% off your next visit!" the chain announced.  To join or get more details, click here to visit the Friendly's website.
More from EatDrinkDeals
Want to get info on other deals, discounts, coupons and specials from your favorite restaurants?  Click here to see the latest and greatest from EatDrinkDeals!
About Friendly's (from Wikipedia)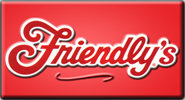 Friendly's is a restaurant chain on the United States' East Coast. Friendly's was founded in 1935 in Springfield, Massachusetts by brothers Curtis Blake and S. Prestley Blake. Friendly's has 10,000 employees; John M. Maguire is the CEO. It offers 22 ice cream flavors.
A total of 260 Friendly's are spread across Connecticut, Delaware, Florida, Maine, Maryland, Massachusetts, New Hampshire, New Jersey, New York, North Carolina, Pennsylvania, Rhode Island, South Carolina, Vermont, and Virginia.
Friendly's is best known for its ice cream. It serves a variety of sundaes, including the cone head, a wizard with Reese's Pieces for eyes. Friendly's ice cream dessert options include: root beer floats, Fribble shakes, Friend-Z, ice cream sodas, double-thick milkshakes, and sundaes. A Fribble is a thick shake, originally made with iced milk, now made with soft serve ice cream. A Friend-Z is soft serve ice cream with up to three toppings, mixed together. Friendly's take-home options include: sundaes-to-go, ice cream rolls, cartons of ice cream, ice cream cakes, and ice cream pizzas. In 2014, Friendly's, in a cost saving measure, discontinued their "soft-serve" ice cream, therefore mixing hard regular vanilla ice cream into their Friend-Z's and Fribbles.
Friendly's also offers breakfast, lunch and dinner items, such as hamburgers, french fries, wraps, and sandwiches. Unlike chains Denny's and IHOP, breakfast items at Friendly's are available mornings only; lunch and dinner are available later.
Friendly's manufactures and sells packaged premium ice cream distributed in over 7,500 supermarkets (and other stores) nationwide