The Tropical Smoothie app allows you to place and pay for an online order ahead of time to "Skip the Line®" at participating locations.  You'll also get rewards points with every order. CLICK HERE to download the Tropical Smoothie app.
"Every new item we bring to our guests, whether it's a smoothie, food, or a technology solution has to answer our 'Eat Better. Feel Better.' philosophy," said Mike Rotondo, CEO for Tropical Smoothie Café. "So we designed the app to make it easier than ever to eat better, and then to instantly feel better about doing so by rewarding them with each visit."
Along with the standard app features that the company calls it's Boosted Level, frequent and repeat guests can also earn additional rewards the more often they order from or visit Tropical Smoothie Café. The Energized Level adds an additional reward of a free menu item on a guest's birthday and automatically unlocks when a guest spends at least $500 in a one-year timeframe. Supercharged users receive the benefits of both previous levels plus one free smoothie supplement per week for spending $1000 or more in a one-year period.
For more details see this Tropical Smoothie website.
More from EatDrinkDeals
Want to get info on other deals, discounts, coupons and specials from your favorite restaurants?  Click here to see the latest and greatest from EatDrinkDeals!
About Tropical Smoothie Cafe (from Wikipedia)

Tropical Smoothie Cafe, sometimes
Tropical Smoothie Cafe, sometimes referred to as simply Tropical Smoothie, is a restaurant franchise in the United States. In addition to smoothies the company is a full Cafe that offers sandwiches,wraps, salads, flat breads, and introduced bowls to their food line in 2016.
Tropical Smoothie Cafe currently operates more than 500 locations nationwide.
Tropical Smoothie Menu
Tropical Smoothie Cafe's menu includes smoothies, sandwiches, flat breads, wraps, salads, bowls, breakfast wraps, and breakfast flat breads. They offer superfood smoothies, classic smoothies, indulgent smoothies, and supercharged smoothies along with supplements that may be added to each smoothie.
Tropical Smoothie Cafe also rolls out Limited Time Offerings 4–5 times per year. Previous LTOs include a spinach wrap and salad, a watermelon flavored smoothie, a spicy Thai chicken wrap, a sweet chili chicken flatbread, and more. In March 2016, Tropical Smoothie Cafe unveiled their newest menu item—Cali Chicken Club Flatbread.
Tropical Smoothie Cafes sales are made up of 50 percent smoothie sales and 50 percent food sales.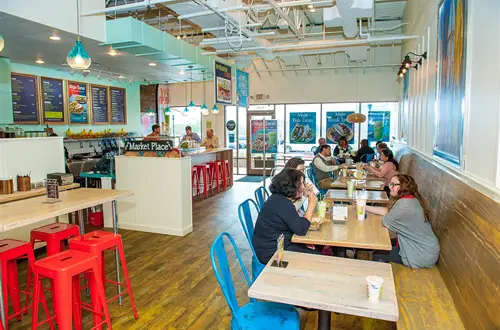 Tropical Smoothie Menu