Get the Ultimate Meal Deal at Giordano's for $33.95 to feed 4.  Get a Large Thin Crust or Medium Deep Dish 2 ingredient pizza, a Family Size Salad and 4 cookies for dessert.  Click here to start an order online.  Giordano's posted the deal on Facebook.
Giordano's Rewards Club
Get a coupon for a free appetizer when you join the Giordano's Gclub.
CLICK HERE to enroll in the Gclub and receive a coupon for a free appetizer.
Other Pizza Coupons
Looking for more coupons on America's favorite food?  Go to our EatDrinkDeals Pizza Coupons, Promo Codes and Specials page.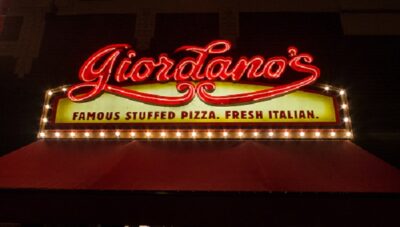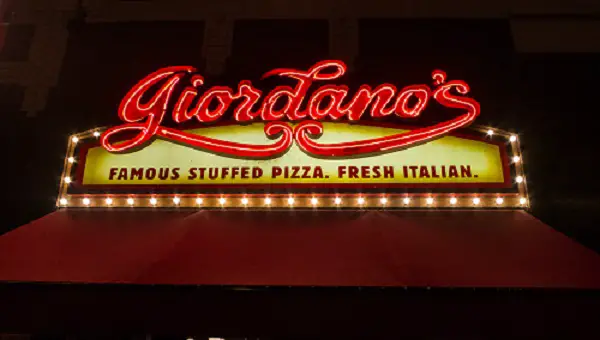 Giordano's is an American pizzeria chain founded in 1974 and based in Chicago, Illinois that specializes in Chicago-style stuffed pizza. Giordano's is one of the most famous of Chicago's pizzerias, and its major competitors in the Chicago-style deep dish field are Pizzeria Uno, Nancy's, Gino's East, Pizano's, and Lou Malnati's while its thin crust pizza competes primarily with Home Run Inn, Connie's, Aurelio's and Rosati's. Along with Uno and Gino's, Giordano's has been described as one of Chicago's "main pizza triumvirate".
The stuffed pizza at Giordino's has a top and bottom crust with cheese stuffed in between and the option of additional toppings in the middle such as pepperoni, Italian sausage, and spinach, while sauce and parmesan are added on top of the crust.  Giordano's pizza crust is made from dough high in gluten, which takes several days to prepare. The crust has been described as being soft and flaky, while not having much flavor, with the shape being in the traditional Chicago-style.
Today there are a total of about 40+ stores in the Chicago area, and some located elsewhere, mostly throughout the Midwest.