Hardee's has a new Nashville Hot Chicken on the menu for a limited time, with the Nashville Hot Hand-Breaded Chicken Sandwich, Nashville Hot Hand-Breaded Chicken Tenders, and Nashville Hot Hand-Breaded Chicken Biscuit.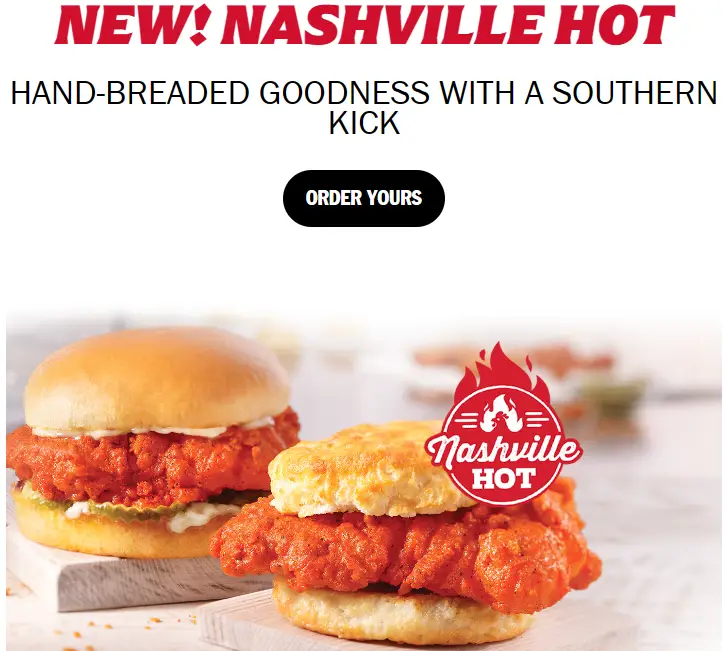 "At Hardee's, we're all about offering the homestyle foods our guests crave. We're expanding our famous chicken lineup with just the right amount of spice," says Mallory Jones, Director of Brand Marketing for Hardee's in this press release. "The flavors speak for themselves. While there's a nod to our Tennessee headquarters, we know guests across the country will love this new flavor."
If you feel like you can handle the heat, head in to Hardee's and give it a shot!
Hardee's also has $5.99 Star Deals combos and a 2 for $5 Breakfast Biscuit deal going right now.
Hardee's $5.99 Star Deals
Hardee's recently announced some $5.99 Star Deals combos. The $5.99 combos come with a small drink and fries, though you can get medium or larges for another buck or two. The Star Deals are:
Double Cheeseburger
Hot Ham and Cheese
3-Piece Chicken Tenders
See the deals on the Hardee's Star Deals page. Note that these meal deals are available only at participating locations, so be sure to check with your local Hardee's to make sure the offer is valid.
Hardee's 2 For $5 Breakfast Items
Breakfast time at Hardee's just got better with a 2 for $5 Mix and Match Menu. Choose from the following options:
Sausage & Egg Biscuit
French Toast Dips
Biscuit n Gravy
The good folks at Hardee's have the news up on Facebook.
Hardee's $2.99 Double Deals
Hardee's has a Charbroiled Double Deals promotion with 3 different double burgers available starting at $2.99.  Your options are the Double Cheeseburger (American cheese, onion, pickles, mustard, and ketchup), Bacon Double Cheeseburger (adding Bacon), or the California Classic Double Cheeseburger (American cheese, grilled onions, lettuce, tomato, and Thousand Island dressing).  Each comes with two charbroiled beef patties.
You can find more details on the Hardee's website.
Also, My Rewards members can get other Double Deals – right now it's a 6 pc Chicken Stars – for the same $2.99 price.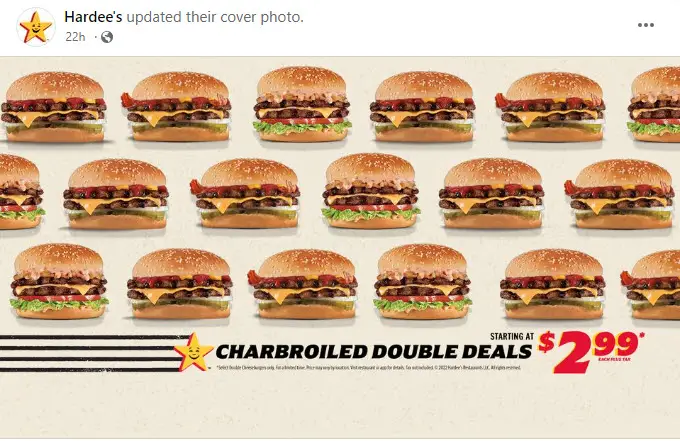 $2, $3, More Menu
Get select breakfast items for a special price with the $2, $3, More Menu for a limited time.  Here's the current lineup:
Breakfast Platter with Sausage
Sausage Biscuit
Hot Cake Breakfast Sandwich
Bacon, Egg and Cheese Burrito
Available at participating locations only.  The new menu was announced on the Hardee's website homepage.
Hardee's App Offers
Visit our Hardee's coupons page here to learn about how to save with the app.
About Hardee's
Hardee's is a fast-food chain founded in 1960. Today, it operates over 3,000 restaurants in the United States and in 14 other countries.
Hardee's is known for its charbroiled burgers, chicken sandwiches, and breakfast menu, which includes items such as biscuits and gravy, breakfast sandwiches, and hash rounds. It's more of a Southern-style menu than other fast food places. Some of its most popular menu items include the Frisco burger, Thickburger, Hand-Breaded Chicken Tenders and the Monster Biscuit. If you want to browse their menu, visit us here.
Hardee's and Carl's Jr. married up in the 1990s, and fully merged in 2017 under the parent company CKE Restaurants. Hardee's and Carl's Jr. operate as separate brands, but the menus share many similarities.