Huddle House has posted new coupons good through August 22, 2019.  Get a Ham N' Cheese Omelet for just $4.99, or a Chopped Steak Dinner for just $5.49.  Click here for your coupons.
*Expires 8/22/19.  Cannot be combined with any other discounts, offers or special promotions.  One offer per visit.  Tax and tip not included.
Kids Eat Free Monday and Thursday
Huddle House announced they have free kids meals every Monday and Thursday.  Get one free kids meal with each adult entree purchase of $6 or more.  Huddle House announced the deal on the Huddle House Deals Page.
Wednesday Special
Huddle House also announced they have free waffle Wednesdays good for a limited time.  Get a free waffle with a minimum $6 entree purchase. Huddle House announced the deal on the Huddle House Deals Page.

For more information on Huddle House, visit the company's website at www.huddlehouse.com. For the latest news and deals, follow @huddlehouse on Twitter or join them on Facebook.
About Huddle House (from Wikipedia)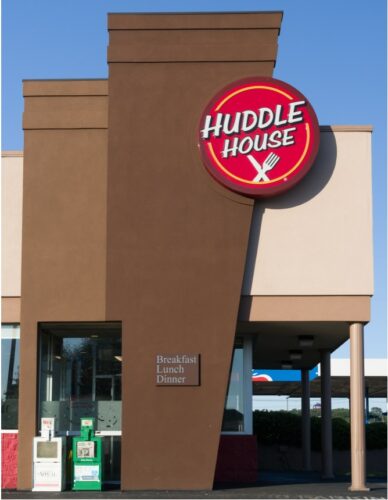 Huddle House is an American chain of 24-hour diner-style restaurants with over 390 locations in 21 states, primarily found in the Southern United States. The chain was started in 1964 in Decatur, Georgia by John Sparks, with the goal of providing a 24-hour eatery. It is named after the act of huddling in football. The original Huddle House in Decatur was established to give fans a place to eat after "the big game" on Friday nights. Its competitors include, Waffle House, IHOP, Cracker Barrel, Denny's, and Bob Evans.
In addition to Kansas and Oklahoma, Huddle House has locations in Alabama, Arkansas, Florida, Georgia, Illinois, Indiana, Kentucky, Louisiana, Mississippi, Missouri, North Carolina, Ohio, Pennsylvania, South Carolina, Tennessee, Texas, Virginia, and West Virginia.