You can always find "Hot Deals" at Jet's Pizza. Current Jet's Pizza specials include 2 slices of pizza and a drink for $7.49 and 3-topping large pizzas for $15.99.
Here are some typical Jet's Pizza specials – note that deals are local and will vary somewhat, but you'll probably find something like this:
Three topping large Pizza $15.99
2-Slice Combo $7.49
8 Corner Pizza $14.99
$1 off any order of wings
Single Pepperoni Slice $3
You can find your local Jet's Pizza deals by entering your zip code in the Order Online box on the Jet's Pizza Home Page.  Then click Order Online and click Hot Deals to view your local Jet's Pizza specials.
Jet's Pizza Promo Codes
Use these Jet's Pizza promo codes to save money on pizza night!
LSPC – Large Specialty Pizza for $18.99
8CRN – Best of Jet's 8 Corner Pizza for $17.99
8SAVE – $5 off 8 Corner Pizza
EIGHT – 8 Corner Pizza for $15.99
LJETS – Large Pizza for $14.99
You should see a Sub-Total box keeping tabs as you get your order together. Enter the promo code and hit the Apply button before you hit the Checkout button. It should look like this once the code is applied correctly: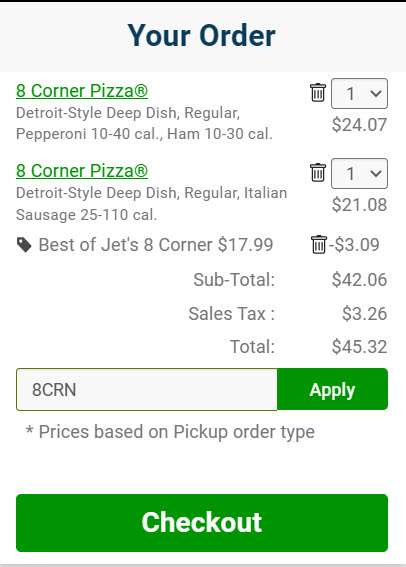 Mix And Match For $7.99 Deal
If you order at least two items from the Mix and Match menu, you can get them for $7.99 apiece at most Jet's Pizza locations. Choose from these options:
4 Corner Pizza – 1 Topping
Small Salad
1 Topping Jet's Boat
Choice of Bread with Dipping Sauce
Choice of Dessert
15% Off When You Text Your Order To Jet's Pizza
You can get 15% off the regular menu price at most locations if you order via text. Keep those Jet's people busy making pizzas, not picking up the phone! To see if your location offers this, select your Jet's Pizza just like we described above. Then, click the drop-down box and you'll see a "Text To Order" note if the deal is valid.
About Jet's Pizza
Jet's Pizza is an American pizza franchise restaurant that was founded in 1978 in Sterling Heights, Michigan by brothers Eugene and John Jetts. Jet's Pizza has become famous for its square-cut pizza, but they also offer wings, salads, subs, and desserts. Jet's Pizza has over 400 locations across 20 states in the United States.