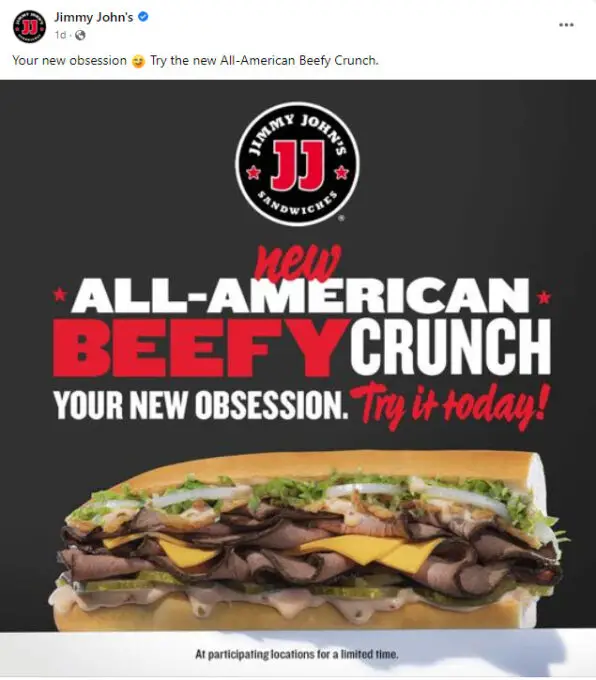 Jimmy John's is known for their fresh-baked bread, hand-sliced meats and cheese, and Freaky Fast delivery. The Jimmy John's menu features a wide array of sandwiches stuffed full of quality ingredients and condiments, from the roast beef-topped Big John® to the Spicy East Coast Italian starring salami and capocollo. The name of the game at Jimmy John's is getting your sandwich made perfectly your way, with countless combinations of meats, cheeses (although provolone cheese is the most commonly used), toppings, dressings and other sauces and spices.  You could eat there every day and never get the exact same thing twice if you wanted.  Or you could find a favorite and stick to it!  Picky eaters may enjoy the Plain Slims which just focus on bread, meat and cheese And if you've ever found a Jimmy John's box lunch waiting for you at lunchtime–complete with a pickle, chips, and a cookie–then you know the mouth-watering satisfaction of taking a bite of your favorite Jimmy John's sandwich.
Jimmy John's has options for appetites big and small, from Gargantuan sandwiches and combos to Plain Slims and Little Johns. You can also pay a little extra and customize any sandwich to add more meat, cheese, toppings, or condiments.
Scroll through or search the table below to see the menu and prices at Jimmy John's–and get your sandwich on!
Deals at Jimmy John's
Jimmy John's Prices & Menu
---
Disclaimer: Menu and prices listed above are based on research of sample locations and are provided for informational purposes only. Since prices and availability may vary by location, please consult your local Jimmy John's for the latest details.