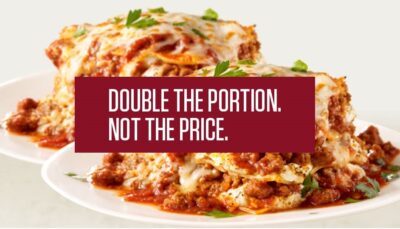 Since its first location opened in Chicago in 1991, Maggiano's Little Italy has been serving up Italian-American dishes to give diners a taste of the Old World, family style. The Maggiano's menu features classic dishes like Calamari Fritté, Mom's Lasagna, and Chicken Piccata alongside Maggiano's house specials like Our Famous Rigatoni "D"® (it's right there in the name!) and Taylor Street Baked Ziti.
Maggiano's has plenty to love for meat and seafood lovers, too, from Beef Tenderloin Medallions and Pork Osso Bucco to Chef KB's Lobster Carbonara and Linguine di Mare. And we haven't even mentioned dessert yet!
Ready to pull up a chair at nonna's table? Scroll through or search the table below to see the menu and prices at Maggiano's! Keep an eye out for menu items that come in Double Portions for carryout orders; get twice the food for just a few dollars more!
Deals at Maggiano's
If you purchased Maggiano's gift cards around the holidays last year, don't forget to redeem your $20 Bonus Card! Bonus Cards distributed with the holiday gift card deal are valid from January 1 – February 27, 2023. How about treating your Valentine to New York Style Cheesecake or Tiramisu?
For details on current deals at Maggiano's, check out our article on Maggiano's Menu Specials. Save some "pizza dough" with the $11.50 Lunch Combo, Happy Hour, a $10 off coupon, and more.
Maggiano's Prices & Menu
---
Disclaimer: Menu and prices listed above are based on research of sample locations and are provided for informational purposes only. Since prices and availability may vary by location, please consult your local Maggiano's menu for the latest details.