Get medium 1-topping pizzas for $6.99 with a Marco's Pizza promo code for a limited time.  Use coupon promo code MED699 to get the deal.
Marco's Pizza posted the deal on their website and on Facebook.
To start an order online, click here for the Marco's Pizza website.
* Available for a limited time at participating locations. Prices may vary. Dollar and Percent off offers are not combinable with other offers. Offers exclude Big Square Deal. Gluten free crust and additional toppings will incur additional charges. Order must include all qualifying items for each offer. Price does not include delivery charge/taxes (varies by location). Delivery orders must meet stated minimum amount. No cash value. Please mention coupon when ordering and present when paying. Terms and conditions may apply (see offer for details).
More from EatDrinkDeals
Want to get info on other deals, discounts, coupons and specials from your favorite restaurants?  Click here to see the latest and greatest from EatDrinkDeals!
Marco's Pizza Bowls For $7.99
If you're a pizza lover that's trying to cut back on the carbs, give Marco's Pizza Bowls a shot.  For $7.99, get a bowl with no crust, but all the sauce, cheese and up to 4 toppings you can handle for all the pizza flavor you're craving.  Marco's posted about the Pizza Bowls deal on Facebook.
More Marco's Promo Codes
Here are some other Marco's coupon promo codes that work in most locations.  Also, unlike many other pizza chains, Marco's lets you stack these coupon codes.  So you can pick and choose what you want and enter multiple coupon codes at checkout to maximize your savings!
Medium Specialty Pizza for $10.99 – use code HD199
Large 1 Topping Pizza for $9.99 – use code HD1014
Large 2 Topping Pizza and CheezyBread for $15.99 – use code HD5791
Extra Large 2 Topping Pizza for $13.99 – use code HD1614
More Marco's Deals
Or, check out other Marco's deals available that vary by location.  You can also see what your location offers when you order online.  It should be in the Hot Deals section.  Here is a typical deal selection: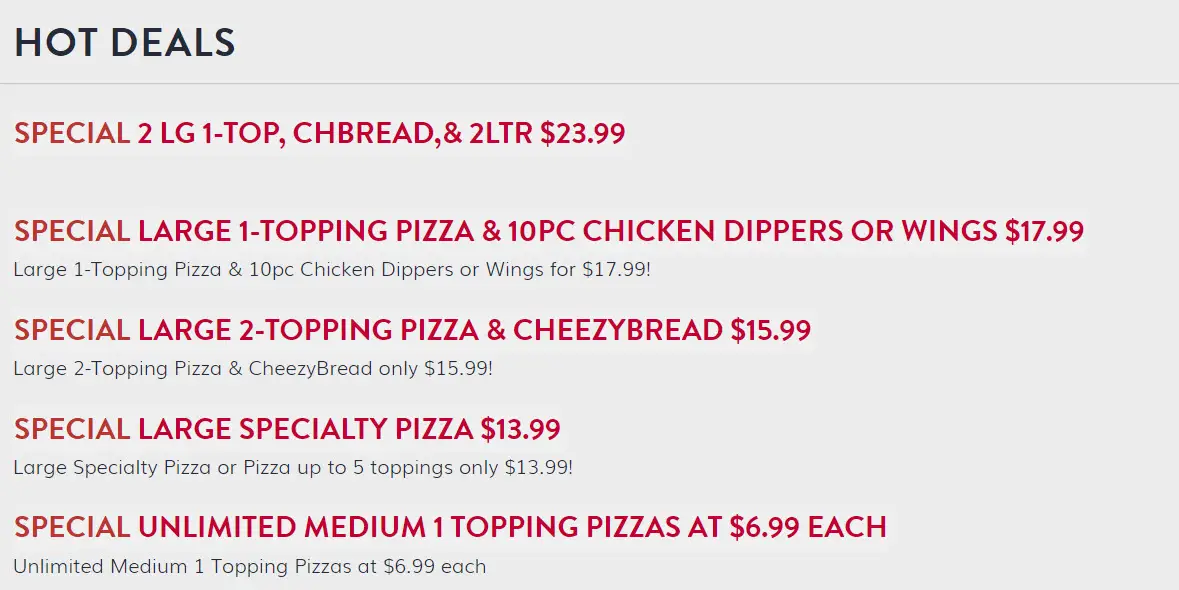 More Pizza Coupons
For more deals like this including coupons and promo codes from Pizza Hut, Papa John's and Chuck E. Cheese, see the EatDrinkDeals Pizza Coupons page.
Pizza Club Offers
Get a Marco's Pizza coupon for free Cheezybread when you sign up for the eclub.
CLICK HERE to enroll in the eclub.  You'll get a coupon for a free order of Cheezybread plus another Marco's coupon on your birthday.