O'Charley's has daily drink specials, Lunch Hour deals on weekdays, and dinner specials Monday – Thursday.
O'Charley's Drink Specials
O'Charley's has some daily drink specials going to help you kick back on your next visit.  The specials change each day as follows:
Every day get $5 Margaritas
$3 14 oz. Domestic drafts and $4 14 oz. Craft and Import Drafts on Mondays, Saturdays and Sundays.
Take 5 Tuesday – $5 Cocktails – Bahama O'Mama, Long Island Iced Tea, or Old Fashioned
Wine Down Wednesday – 1/2 priced wine (6 oz or 9 oz pours and Bottles)
Throwback Thursday – $5 Tito's, Jim Beam & Jack Daniels
Fiesta Friday – $7 Top Shelf Margaritas
O'Charley's also has a daily Happy Hour from 4-7 PM Monday – Saturday and 3 – 6 PM on Sundays with drink specials.
O'Charley's Daily Food Specials
O'Charley's has a lineup of food specials Monday – Thursday like $5 Chicken Tender Nachos, $1.99 Cobbler and more.  Check out the full lineup from the O'Charley's website:
Monday:  $5 Chicken Tender Nachos, $4 Chips & Queso, $3 Margo'ritas
Tuesday:  Get an order of Chicken Tenders, Fries and a Drink for just $10 on Tender Lovin' Tuesdays.
Wednesday: $10 Homestyle Entrees (New Orleans Cajun Chicken Pasta, Southern-Fried Honey Drizzled Chicken, Buttermilk Fried Shrimp, Balsamic Glazed Chicken), $5 Pickle Chips or Spinach Artichoke Dip, and $4 glasses of House Wine (6 oz.)
Thursday:  Get a 1/3 Rack of Ricks and Fries for $11.99 at O'Charley's on Bones & Brews Thursdays.  Add another 1/3 of a rack for $6 more.  Plus, get $3 Domestic Drafts, $4 Craft and & Import Drafts, and bump it up to 22 oz. for $1 more.
O'Charley's Lunch Specials
O'Charley's has a $9.99 Lunch Hour Combo available Monday – Friday from 11 – 3 PM with your choice of two items and a fountain drink.  Choose from:
1/2 Sandwich
Loaded Baked Potato
House Salad
House Soup
Loaded Mac & Cheese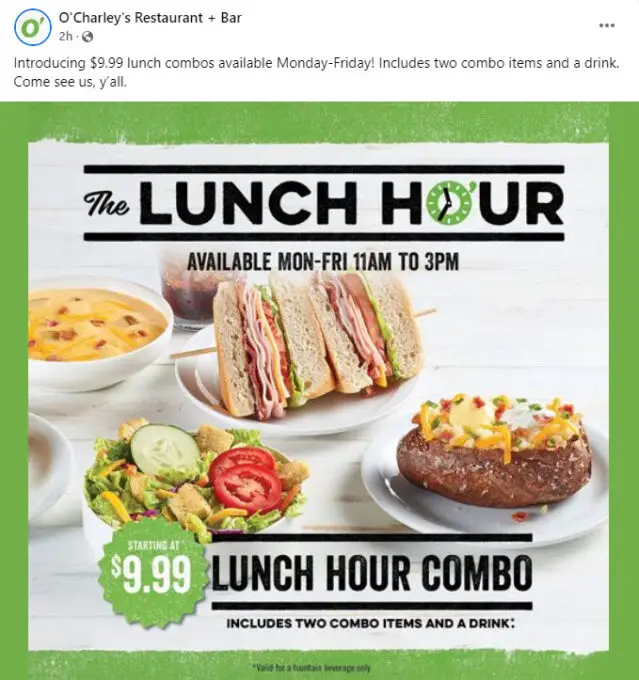 O'Charley's Family Meals From $35
Want to feed a hungry group with an easy to-go meal?  Try out the Family Style Meals at O'Charley's starting at $35 up to $50 to feed up to 6 people.  You can also get free delivery on orders of $40 or more for a limited time.  Click here to start an online order.  Choose from the following options:
Seafood Combo
Chicken Tenders
Bacon Cheeseburgers
Meatballs and Linguini
Steak and Chicken Tenders
Baby Back Ribs and Chicken Tenders
Honey Drizzled Southern Fried Chicken
Sirloin Steaks
New Orleans Cajun Style Pasta