O'Charley's has college football specials Thursdays and Saturdays, drink specials, lunch deals, and some new Smash Burgers to try out.
$7 Tenders And Fries And More on Thursdays And Saturdays At O'Charley's
All college football season long, Tackle Some Tenders with a plate of tenders and fries for just $7 when you dine-in at O'Charley's on Thursdays and Saturdays. You can also sip on $2 14 oz Domestic Beers and $3 Jack and Cokes. This makes O'Charley's a pretty good option to catch some college football action this fall. O'Charley's sent this press release with the news.
Smash Burgers at O'Charley's
Check out the new Smash Burgers lineup at O'Charley's, starting at $11.99. The deals include:
Butter Me Up Burger $11.99 – Two smash burgers topped with garlic butter and melted American cheese, with tangy dill pickle chips on the side, plus French fries.
The Patty O'Melt $12.99 – Two smash burgers topped with caramelized onions and American cheese on thick-cut Texas Toast, with tangy dill pickle chips on the side, plus French fries.
The Swisshroom Burger $12.99 – Cajun-sauteed mushrooms and onions and melted Swiss cheese on top of two smash burgers and crispy bacon on the bottom.
Slim Bob Burger $13.99 – Two smash burgers topped with sliced ham, melted Swiss cheese, lettuce, ripe tomatoes, and an O'Charley's special sauce. Served with French fries.
Bacon Triple Smash Burger $14.99 – Three juicy smash burgers topped with American cheese, lettuce and onion, ripe tomato, dill pickles and a smoky honey BBQ sauce draped all over applewood-smoked bacon.
Cheeseburger and Tender Combo $16.99 – A classic cheeseburger served with O'Charley's Famous Chicken Tenders and fries.
O'Charley's Daily Food Specials
O'Charley's has a lineup of food specials that rotate from time to time. Here's what they have going on right now.  Check out the full lineup from the O'Charley's website:
Wednesday: Free Pie Wednesdays –  get a free slice of pie with purchase of an adult entree!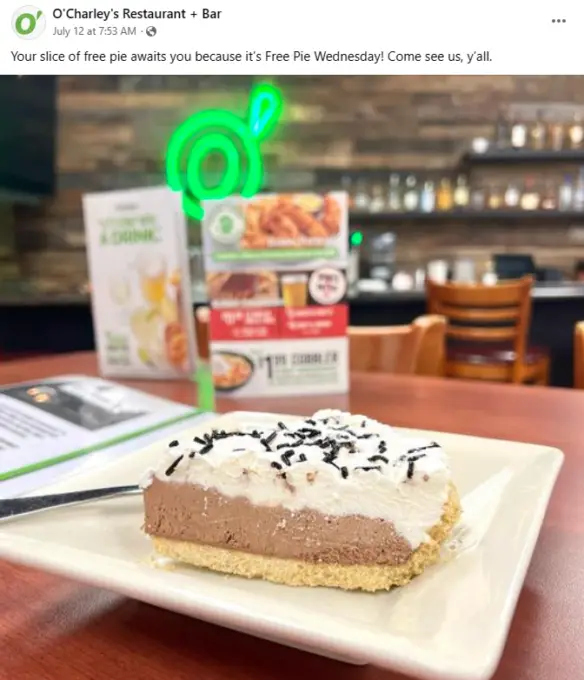 Get $5 Margaritas any day, any time at O'Charley's. They've got that offer up on their homepage. Also, where allowed by law, many O'Charley's locations will offer specific Happy Hour specials in the late afternoon or early evening, most often on weekdays. Get in touch with your local O'Charley's here and they'll help you find out.
O'Charley's Menu
If you want to browse around, visit our O'Charley's menu page here. Or, visit their website here.
O'Charley's Lunch Specials
O'Charley's has a $9.99 Lunch Hour Combo available Monday – Friday from 11 – 3 PM with your choice of two items and a fountain drink.  Choose from: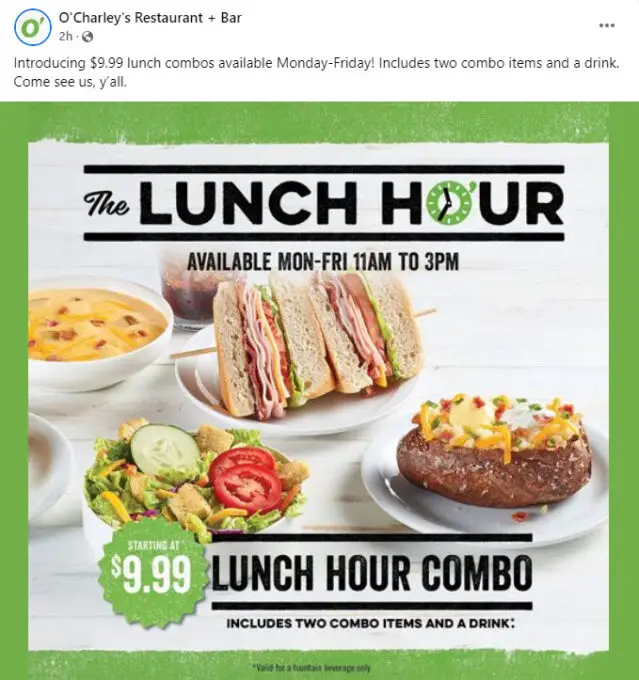 O'Charley's Family Meals From $35
Want to feed a hungry group with an easy to-go meal?  Try out the Family Style Meals starting at $35 up to $50 to feed up to 6 people.  You can also get free delivery on orders of $40 or more for a limited time.  Click here to start an online order.  Choose from the following options:
Seafood Combo
Chicken Tenders
Bacon Cheeseburgers
Meatballs and Linguini
Steak and Chicken Tenders
Baby Back Ribs and Chicken Tenders
Honey Drizzled Southern Fried Chicken
Sirloin Steaks
New Orleans Cajun Style Pasta