Get $5 off your first online order of $15 or more from Pieology for a limited time.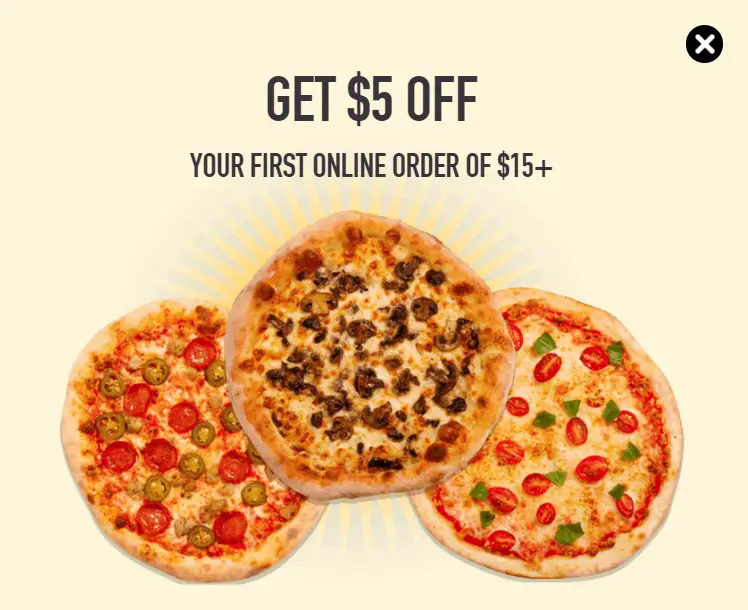 Plus, you'll earn points for free pizza. For every $1 spent on qualifying purchases you'll earn 1 point. After earning 100 points your balance will reset and you'll unlock a Free Thin Crust Pizza.  Rewards members also get a free birthday gift. For more details visit: https://pieology.com/pie-life/
National Pizza Week Deals At Pieology
National Pizza Week runs from January 8 – 14, and you can get any Signature Pizza and a drink for just $10 at Pieology.  No promo code or coupon is needed.  Just head on in and order up.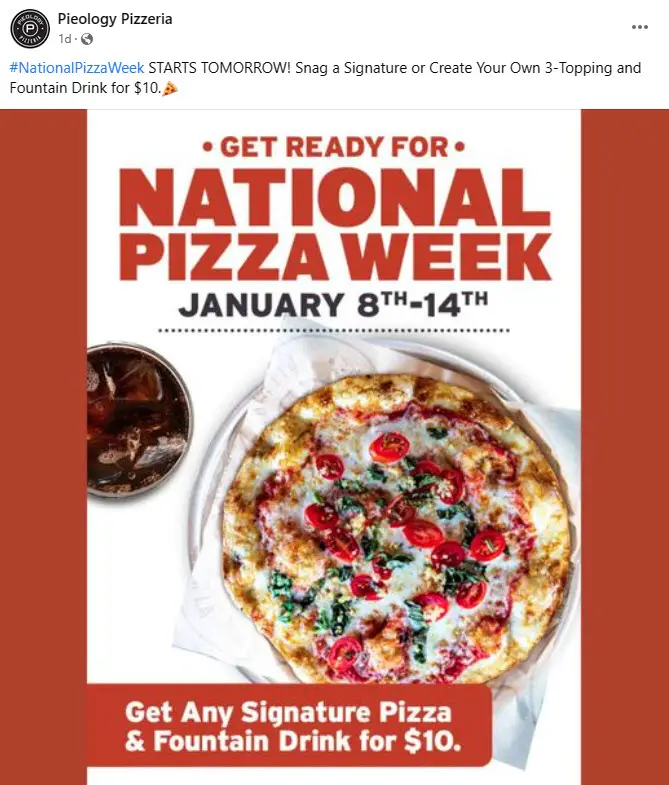 Pieology Family Pack
Pieology has a Family Pack takeout special with four pizzas, cheese bread and a dessert for $50.
The Family Pack comes with four 11″ Five Topping Artisan Thin Pizzas, one Ooey Gooey Cheese Bread and One Family-size Shareable Dessert. For more details or to order, visit:
and select Order.
For other great pizza coupons and deals, visit our EatDrinkDeals Pizza Coupon, Promo Codes and Specials section.
Looking for other pizza options with Gluten Free and Keto Friendly crusts?  Read our EatDrinkDeals Gluten-Free Pizza Roundup here!
About Pielogy
Pieology Pizzeria is an American fast-casual pizza restaurant chain that was founded in 2011 in Fullerton, California. The brand offers a variety of customizable pizzas, plus salads and sides. Basically, you can make a pizza any way you want it right before your eyes. It's a similar setup to others in the industry like Blaze Pizza. Pieology's menu allows customers to choose from a variety of crusts, sauces, cheeses, meats, and vegetables to create their own unique pizza, or to choose from a selection of signature pizzas. Pieology operates over 100 locations across the United States.
Pielogy also offers some signature pizzas that are popular with its fans, if you don't like the pressure of having to come up with something yourself. Some of these signature pizzas include:
Margherita – tomato sauce, mozzarella, parmesan, basil, olive oil
Classic Cheese – tomato sauce, mozzarella, parmesan, herb blend
Smokehouse BBQ Chicken – BBQ sauce, mozzarella, gouda, chicken, red onion, cilantro
Spicy Italian – tomato sauce, mozzarella, pepperoni, sausage, jalapenos, red onion
Zesty Artichoke – garlic olive oil, mozzarella, parmesan, artichokes, garlic, red pepper flakes, black pepper
Pesto – basil pesto, mozzarella, parmesan, cherry tomatoes, garlic, black pepper
Buffalo Chicken – buffalo sauce, mozzarella, gorgonzola, chicken, red onion, cilantro