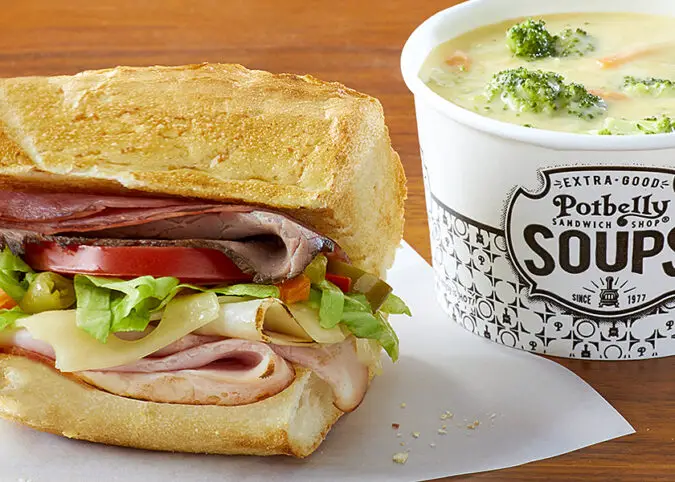 Potbelly Sandwich Shop knows a thing or two about crafting a craveable toasted sandwich–they've been doing it since 1977! As befitting its namesake, the old-timey "potbelly" stove, Potbelly has a unique history. The restaurant got its start when Chicago antique shop owners Peter Hastings and his spouse started preparing toasted sandwiches for their customers using the shop's own potbelly stove. Since then, the restaurant has expanded to more than 440 locations across the United States. The Potbelly menu has also grown to include soups, salads, cookies, and milkshakes in addition to the classic hot sandwiches.
Scroll through or search the table below to see the menu and prices at Potbelly Sandwich Shop. Then it's time to get your lunch on with the signature sandwich–called "A Wreck". Or you can mix it up with a Chicken Club, Pizza Melt, or even a PB&J!
Deals at Potbelly Sandwich Shop
Get a free cookie at Potbelly Sandwich Shop when you join the Potbelly Perks program! Our article on Potbelly Promo Codes & Deals has all the details on how to sign up for the rewards program and get your free cookie.
Sign up for the EatDrinkDeals newsletter so you don't miss any of the latest coupons and deals from Potbelly Sandwich Shop! For example, Potbelly recently celebrated its birthday on January 13 by offering customers a promo code for a BOGO on Original-sized sandwiches.
Potbelly Sandwich Shop Prices & Menu
---
Disclaimer: Menu and prices listed above are based on research of sample locations and are provided for informational purposes only. Since prices and availability may vary by location, please consult your local Potbelly Sandwich Shop menu for the latest details.