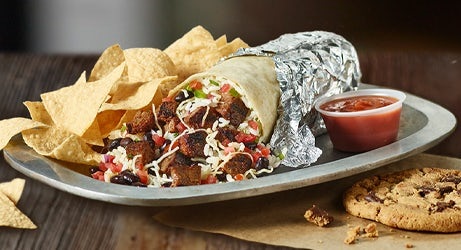 Qdoba Mexican Eats–formerly known as Qdoba Mexican Grill–distinguishes itself among similar fast casual restaurants with a commitment to fresh, responsibly sourced ingredients. All the food is prepared by hand, whether it's hand-crafted guacamole or freshly chopped vegetables.  There are no can-openers or microwaves in Qdoba!  Qdoba makes burritos, tacos, or bowls for the low carb crowd with choices of proteins like Grilled Adobo Chicken, Slow-Braised Pulled Pork, Seasoned Ground Beef or Steak, and Vegetarian options, too.  Qdoba's hand-crafted guacamole and house-made quesos are a big hit, and you can add either of them to your entree for free, unlike some of Qdoba's competitors.
Executive Chef Katy Velazquez, a James Beard Award winner, is Qdoba's secret ingredient when it comes to serving up innovative, craveable Mexican dishes to star on the Qdoba menu. From new additions like the as-seen-on-TikTok Philly Cheesesteak Quesadilla to returning favorites like the Citrus Lime Shrimp Burrito, Qdoba offers Mexican food to satisfy purists and neophiles alike.
Burritos and bowls, nachos and tailgate party packs–they're all here! Scroll through or search the table below to see the menu and prices at Qdoba.
Deals at Qdoba
Get a little more queso for your buck with current deals at Qdoba. We're talking Signature Deal combos for about $10 and Family Meals fit to feed your hungry crew for around $40. Check out our article on Qdoba Specials & Deals for all the details. Learn how to sign up for Qdoba Rewards and start earning points toward free food and perks!
Don't miss new coupons and deals from Qdoba and your other favorite restaurants: Sign up for the EatDrinkDeals newsletter today!
Qdoba Prices & Menu
---
Disclaimer: Menu and prices listed above are based on research of sample locations and are provided for informational purposes only. Since prices and availability may vary by location, please consult your local Qdoba menu for the latest details.