Qdoba has new Signature Deals for one for around $11 featuring a choice of entree, chips and salsa, and a dessert.
Choose from a Chicken, Steak, Impossible Meat or Fajita Veggie Burrito.  Each costs around $11 depending on your location.
For more details or place an order online, go to the Qdoba website and enter your location.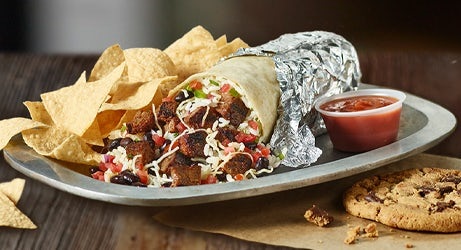 Sign up for Qdoba Rewards and earn points towards free food.  Get 1 point for every $1 spent, and unlock a free entree coupon with 125 points.  Also, visit Qdoba 12 times in a calendar year to unlock Chef Status.  That'll let you get an order of Chips and Queso for just $2 on every future visit!  Plus, you'll be granted VIP access with other special offers from time to time.  For more info or to sign up, visit the Qdoba Rewards page.
Does Qdoba Give Free Chips?
Like Chipotle, chips and salsa, or queso, or guacamole is not included with an entree purchase.  It's an extra $3-$5 depending on the dip you get, such as their hand-crafted guacamole or their 3-cheese queso.  However, if you don't mind skipping the chips, you can get free queso or guacamole topped on your entree.  Other competitors such as Moe's offer chips and salsa for free with purchase of an entree.
Is Chipotle Cheaper Than Qdoba?
We get asked this question a lot!  In our experience, they are about the same.  We've tested prices in various parts around the United States.  If you're just ordering an entree like a burrito, Chipotle may be a little bit cheaper.  It's not a huge difference, probably less than $1, so it really comes down to your personal preference.  If you're ordering sides of queso or guacamole and stuff like that, then Qdoba might end up being a little cheaper.  The big difference here is that Qdoba doesn't charge for guacamole or queso if you have it included with your entree.  If you want chips with it, that's a different story.  They're pretty close in terms of price, the amount of food you get, and the quality of ingredients used.  As far as taste, well, that's up to you!
What's On The Qdoba Menu?
If you want to browse around, visit our Qdoba menu page here. Or, visit their website here.
Previous Qdoba Promo Codes
Here are some Qdoba promo codes we've come across recently. This can show you what types of discounts they'll offer:
| | |
| --- | --- |
| Qdoba Promo Code | Description |
| JOIN | Buy one entrée, get one free – EXPIRED |
| 10OFF40 | $10 off a $40 order – EXPIRED |
| 3OFF | $3 off a $15 order – EXPIRED |
| GIMME5 | $5 off a $25 order – EXPIRED |
| EARTH | Free order of chips and dip – EXPIRED |
Is There A Qdoba Near Me?
There are over 700 U.S. locations of Qdoba in the U.S. They're in 47 states.  Most Qdobas are open from 11 am – 10 pm local time every day, but times can vary.  You can find the Qdoba location near you and hours on the Qdoba location finder.
Does Qdoba Deliver?
Qdoba offers delivery with a fee of $3 – $4, and sometimes they'll have promotions like free delivery on $10 or more orders.  To start a Qdoba delivery order, or to check on delivery deals, visit the Qdoba online order page.
Where Is The Qdoba Nutrition Guide?
Qdoba proudly posts its nutritional information in their online and app menus.  To view the nutritional content of any menu item, go to the Qdoba Nutritional Calculator page.
When you start an online or order, you can make modifications to the menu ingredients online; when ordering at the restaurant, simply ask the crew member to hold a given ingredient.  The online ordering system has been revamped to allow for a lot more customization on your food – tell them to give you extra rice, hold the tomatoes, and extra salsa, or anything in between!
Qdoba gift cards are a popular item for the burrito-lovers of the world.  Looking for one?  Visit the Qdoba gift card page here and add one to your shopping cart.  Sometimes, there are Qdoba coupons that give you an extra discount on a gift card purchase, like 20% off.  The special offer usually comes around during the springtime and holiday season, like Black Friday and Cyber Monday, but we see it in the summertime too.  When a Qdoba gift card deal pops up, we'll post it here!