Qdoba has new Meal Deals for one for around $10 and Family Meals to feed 4-5 people starting at $35.
On the individual side of things, the new Meal Deals come with a choice of entree, chips and salsa, and a dessert.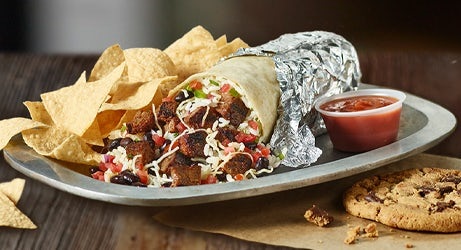 Choose from a Chicken, Steak, Impossible Meat or Fajita Veggie Burrito.  Each costs around $10 depending on your location.
The Qdoba Family Deals are designed to feed a group of 4-5 people.  Get the Grilled Chicken Family Meal for about $35 depending on your location, with Grilled Adobo Chicken, Qdoba's famous 3 Cheese Queso, pico de Gallo, salsa Verde or roja, shredded cheese, tortillas and a big ol' bag of chips.  Upgrade to Grilled Steak for about $5 more.
To learn more or place an order online for one of these Qdoba deals, click here for the Qdoba website and enter your location.
Looking for more Takeout and Delivery Deals?  Click here to go to our EatDrinkDeals Takeout and Delivery Category – or you can find it in our menu at the top of the page!
Qdoba Mexican Eats[is a chain of fast casual restaurants in the United States and Canada serving Mexican-style cuisine. Qdoba has about 700 locations in 47 states, the District of Columbia and Canada.  Qdoba's signature 3-Cheese Queso and kicked up version Queso Diablo are big hits.  A recent USA Today poll voted Qdoba as America's favorite fast-casual restaurant.
Qdoba serves burritos made in the San Francisco burrito style.  It also serves tacos, quesadillas, chile con queso and Mexican gumbo. The restaurant fits into the "fast casual" category, offering both quick service and a higher quality of food than typical fast-food restaurants. Customers order by selecting an entrée then choosing its ingredients. Qdoba employees make all the food in plain view of the customer.  To distinguish itself from some of its competitors, Qdoba serves breakfast, and some locations are open 24 hours on weekends.