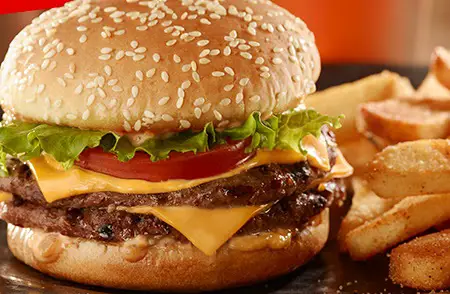 When you're craving a burger, the Red Robin menu has you covered. Maybe you like your burgers spicy, like the Scorpion Gourmet Burger, which is topped with Scorpion Pepper Sauce, Pepper Jack cheese, fried jalapeños, and more. Or maybe you like a little sweet with your savory, in which case the Banzai burger might be more to your taste, with its teriyaki-glazed patty and grilled pineapple. Whatever you love on your burger, Red Robin has a gourmet burger for you–plus a huge helping of sides, drinks, and shakes to pair it with!
Scroll through or search the table below to see prices for everything the Red Robin menu has to offer!
Deals at Red Robin
Stumped on a stocking stuffer for that special someone? Red Robin has a gift card deal for the holidays that might help shorten your shopping list: Get a $5 Bonus Card with every $25 in Red Robin gift cards you buy now through December 31, 2022. The Bonus Card is valid from January 1 – February 28, 2023.
Red Robin has a limited-time $10 Meal Deal that gets you your choice of one of three burgers, Bottomless Steak Fries, and a soft drink–all for just $10! Get all the details on this and other deals, like half-price kids' meals on Wednesdays and the Red Robin Royalty Rewards program, in our story on Red Robin Coupons & Promo Codes.
Red Robin Menu & Prices
---
Disclaimer: Menu and prices listed above are based on research of sample locations and are provided for informational purposes only. Since prices and availability may vary by location, please consult your local Red Robin menu for the latest details.
What's On The Red Robin Menu?
Red Robin Gourmet Burgers are the main thing here.  While the menu focuses primarily on burgers, they've also got chicken sandwiches, salads, and other entrees to keep you interested.  Also, another little quirk is that many Red Robin locations also now offer pizza through their partnership with Donatos Pizza.  Burgers and pizza, you can't go wrong with that!  Many fans Red Robin has the best burgers in town at their casual dining restaurant chain price level.  And yes, they have veggie burger options.
Red Robin also offers a variety of sides, including their classic thick cut french fries and sweet potato fries.  In fact, you get Bottomless Steak Fries with most entree purchases – all the fries you can eat!  There's a full array of desserts available, plus alcoholic and non-alcoholic beverages.  Their Bottomless Beverages rule gives you unlimited refills on most of the non-alcholic options.  Usually, there's a limited time special on the menu worth trying out, like a Cod Sandwich or Cobb Salad.  And, while they may seem to go together, you normally won't be able to find a hot dog on the menu.